You have /5 articles left.
Sign up for a free account or log in.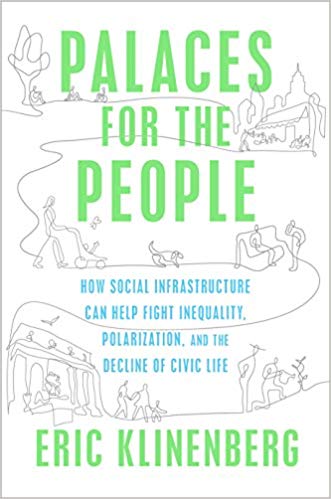 Palaces for the People: How Social Infrastructure Can Help Fight Inequality, Polarization, and the Decline of Civic Life by Eric Klinenberg
Published in September of 2018.
Does the fact that three IHE bloggers are now recommending Palace for the People make you less or more likely to read this book?
I purchased the e-book/audiobook combination of Palaces for the People after reading Barbara Fister's review.  Then Matt Reed weighed in, and the book moved to the top of my reading list.
I couldn't be happier that a sociologist is writing sociological books for a non-specialist audience. Klinenberg also wrote the terrific Going Solo: The Extraordinary Rise and Surprising Appeal of Living Alone.
I'm tribally predisposed to like Klinenberg's writing. Palaces for the People did not disappoint.
Since you've read Barbara and Matt's reviews, you already have an idea of how important the concept of social infrastructure is to individual and community well-being.  You also know that Palaces for the People is a love letter public libraries.
The book, however, goes well beyond the public library in describing how social infrastructure is built, maintained and degraded. If you are hesitant to read this book because you already know the public library story, I urge you to reconsider. There is much that Klinenberg discusses that will surprise and enlighten even card-carrying sociologists.
As a fellow (if somewhat lapsed) sociologist, I can't resist offering some constructive criticism from within the discipline.  Academics express affection through argument.  It's a thing.
First, it is becoming clear to me that those of us who work in traditional and open online learning need to get out more. Even the best professors, including Klinenberg, seem to conflate traditional online education with MOOCs.  For the record, they are different.
It is also the case that those of us involved in both open and traditional online learning are also big believers in small, residential, and intimate classroom settings. We love campuses. We get the importance of place in higher education.
What we want to do is leverage the power of both open and traditional online learning (again different things) to improve residential education. The three different methodologies (open online, traditional online, and residential) are not in conflict. It is possible to be a MOOC champion and also a defender of a campus-based liberal arts education built on relationships and mentoring.
My second friendly critique is Palaces for the People is to ask; what about the academic library? (And the academic librarian).
Surely professor Klinenberg knows that academic libraries are under a quiet attack from every quarter of academia. How many academic libraries have had to shrink their budgets, leave jobs unfilled after retirements, or resort to layoffs?
The academic library is the essential element of a university's social and intellectual infrastructure. 
My last critique of Palaces for the People is a bit weightier.  What I found missing from the book were the useful complicators to the social infrastructure erosion narrative.
Yes, some of the trends related to social cohesion and individual mobility have gone in a worrying direction over the last few decades.
I wonder, however, about the degree that these negative trends (such as public disinvestment in public places) are balanced by other more positive trends. The US is a wealthier, safer, more educated, and cleaner place than it was when Klinenberg and I were growing up in the 1970s and 1980s.
Some social infrastructure has gotten worse. But some has gotten better. We need to look no further than our campuses to find places that are more diverse and interesting than our student days.
Coffee shops and independent bookstores seem to be having a renaissance.
Dog parks and bike paths are something new in the built social infrastructure.
Many things could be better than they are now, but I can't imagine that any of us (or at least any social scientist) would want to go back.
Any recommendations for other books written by a sociologist?
What are you reading?