Title
@GoogleForEdU and the Limits of Promoted Tweets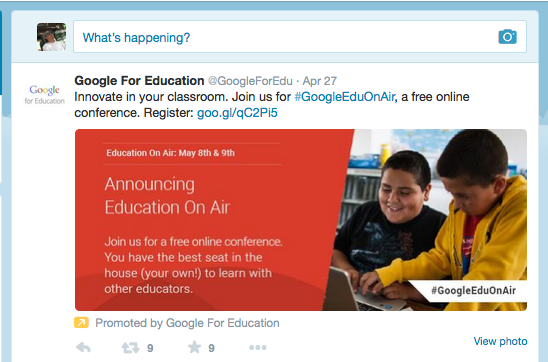 As far as promoted tweets go, a
@GoogleForEdU
tweet is not all that annoying. My Twitter world exists at the interaction of education and technology, and the Google for Education promoted tweets are at least somewhat relevant.
The problem is that Google is tweeting for messaging, and I'm looking for a conversation. A conversation requires people. I have no idea who cares about higher education at Google.
A list of some questions about Google that Twitter could help to answer would include:
Who are the people who work on higher education related topics at Google?
What are these Google higher education people doing?
What do Google higher education people think about the latest news and controversies in higher ed?
What are Google higher ed people excited about when it comes to innovations, technologies, and trends?
What technologies and platforms, besides Google technologies and platforms, are Google higher education people using?
What are Google higher education folks reading?
What keeps Google higher education people up at night?
What is the vision of the people who work on Google higher education for the future of higher education?
I do care about what Google is doing in education, but I care about this through the lens of the people at Google. The investment that Google is making in promoting tweets from
@GoogleForEdu
is fine, it is just not nearly enough. What Google should be doing is investing (in all sorts of ways) in promoting the people who work in Google for Education. Invest in helping these people establish an authentic social media voice and presence. Invest in connecting these people to our larger higher ed community, both in virtual and in physical space. Invest in creating opportunities and platforms that Google education folks can have conversations with our larger postsecondary community.
A social media strategy is not a substitute for an outreach and communications strategy. Promoted tweets can be one element of conversation, but they are only a start. Dialogue, and therefore relevance, cannot be purchased. Google has a potentially important role to play in our conversation about how postsecondary education is evolving. Rethinking its social media strategy would be a good first step if Google wishes to enter this conversation.
Opinions on Inside Higher Ed
Inside Higher Ed's Blog U
What Others Are Reading
Past:
Day
Week
Month
Year