You have /5 articles left.
Sign up for a free account or log in.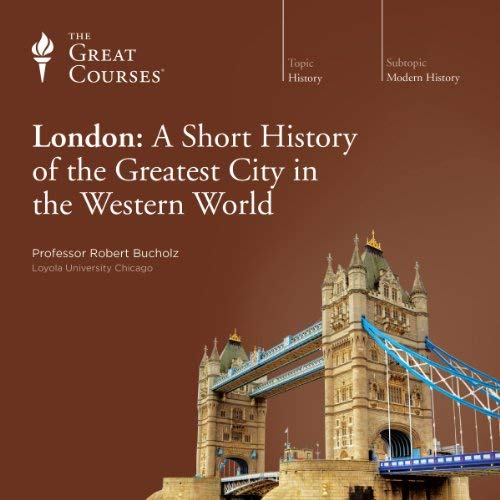 If you are planning to visit London, or if you ever visited or are fantasizing about a trip, I highly recommend taking a course. 
Actually, the course I have in mind does not come attached to any postsecondary credit. Not even an alternative credential.  The course is the Teaching Company's:  London: A Short History of the Greatest City in the Western World.  
The lectures are given with great erudition and admirable enthusiasm by professor Robert Bucholz, of Loyola University Chicago.
I purchased this course from the Amazon owned Audible.com.  As a Platinum Annual subscriber, the cost for the course was $9.56.  The course has 24 lectures of about 30 minutes each. The cost per lecture, therefore, is about 40 cents.  40 cents.
If there is a hall of fame of college lecturing, I'm sure that Professor Bucholz will be inducted.  His lectures positively sing.  (And sometimes he sings). 
I was energized after each lecture. Desperate to learn more. Highly motivated to jump on a plane to wander the same streets once perambulated by Samuel Pepys, Queen Victoria, Charles Dickens, Ada Lovelace, John Keats,  Virginia Woolf, Mary Shelley, and David Beckham.
These are great lectures. The best.
And they cost 40 cents.
If you want to know about the future of higher ed, then download one of the Great Courses from The Teaching Company.
Any form of higher education that is built around delivering content will become commoditized. In higher education, content is not King or Queen.  Content is not a Duke, an Earl, or a Baron.  Name your most lowly royal title, and higher ed content will be lower.
And yet, much of higher ed still acts as if what we do is deliver content.
How many syllabi are built around the content that the professor wants to cover?
How many course grades are determined by assessing a student's mastery of the course content?
How much of the sequences of courses in a major determined by the content covered in each course?
Would college look much different it were designed with a clean sheet?  If we started by building the university around relationships.
Of course, spend time at a small liberal arts college - and that is largely what you will find.  Classes are small.  Professors get to know the students.  Courses are largely designed to develop skills in critical thinking, communications, and collaboration.  Content is along for the ride.
But small liberal arts schools educate only a tiny proportion of all students. So much of postsecondary education today still involves large lecture classes, high stakes exams, and a focus on content delivery.
Content scales.  The Teaching Company scales.  It is much harder to figure out how to make a relational based education affordable and accessible.
The Teaching Company teaches us exactly how much the world's best lectures - the best higher education content - is worth. It is worth 40 cents.
Is your school transitioning from a teacher/content focus to a learner/learning focus?
How do we keep what is wonderful about the lecture format, but fold in elements of active and relational learning in to the DNA of higher education?
What Great Courses do you recommend?