You have /5 articles left.
Sign up for a free account or log in.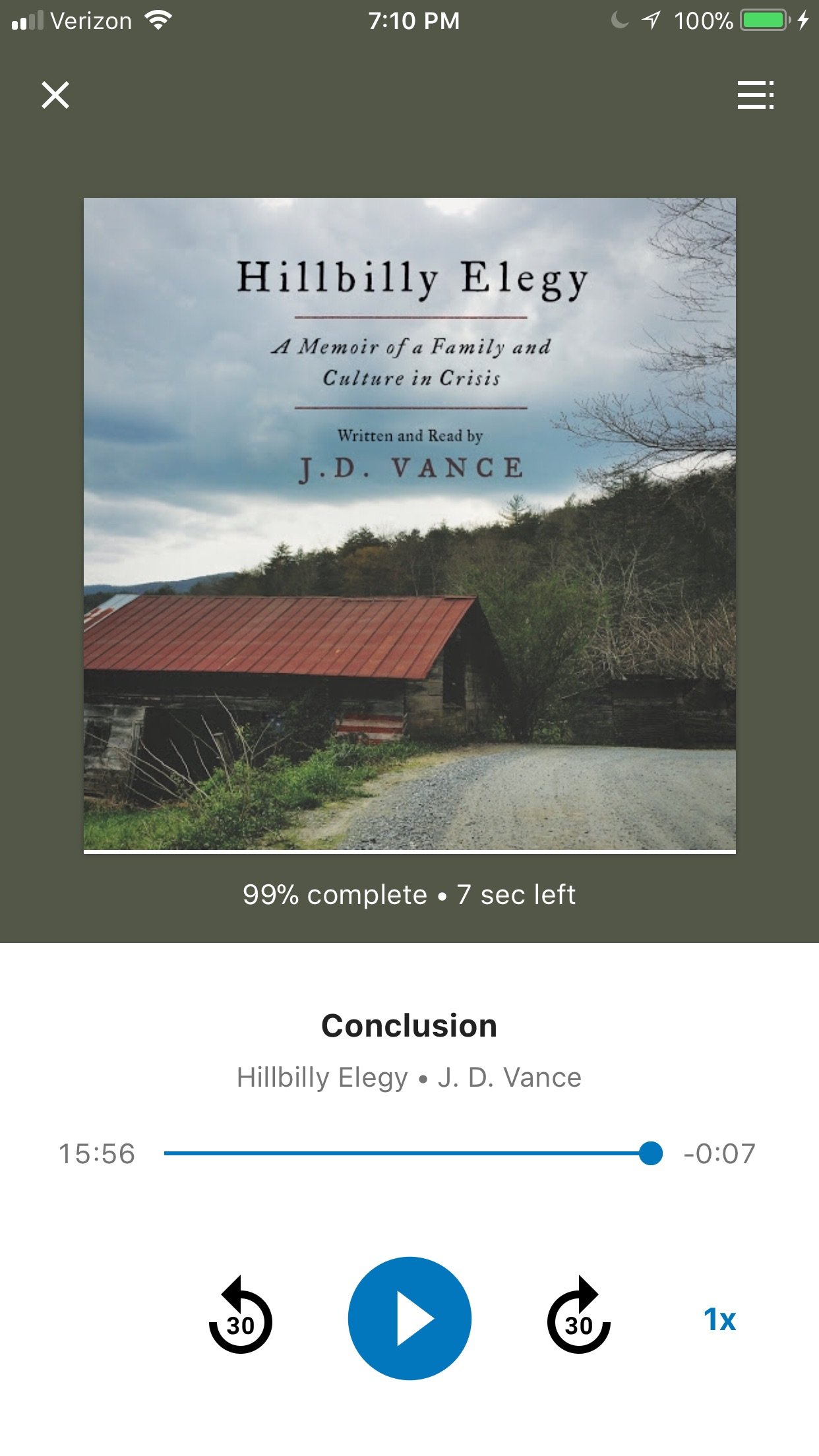 The good news is you can purchase the audiobook version of Hillbilly Elegy for $3.49.
Google is offering half-off your first audiobook purchase on Google Play, and for some reason Hillbilly Elegy is priced at only $6.99.  (Before the 50 percent discount).
Or you can buy another audiobook.  Google has a whole mess priced under $10, so they must be taking a loss on the early sales in order to get some marketplace traction.
The other good news is that Hillbilly Elegy is totally fascinating to read.  I'd held off reading Vance's book, as the book (and Vance) got so much press.  Hillbilly Elegy was exquisitely timed to help make sense of Trump.  Vance's writing is raw.  His perspective, that of a conservative from the Appalachian Rust Belt, is one that we don't hear enough.
As a social scientist, I have any number of disagreements with Vance's analysis of the causes and consequences of inter-generational poverty.  Vance puts great emphasis on culture, as opposed examining structural economic causes.  No matter.  Hillbilly Elegy is worth reading and discussing.  (And Vance does a terrific job of narrating his audiobook).
The bad news is that Google Play Books iOS app is missing some essential features.
There seems to be no way to bookmark a section.  This is important, as it is common to want to go back and re-listen to a section.
There is also no sleep timer.  I use the audiobook sleep timer all the time, often choosing to fall asleep to an audiobook.  Inevitably, I end up "rewinding" my audiobook back to where I started.  (As despite my best efforts, it turns out the multitasking with audiobooks does not extent to reading while sleeping).  Falling asleep to a Google Play Books audiobook is impossible.
Of course, Google Play audiobooks lacks the killer feature of Amazon's digital books - the Audible (audio) / Kindle (e-book) Whispersync integration.  The ability to seamless switch back and forth between my e-ink Kindle (easy on the eyes) and an audiobook has changed how I read.
If Google is serious about taking on Amazon in digital books, then the company must approach digital books as a ecosystem.
It is fair to ask why any of this matters for higher ed?
We keep hearing from a bunch of very smart and very wonderful academic librarians that there just is not any campus demand for audiobooks.
I'll write about this more in the future, but my quick answer is that sometimes we need to go beyond what our community wants.
The real issue is that our students are not reading enough books.  We have run forward in providing every imaginable digital option, while not doing enough to compensate for the loss of long-term focused attention.
Getting digital books (audio and e-ink) into the hands of our students just might lower some book reading barriers.
The only way this is going to happen, however, is if the digital book market gets more diversified and competitive.  We need the digital book players - those that control the platforms - to be targeting the academic market.
Even that rare academic librarian that would like to provide digital books to their campus is constrained by a lack of reasonable options.
Will you check out Google Play Books?
What did you think of Hillbilly Elegy?
What are your reading?