Title
'Merchants of Truth', Journalism, and Higher Ed
The existential digital challenge.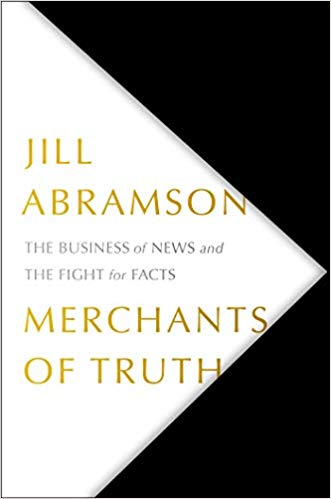 Merchants of Truth: The Business of News and the Fight for Facts by Jill Abramson
Published in February of 2016.
What can higher education learn from journalism?
Are there lessons from newspapers and new media companies that our colleges and universities should be looking to learn?
Will today's tuition-dependent residential colleges suffer the same fate as yesterday's local newspapers?
Is the future of the professor as bleak as that of the print journalist?
If you ask yourself any of these questions - and I think that you should - then I recommend reading Merchants of Truth. The book traces the recent story The New York Times and the Washington Post, as well as the founding of Vice Media and BuzzFeed.
You may have about Merchants of Truth from the accusations that Abramson plagiarized some of the text. See here, here, here, and here. These are serious allegations, ones that I'm not sure that Abramson (a former NYTimes executive editor who now teaches at Harvard), has adequately addressed. What do you think?
What I do hope is that the bad press that Merchants of Truth is getting does not dissuade you from reading the book. Abramson's book is the perfect companion piece to Alan Rusbridger's recently published Breaking News: The Remaking of Journalism and Why It Matters Now. Together, these books provide a compelling - and hugely worrying - insiders view on the future of journalism.
We all know the basics of the story. Print journalism has historically relied on advertising, and in particular classified advertising, for its economic viability. Craigslist killed that revenue source. Digital advertising yields pennies compared to print ad dollars. Reporters and editors are expensive. Quality journalism is a costly endeavor.
In 2001, U.S. newspapers employed over 411,000 people. By 2016 that number had dropped to 174,000. Newspaper advertising revenue went from $65 billion in 2000 to $16 billion in 2016. One in five local newspapers has ceased operations since 2004.
Merchants of Truth reveals what it felt like for those in the newspaper business to have their business model disappear around them. The book is about how difficult it has been for traditional organizations such as the Times and Post to reorient their reporting to a digital-first world.
Contrasting the struggles of the Times and Post to the story of the birth and operations of Vice and BuzzFeed makes for a much richer story. Until I read Merchants of Truth I was mostly ignorant of these media platforms. Never going on Facebook means that I only ever heard of BuzzFeed from my kids. I'm the wrong demographic for Vice.
Where the Times and Post have maintained the journalistic ethics of separating church (reporting) and state (business), media companies such as BuzzFeed and Vice have no such firewall. As the news organization of BuzzFeed grew (it is now retrenching), the line between journalism and advertising was never defined. For companies such as BuzzFeed and Vice, separating journalism from sponsored stories and advertising was an old-fashioned and outmoded concept.
It is worth pausing here a moment to recognize that at IHE the wall between church and state remains firm. IHE appears to be in the extreme minority of born-digital publications that stick to the journalistic values that reporting can never be influenced by business concerns. The news and opinion that you read in IHE have not been directed, shaped, or influenced by efforts to curry favor with potential advertisers or sponsors. If we value independent news, analysis, and opinion about higher education, then we should think about ways that we can support IHE.
Going back to my original three questions on what we in higher ed can learn from the story of print journalism, what do you think?
The Times and Post stories end up having reasonably happy endings by the time Merchants of Truth closes. Thanks to the Trump bump, the NYTimes went from under 1 million paying digital subscribers to over 2.4 million from 2015 to now. (I am one of them). The Washington Post relies less on advertising than the Times, but thanks to the purchase by Jeff Bezos in 2013 for $250 million, the Post seems to be thriving.
There is probably a good case to be made that colleges and universities, ones with equally strong brands as the Times and Post, will end up going through transitions that will be equally as wrenching as these newspapers have experienced. The quality and the brand of the Times and the Post allowed each paper to survive numerous missteps and poor choices before finally landing on a reasonably viable business model.
Will today's best known and wealthiest universities ever make the transition to digital-first organizations? That is a question that you probably should not be asking a director of digital learning initiatives.
Are small, tuition-dependent schools destined to travel the same dismal road as local newspapers?
Will the university equivalent of BuzzFeed and Vice emerge as competitors to legacy institutions? (Or have they already?).
What can higher ed learn from journalism?
What are you reading?
Opinions on Inside Higher Ed
Inside Higher Ed's Blog U