You have /5 articles left.
Sign up for a free account or log in.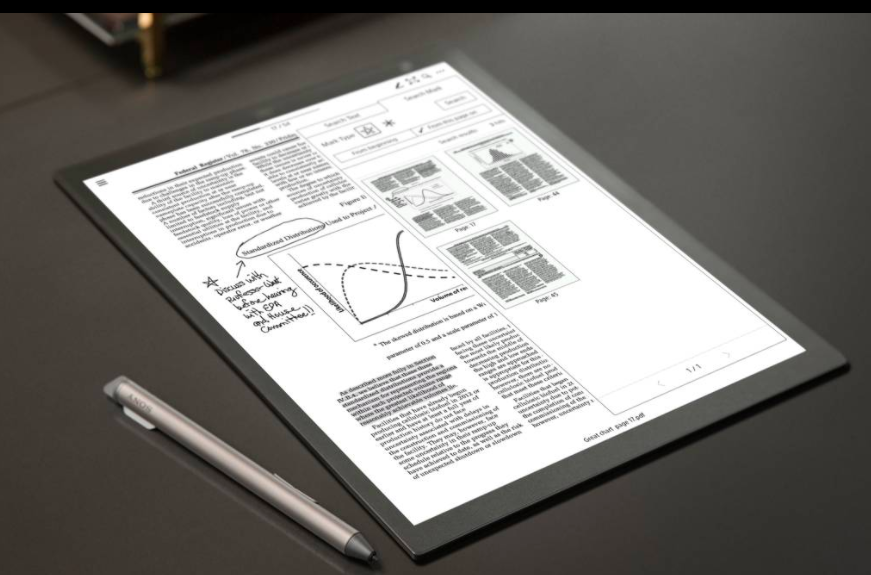 How much paper is in your life? If you are like me, too much.
The thing is, I hate reading anything longer than an IHE article on a screen. Any article, chapter, or chapter that I want to read with focus I print. This means that I have lots of paper sitting on my desk.
Is there another way?
For the past couple of months I've been testing the updated Digital Paper from Sony.
This is Sony's next generation device. A huge update from the original DPTS1 that I first reviewed 3 years ago.  
Sony's Digital Paper is a really big (13.3-inche), really thin (5.9), and really light (12.3 ounce) e-paper device.  The screen resolution (1024*768) is very high.  Writing on the device with the included stylus is like writing on dead-tree paper with a pen or a pencil (more below).
The new Sony Digital Paper does a couple of things that no other device, that I know of, can do. They have to do with reading and writing.
Reading:
Sony's Digital Paper has changed the way I read work documents.  Since Sony sent me the device to test I've basically stopped printing.  Reading a document on Sony's Digital Paper provides the same tactile experience as reading a regular paper document.
To read a document on Sony Digital Paper it is first necessary that the document be in PDF format.  It is easy to convert Web pages and Word docs to PDF format.  Drag and drop the file to the Sony Digital paper application on your Mac or PC, and it automatically syncs (via WiFi) with your Digital Paper device.  You can sync whole folders or individual documents.
Sony Digital Paper is not made for book reading.  This is a device that was built to replace paper in your professional workflow.  If you deal with lots of documents that require reading and annotation (more below), than Digital Paper is a good fit.
Writing:
The big leap from the 1st generation Sony Digital Paper to this new device is in writing. This is the fist device that I've used that I think might replace pen and paper.
The two big uses for the stylus with Digital Paper are annotation and note -taking. If you are somebody who likes to take notes on whatever document you are reading then you will enjoy working with Digital Paper.  You can make annotations directly in the document. Or you can create a side note that is associated with the document.  The screen is big enough so that you can read the document while writing your side notes.
For note-taking, all that you do is create a new note from the home screen menu.  You can create a note from a document that looks like a legal pad, or you can choose blank landscape or blank portrait. There are also templates for daily schedule, graph, meeting notes, and notepad.
There seems to be little to no lag in writing.  The stylus to screen experience feels like pen to paper.  The pen thickness can be easily changed.  Press a button the stylus and you can erase whatever you've written.
Are there things that I wish were different with Sony Digital Paper?
The big downside to this device is the price.  This is a professional device, and it has the cost that comes with professional equipment.  At $700, Sony's Digital Paper is more a workplace tool than a consumer purchase.
How much an organization, including your university and mine, would save if everyone had Sony Digital Paper is an interesting question.  We don't tend to think about the cost of printing.  The cost of all those laser printer cartridges is pretty much invisible to the end user.
The other feature that seems to be missing from the Sony Digital Paper experience is a mobile app.  What I'd like is an easy way to send articles that I see on my iPhone to the Digital Paper device.
What Sony's new Digital Paper device does is finally offer an opportunity to go paperless.  For the first time I can imagine not having a printer.  For the first time I can imagine getting rid of all the paper in my office.
Would going completely paperless be worth $700 to you?