You have /5 articles left.
Sign up for a free account or log in.
Lucky Jim by Kingsley Amis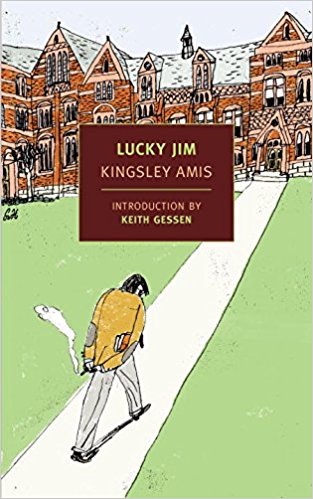 Published in 1954
I'm in search of a funny novel about campus life.  This search is motivated by a desire to find more humor in academia. Please help.
Some combination of Google and Amazon brought me to Kingsley Amis and Lucky Jim. A book that I've known about but never read.
Lucky Jim seems to make every list of must read campus novels.  I'm not sure why.
Whenever I read a book that everyone else seems to have liked, and that I can't stand, I wonder if the source of the problem is me or the book. Lucky Jim makes very little sense to me as either academic farce, or as simply a good story.
Perhaps my problem with Lucky Jim is that Jim's world as a "lecturer", and the university in which he is insecurely employed, feels so wrong. Neither Jim's job, or the institution in which he works, align with how I understand the role of faculty (however tenuous) or universities.  Does Jim have a PhD?  Is he on an academic path as we understand it today, or did that path look different in postwar Britain?
That nothing much happens in Lucky Jim is not the problem.  What seems much worse is that what did happen was not all that interesting.  Could it be that my 21st sensibilities have made me insensitive to the charms of Lucky Jim. (The book and the protagonist?). Have my expectations for humorous novels devolved to a point of little patience for pages of dialogue amongst unappealing characters?
Even as I was bored by Lucky Jim as a whole, there were moments where I could glimpse why everyone seems to think this a work of genius.  The many faces that Jim makes - his Eskimo and Martian-invader and lemon-sucking faces - are certainly evocative.  I think I'd like to have heard the Merrie England lecture at the heart of the novel, although do we really know what Jim actually said before passing out?  And Amis' descriptions of the effects of a hangover could only come from deep personal experience.
Still, I didn't like the book.
A list of campus novels that I have liked, to varying degrees, would include Moo by Jane Smiley, Joe College by Tom Perrotta, Straight Man by Richard Russo, The Lecturer's Tale and Publish and Perish by James Hynes, Dear Committee Members by Julie Schumacher, Wonder Boys by Michael Chabon, The Art of Fielding by Chad Harbach, and The Human Stain by Philip Roth  .
Should I read David Lodge's The Campus Trilogy: Changing Places; Small World; Nice Work?  I worry that these books may feel as outdated to my academic sensibilities as Lucky Jim, but I'll listen to your recommendation.
Pictures from an Institution by Randall Jarrell keeps popping up on lists of campus novels about academic life.  So does Donna Tartt's The Secret History. Any thoughts? Any recommendations?
What are you reading?