Title
Shopping at Ikea and Reading 'Ninety Percent of Everything'
The logistics of cheap goods.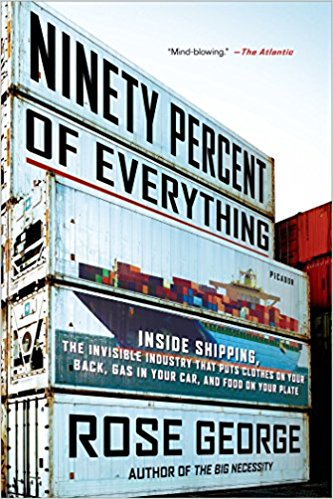 Ninety Percent of Everything: Inside Shipping, the Invisible Industry That Puts Clothes on Your Back, Gas in Your Car, and Food on Your Plate by Rose George
Published in September of 2014. First released on audio in June of 2017.
The way that I understand the world depends on the book that I'm reading. Last weekend I visited the IKEA store in New Haven CT to look for a coffee table. We left with a gray Lack nesting table. The cost was $29.99.
The book that I was reading at the time was Rose George's Ninety Percent of Everything: Inside Shipping, the Invisible Industry That Puts Clothes on Your Back, Gas in Your Car, and Food on Your Plate by Rose George.
IKEA would not be possible without containerized shipping. The reason that IKEA can sell the Lack table so cheaply is that it now costs so little to ship the table by sea from a low-cost manufacturing region like China to the US.
My Lack table, as with almost everything else that I buy, arrives in the US from somewhere else inside either a TEU (20-foot long box) or an FEU (forty-foot box). This intermodal container was carried by an enormous container ship. The world's largest container ship, the OOCL Hong Kong, can carry 21,000 TEU's.
George observes that while we depend on shipping to support our modern way of life, as not only our IKEA furniture but much of our food and fuel and durable and consumer goods arrives by ship, we think about and know less and less each year about ocean shipping. Our oceans are things that we might fly over if we are so fortunate to take an international flight - or something we gaze upon during a trip to the beach. We don't understand our oceans as places of work.
In Ninety Percent of Everything, Rose George seeks to uncover the hidden world of global shipping by spending time on the MAERSK KENDAL (TEU capacity 4,720). What she finds is that the 20 or so seaman who crew a large container ship (and they are all men, save Pinky the chef), exist in a mostly hidden developing world labor market. Modern ships are mostly flagged in countries such as landlocked Mongolia that have lax labor laws and safety standards. Container ships draw their crews from a hodgepodge of countries, with many coming from the Philippines for the same reason that call centers have migrated to this nation of 100 million - low wages and English proficiency.
When you buy a table at IKEA you are engaging in a global supply chain, where the treatment of the workers who manufacture and ship the goods is almost completely obscured from view. In Ninety Percent of Everything, George peels back the layers obscuring one part of this global supply chain. We learn about not only the low-pay of working on a container ship, but also the dangers from everything from piracy to accidents. Some of the best chapters in the book are about the prevalence of modern day piracy, concentrated mostly off Somalia's 1,880 mile coastline. Today, many cargo ships that traverse the Gulf of Aden travel with armed guards or are equipped with a Citadel (an on-ship safe room), but recent reports have indicated that Somali pirate attacks are again becoming a significant risk to shipping.
Ninety Percent of Everything is a book that I've wanted to read since it was published in 2014. George's earlier book The Big Necessity: The Unmentionable World of Human Waste and Why It Matters, is one of my favorite works of nonfiction. The reason that I read Ninety Percent of Everything in the summer of 2017, rather than 3 years ago when it first came out, is that the audiobook version was not released until this June. The Kindle e-book and the Audible audiobook are Whispersync enabled - meaning that for $7.49 on top of the $9.99 e-book you can switch reading between your eyes and your ears.
After finally getting around to reading Ninety Percent of Everything, I'd say that George's book is one of the those essential reads to help us understand how today's world works. How much do we really think about our understand how our stuff gets to us? Gaining some insight into the hidden world of open ocean container shipping is one way that we can start to make sense of our world.
What books would you recommend that shed light on the underpinnings of our consumer economy and globalization?
What do you think about on your trips to IKEA?
What are you reading?
Opinions on Inside Higher Ed
Inside Higher Ed's Blog U
What Others Are Reading
Past:
Day
Week
Month
Year