Title
On Showrunners, Professors and 'I Like to Watch'
What higher ed can learn from the TV revolution.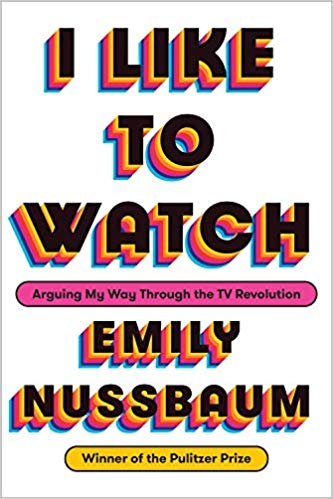 I Like to Watch: Arguing My Way Through the TV Revolution by Emily Nussbaum
Published in June 2019
Inside Higher Ed is a community where we attempt, at least sometimes, to make sense of higher ed. Why else would we spend time on the site? There are far more absorbing activities we could be engaging in than debating the university. For sheer entertainment value, we could do worse than devoting our precious waking hours to watching TV.
That TV is more alluring than academia is one of the themes of Emily Nussbaum's collection of essays, I Like to Watch. Nussbaum, the Pulitzer Prize-winning TV critic of The New Yorker, was derailed (or rescued) from finishing her Ph.D. in literature by Buffy the Vampire Slayer. As a graduate student, Nussbaum came to the realization that she'd much rather think and write about the cultural implications of TV shows than write and teach about novels.
The relevance to higher ed of I Like to Watch, however, is not about Nussbaum choosing the life of a critic over that of an academic. There are more A.B.D.s than Ph.D.s, and the choice to switch gears and pursue a life outside academia is as common as it should be commended.
Instead, I think that I Like to Watch can add a piece to our higher ed sense-making puzzle through how the book unpacks the TV revolution.
If we are living through a television renaissance, as Nussbaum argues, might there also be hope for something similar to transpire across higher ed?
Nowadays, TV is where it's at. The quality of scarcity that defined the era of network-only television has given way to the artistic feast of cable and streaming. The start of the TV revolution is customarily dated to the 1999 debut of The Sopranos, reaching its apex in the 2013-2018 run of The Americans. (I Like to Watch includes beautiful essays on both shows).
TV's renaissance has not so much been a function of technology, although technology has played its part. The space that cable TV, and then streaming, opened up for narrowly targeted content is one catalyst of television's turn to quality.
The real driver of quality TV, as Nussbaum relates in a series of essays on the rise of the showrunner, is the ascendance of the writer. Unlike in movies, where the superstars are the directors and the actors, the writers are TV's royalty. The showrunner, a term invented for television, combines the roles of creator, head writer, executive producer and sometimes director.
In I Like to Watch, Nussbaum profiles showrunners such as Norman Lear (All in the Family), David Chase (The Sopranos), Jenji Kohan (Weeds and Orange Is the New Black), Kenya Barris (Black-ish) and Ryan Murphy (Glee and almost all other TV). Good TV, as Nussbaum argues, comes from difficult people. The best shows reflect the quirks and passions of their showrunners.
The lesson of the TV revolution for higher ed may be that if we care about quality, and we want to have an impact, that embracing new technologies will not be enough. Online learning and digital platforms may be higher ed's equivalent to TV's cable and streaming. But these technologies can result in bad educational experiences for learners and financial dead-ends for colleges and universities, just as streamed shows can be terrible.
Who are the showrunners of higher ed? The professors, of course.
It is the professor who creates the content, designs the learning experience and then brings the creation to life. Teaching is as much a creative act as writing and directing a TV show.
Like in television, the professor as showrunner can't do it alone. The showrunner heads a writers' room and is dependent on a cast of actors and other professionals to make a show. More and more, the professor needs a team. This is especially true if the course is online.
And just as the showrunner needs a network, the professor requires a university. Shows don't appear on their own. They are run on a network or cable channel, or lately on streaming platforms such as Netflix and Amazon. (In 2018, Murphy signed a $300 million deal with Netflix.) Universities provide professors a platform.
The point is that the value of the platform -- the network or the university -- is now (and increasingly will be) a function of the quality of the showrunner and the professor.
Commoditized education is as bad, and will ultimately be as cheap, as commoditized TV.
The education that students will pay for will be narrow-cast, engaging, challenging and targeted.
Anything that can be learned on the internet and at scale will become cheap. Anything that can only be learned through deep interaction and mentoring with an educator will be expensive.
Of course, I Like to Watch is not about higher ed. Nussbaum's brilliant writing television should provide any academic plenty of incentive to read this collection of her best essays, even without making the leap to lessons for academia. The essay "What Tina Fey Would Do for Soy Joy: The Trouble With Product Integration" is reason enough to buy the book. (Should we be doing more product placement in our MOOCs?)
For academics who like to watch, I Like to Watch is a must-read.
What are you watching? My current TV obsessions are Succession, Mayans M.C. and House Hunters International.
What are you reading?
Opinions on Inside Higher Ed
Inside Higher Ed's Blog U