Title
'Superfandom', Audiobooks, and Audible.com
Passionate opinions about the company that puts books, including this book, in our ears.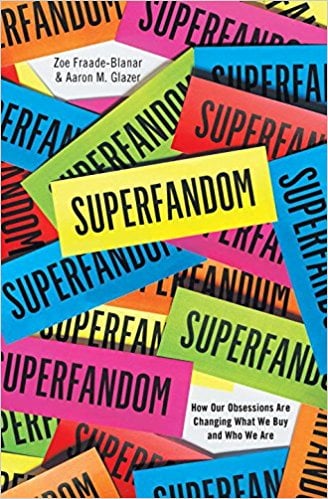 ​Superfandom: How Our Obsessions are Changing What We Buy and Who We Are by Zoe Fraade-Blanar and Aaron M. Glazer
Published in March of 2017.
Are you a superfan? Is there a particular service, product, company, or activity in which you are unreasonably obsessed?
If so, you may want to consider investing the time to read Superfandom: How Our Obsessions are Changing What We Buy and Who We Are.
The reason that I read Superfandom is also the way I read Superfandom - as an audiobook from Audible. (8 hours, 27 minutes).
My obsession is listening to books, which in the world of audiobooks that places me as a superfan of Audible.com.
The status of being a superfan is, as Superfandom unpacks, complicated.
In many ways, it is a good thing for Audible that I'm a superfan. Most books that I read and recommend have been purchased on Audible. In the past 12 months I've purchased and listened to 75 books on Audible. That translates into $717 in audiobook spending. My cost-per-audiobook is $9.56, as I purchase the Platinum Annual plan which comes with 24 books (or credits) for $229.50.
I have little doubt that Audible - which is owned by Amazon - appreciates all the money that send their way for audiobooks. The real value to Audible of my Audible superfandom, as Superfandom points out, is in the free marketing that I provide. Everyone I meet is in danger of hearing about the wonders of audiobooks. I'll go on and on about how audiobooks allow me to start and finish books because of the wonders of reading multitasking. Everyone I know knows that I listen to audiobooks while walking to work, doing the dishes, folding laundry, and running (slowly). I listen to audiobooks while driving in a car, flying on a plane, or sitting on a train. An audiobook will be in my ears while I'm doing the weekly grocery shopping, watching a (live) college sporting event, and walking the dog.
My audiobook superfan status extends to other things that are book - and Amazon - related. Go ahead and ask me about Whispersync for Voice. I will launch into a passionate monologue about the game changing technology that syncs audio and digital (audible and Kindle) books. Likely I'll talk to you about how we read much faster with our eyes than our ears, and the combination of the two mediums allows one to move quickly through even long books. I'll talk about the amazing Kindle iOS app, which enables seamless switching between e-book and audiobook on the device (the smpartphone) that we have with us at all times.
So I'm a superfan of Audible - and will talk, blog, and tweet about audiobooks with enthusiasm and energy of a true believer.
So far, so good. But as Superfandom points out - with examples from companies as diverse as Maker's Mark Bourbon and Disney - superfandom comes at a price. My love for audiobooks translates into a belief that I have the right and the responsibility to be critical of Audible.com. Here are some examples of critical blog posts that I've written about the company over the past few years:
As an Audible superfan, I firmly believe that the company has a responsibility to me and all other audiobook obsessives. When Audible does something that I disagree with - such as moving too slowly to make more books Whispersync enabled and by continuing to have a confusing and inconsistent pricing structure - I'll let everyone I know about my complaints. Audible's continued failure to meaningfully address the college student market, and to work with academic libraries, is an area of concern that I constantly bring up.
Perhaps my biggest worry is the monopoly position that Amazon has developed in digital books with the company's Kindle readers and e-books and their ownership of Audible. In the short term, Amazon's digital book monopoly has served to drive book prices down and to increase our reading options. (See Whispersync as an example). In the long run, I worry about what this digital book monopoly will do for innovation and pricing.
The people who run Audible should read Superfandom. The Audible people can use the book to get a better sense of how superfans like me can be mobilized, utilized, and managed. Why Audible has not created a Platinum Audiobook superfan club is beyond me. Audible should be hosting events and parties, meet-ups and gathering for its superfans. Put us on product advisory boards. Get us early releases and special discounts. Find ways to let us know that we are recognized and appreciated.
What are you a superfan of?
What are you reading?
Opinions on Inside Higher Ed
Inside Higher Ed's Blog U
What Others Are Reading
Past:
Day
Week
Month
Year