You have /5 articles left.
Sign up for a free account or log in.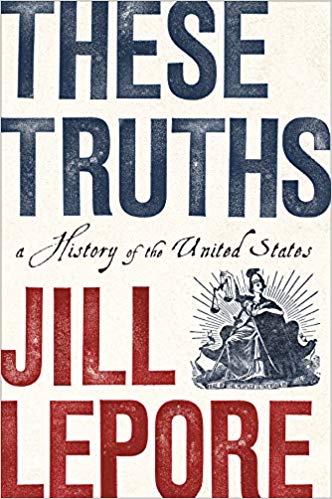 These Truths: A History of the United States by Jill Lepore
Published in September of 2018.
In college, I majored in history. I thought that I was pretty good at it. I got A's. By my senior year, I was taking courses with graduate students. My senior honors thesis won the thesis prize.
Reading Jill Lepore's These Truths: A History of the United States provides convincing proof of the limits of majoring in history.
How is it possible to major in a subject and then to wind up knowing so little?
Not only did I learn new things from These Truths, I learned something new from almost every sentence. That is saying something in a book that is 960 pages long.  (Or 29 hours, 9 minutes. I toggled back and forth between the e-book and audiobook).
The amount of US history that These Truths revealed that I don't know caught me off guard. You'd think that a motivated and curious history major from a fine undergraduate institution would know the whos, whats, wheres, whens and whys of the American story. But I have gaps. Dates and places and events where I'm a bit foggy.  After reading These Truths, I'm a bit more sure-footed in my grasp of the American story.
Should a history major involving reading These Truths? Should anyone majoring in history be able to recreate the outline of the story that Lepore tells? I think so.
As a history major, I learned to do history. I worked with primary sources. The history education that I received formed the foundation of what I'd need to know if I was to become a historian.
But how many history majors become historians?  According to the Bureau of Labor Statistics, there are 3,300 working historians in the US.  Each year, about 27,000 baccalaureate degrees are conferred to history majors.  (Down from 35,000 in 2012).  
This is not a new argument that history majors should learn more history. More geography and dates and timelines. Usually, however, the argument is made by those who don't believe in the value of the history major.  (See Bryan Caplan and The Case Against Education).
I think that a history major is the best major going. How can we know anything about the future unless we understand what happened in the past?
In its completeness, its fairness, and its style - These Truths is sure to be considered an indispensable classic. Lepore writes with verve and empathy about those American's who have paid the highest price for our country's birth and ascension.  Her story of the American experiment is not shiny or simple.
These Truths excels as political history. This is a good thing in the age of Trump, as we all need to be reminded that out history is replete with politicians and ideologies that are much worse than what we are all living through.
Where Lepore and I diverge is on progress. I read the story of American history as one of improvement. And the future of America as better than today. Lepore is more cautious to claim progress and somewhat down on our future.
I would have wanted more data in These Truths. More information about declines in child mortality and greater recognition of the advances in material well-being. Lepore's political history would have benefited from more economic history.
This is a book that no history major, either in school now or long since graduated, should even think about not reading.
Should college history be taught as These Truths is written?
Any other history majors in the house?