You have /5 articles left.
Sign up for a free account or log in.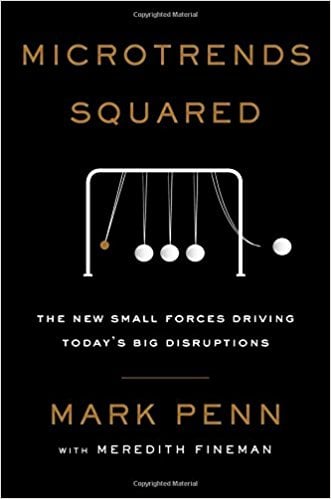 Microtrends Squared: The New Small Forces Driving the Big Disruptions Today by Mark Penn
Published in March of 2018.
There are two ways to read Mark Penn's update of his 2007 original Microtrends book. The first way is deeply unsatisfying, the second is thoroughly enjoyable.
The less fun lens to read Microtrends Squared is as an explanation for Trump and the 2016 election. Penn is a much better provocateur than a political operative, as Hillary Clinton discovered during her first presidential campaign.
In Microtrends Squared, Penn can't seem to help himself in applying his perfectly sound observations on demographic, economic, and social change to politics. The result is a series of unconvincing post-hoc explanations for Trump's election.  If you can look past the half-baked political analysis, Microtrends Squared is engaging and informative.
That second way of reading Microtrends Squared is perfect if you want to seem smarter and more informed than you actually are during conversations with colleagues. I've embraced this second path. Campus small talk is not my strength. Being able to spout off Microtrends in conversations helps.
Thanks to short chapters and the lack of any attempts to connect data with the stories of real people (beyond Penn's own life), Microtrends Squared covers lots of ground very quickly. The book is arranged into 6 sections:  Love and Relationships; Health and Diet; Technology; Lifestyle; Politics, and; Work and Business. With so much discussed, you are sure to recognize at least part of your life in the description of at least a few trends.
I certainly saw myself in the chapter on Second-Fiddle Husbands, Nerds with Money (I wish), and Bikers to Work. I had a great time talking to my Korean-American wife about the chapter on Korean Beauty.  (Wow, that is a big thing!). And I greatly enjoyed speaking with my fellow pet owners on campus about the chapter Single with Pet.
This past weekend I talked to my Dad, a housing demographer, about the chapters on Independent Marrieds (all those dual-master bedroom houses), and Roomies for Life.
Penn's methodology for predicting the future basically boils down to describing how wealthy people live today, (see Private Party Plane Crashers and Work with Limits), and then finding evidence (some good, some shaky) that you and I will live like that tomorrow.  Not aways convincing, particularly the chapters on Virtual Entrepreneurs and Microcapitalists, but always fun to contemplate.
Mix in some solid analysis of key demographic trends such as later marriage (Never Married) and fertility declines (Single with Pet, Roomies for Life), and you get Microtrends Squared.
My guess is that you will see enough of yourself in the Microtrends Squared to make reading the book enjoyable, even if you conclude (as I did) that politicians should continue to refrain from employing Penn as a strategist on their campaigns.
What are you reading?