Title
Why Amazon Chose Hanover, NH for the HQ2 Shortlist
The liberal arts, distributed work, and quality of life.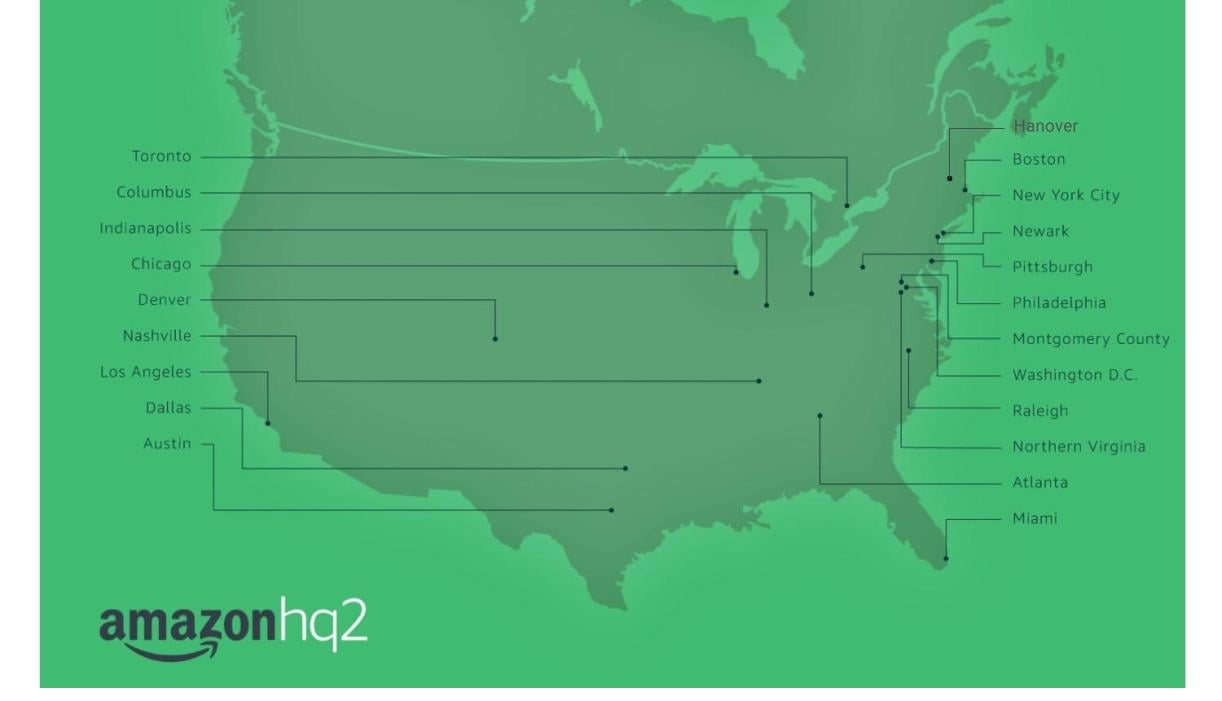 Perhaps you were surprised that Hanover, NH made Amazon's HQ2 shortlist.
You might reasonably ask how Hanover beat out 218 out of 238 applicants? Or how Hanover will compete to win HQ2 against the 20 other locations on the list?
Admittedly, Hanover is quite different from the other selections. The average metro population for the 20 other locales is about 5.9 million. Hanover boasts a population of 11,348.
Other locations on the shortlist have offered Amazon enormous incentives to locate HQ2 within their borders.
Atlanta is offering more than $1 billion in incentives, Chicago has put forth $2 billion in tax breaks. Not to be outdone, Newark is offering $7 billion in tax incentives, and Philadelphia is promising to make available 4.2 million square feet of development space. /
Hanover, in comparison, did not offer Amazon anything.
In retrospect, however, Amazon's choice to include Hanover on its HQ2 shortlist makes sense.
Amazon is signaling 3 things with this decision.
First, Amazon is making a statement about the importance of higher education. Hanover is, if nothing else, a college town. How many other towns are as firmly associated with higher education as is Hanover NH. Amazon understands that the company will require the world's most superbly educated employees to thrive. A liberal arts education from a small and intimate college, particularly one with the reach and ambitions of a global university, is well aligned with Amazon's future workforce leadership needs.
Secondly, Amazon is making a big bet that the death of distance has finally arrived. Distributed work has languished too long in the trough of disillusionment. The idea of telecommuting peaked before the technology was actually ready. Nowadays, the quality of web conferencing and virtual meetings is so good that colleagues no longer need to occupy the same physical space. Amazon knows that they can locate HQ2 in beautiful Hanover, and have the company's global workforce work from anywhere. How better to recruit top talent than letting them live where they want?
Finally, by shortlisting Hanover for HQ2, Amazon is recognizing that tomorrow's best employees will place huge value in quality of life. It is well known that spending time in nature, and participating in vigorous outdoor activities, is conducive to high-level creative thinking. In Hanover, we have both the Appalachian Trail and a College owned mountain for skiing. We have amazing cross country skiing, and endless opportunities for biking and hiking. What we don't have is traffic.
Many of my friends and colleagues are skeptical of the value of Amazon locating HQ2 in our small college town. They worry about what this headquarters will mean for our quality of life. They say that it is already hard to get a table at Lou's (our local breakfast and lunch place) on the weekend.
I say not to worry. College towns are nothing if not adaptable. We will adjust to our potential Amazon neighbors just fine.
What other small college towns should have Amazon considered for HQ2?
How do you place Hanover's odds at winning the competition?
Opinions on Inside Higher Ed
Inside Higher Ed's Blog U
What Others Are Reading
Past:
Day
Week
Month
Year