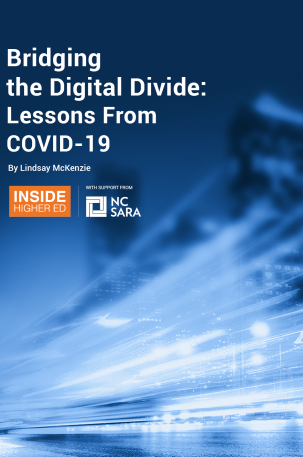 The digital divide, digital equity and digital accessibility are not new concerns in higher education, but the COVID-19 pandemic has forced many institutions to confront these issues head-on with renewed efforts and innovative strategies. Uncover the complex factors that underlie these evolving divides and discover how institutions can continue to promote student success as they implement extensive, remote-learning programs. With in-depth analysis and data, higher ed professionals gain critical advice and best practices from experts, administrators, instructors and students who share the long-term changes needed in policy and practice to bridge these gaps.

Topics Include
National data and analysis of the 2020-2021 postsecondary enrollment
Evidence-based instructional practices that have been demonstrated to improve student satisfaction and success
Financial implications of remote learning expenses, laptop shortages and the price of internet access
Broadband access is not just a rural issue
Table of Contents
Summary
Introduction
Glossary
Lessons in Student Engagement
Meeting Students Where They Are
More Tech Isn't Always the Answer
Broadband Limitations
COVID-19 Adaptation Case Study: Maine's Study from Car Initiative
Back-to-School Laptop Shortages
COVID-19 Adaptation Case Study: University of California, Davis Laptop Loans
Covering Expenses
Privacy Concerns
Conclusion
Further Reading
About the Author
About Inside Higher Ed

Number of Pages: 27 (5 MB PDF)
Date Released: February 2, 2021
About the Author:
Lindsay McKenzie is the technology reporter at Inside Higher Ed. Since joining the publication in August 2017, Lindsay has written extensively about the evolving online program management market and what it takes for colleges to go big online. When she isn't writing about online learning trends, Lindsay regularly reports on the academic publishing industry and campus IT issues such as digital accessibility and data security. Originally from England, Lindsay moved to Washington, D.C. in December 2016. Before joining Inside Higher Ed, Lindsay reported on British and European science policy for Research Fortnight in London. Her work has also appeared in Science, Nature and The Chronicle of Higher Education.
This report was made possible in part by the financial support of NC-SARA


Support: Please email store@insidehighered.com with questions regarding the report or your download.