Members only report
This report is available to Insider Members. Become a member to get unlimited access to all of our special reports.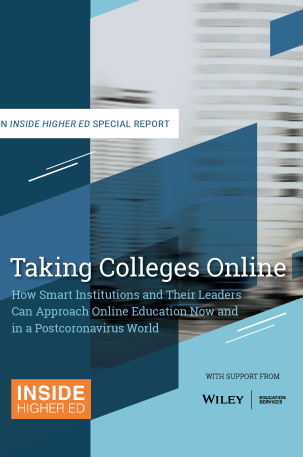 At a Glance
The rapid transition from face-to-face instruction to remote learning in higher ed in the spring of 2020 and in response to the COVID-19 shutdown of most college campuses around the world was unprecedented. Many educators within weeks, if not days, turned to videoconferencing platforms to continue delivering their classes remotely.
While this quick pivot allowed most institutions to complete the school year, few could argue that the instruction given was at the level it should or could have been with greater preparation and planning. Educating students virtually takes a significant investment of time and resources to create quality courses and programs. What this pivot did do is give many instructors and administrators a glimpse into the potential benefits of online instruction for both teaching and learning, as well as the pitfalls that would have to be addressed to proceed.
This special report is intended for anyone who is interested in improving online education, including faculty members and administrators tasked with improving online instruction, and the campus leaders and boards of trustees who must allocate resources and ensure remote institution fulfills its mission. From showcasing how some institutions were preparing to grow online before the pandemic hit to how schools will now continue to expand online learning in light of the pandemic and potentially for the long term, this report lays out the pros and cons of different approaches to online instruction.
Learn how to design virtual programs that will fit your institution's budget, mission and enrollment goals.
Download a free preview of the report ››
Topics Include
The state of digital learning before the onset of COVID-19
Securing accreditation for new online programs
Different models for institutions going online: build, buy or hybrid
Selecting and working with online program management companies (OPMs)
Key institutional considerations before going online
Core elements required to deliver high-quality online education

Table of Contents
Introduction: An Unprecedented Transition to Remote Learning
Part I: The State of Online Higher Education Today
     New Motivation to Move Online
     The Online Learning Landscape in Numbers
     Accreditation and Regulation
     Key Takeaways
Part II: Models for Institutions Going Online
     Basic Questions
     Going It Alone
     Outsourcing
     Case Study: Maryville University
     Case Study: Concordia University Portland
     Case Study: University of Illinois Springfield
     Consortia and Course Sharing
     The MOOC Route
     Key Questions to Ask
     Key Takeaways
Conclusion: Shared Goals Online


About the Authors:
Lindsay McKenzie is the technology reporter at Inside Higher Ed. Since joining the publication in August 2017, Lindsay has written extensively about the evolving online program management market and what it takes for colleges to go big online. When she isn't writing about online learning trends, Lindsay regularly reports on the academic publishing industry and campus IT issues such as digital accessibility and data security. Originally from England, Lindsay moved to Washington, D.C., in December 2016. Before joining Inside Higher Ed, Lindsay reported on British and European science policy for Research Fortnight in London. Her work has also appeared in Science, Nature and The Chronicle of Higher Education.
Doug Lederman is editor and co-founder of Inside Higher Ed. He also writes the weekly "Transforming Teaching and Learning" column.
Lilah Burke, who contributed to this project, is a reporter at Inside Higher Ed.

Number of Pages: 68 (7.6 MB PDF)

Date Released: June 22, 2020
The print edition will be available when the COVID-19 crisis has stabilized. Preorder it now to secure your copy or choose the bundle edition to access the digital version right away and receive the print edition when it is available.

ISBN: 978-1-7327300-7-6
 
Group Orders: For information on purchasing multiple copies at a bulk discount, please email store@insidehighered.com.
Special reports are intended for use solely by the purchaser and are watermarked accordingly.
 
Support: Please email store@insidehighered.com with questions regarding the report or your order.