You have /5 articles left.
Sign up for a free account or log in.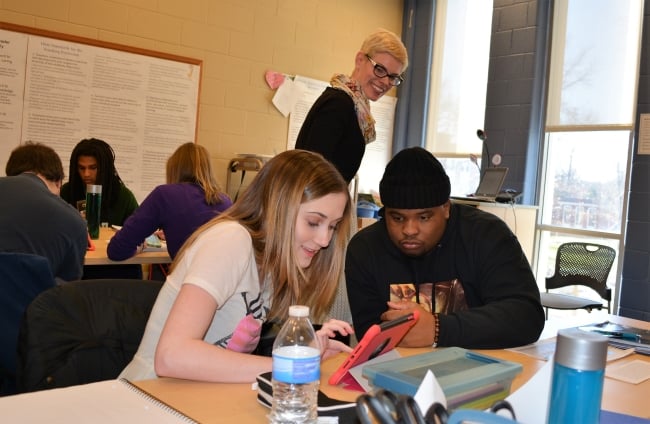 As digital technology becomes more common in the classroom, colleges and universities must navigate how to channel that technology into student learning and success. That's what officials at Hiram College, in Ohio, have spent months discussing, and now they've thrown their full support behind an initiative aimed at solving just that. 
Through its "Tech and Trek" initiative, Hiram will provide each student, professor and staff member with an iPad Pro. The first phase will launch this fall, when Hiram will distribute the devices to its 800 full-time, traditional students as well as about 75 faculty and staff members. 
The idea isn't necessarily new -- many college and universities have invested in digital technology to propel their students ahead -- and some have committed to providing all students and faculty members with the same devices. 
Hiram will be the first college in Ohio and, according to those involved in the planning, the eighth college in the country, to take this step. Others include Lynn University in Florida and Maryville University and William Jewell College, both in Missouri.
Faculty members and administrators at Hiram visited several of those colleges and met with those involved in the launch of their own technology initiatives. They learned what had worked and what could be improved as well as how to capitalize on the culture of Hiram during the Tech and Trek rollout.  
Their hope is that, through this initiative, Hiram students will be able to enhance their learning outcomes through the available technology -- but without losing sight of essential skills and experiences that make students successful. That's where the "trek" aspect comes in. 
"We want students to realize that, while we want them to be technologically savvy, there's nothing old-fashioned about real-time debate, civil discourse and teamwork. Those will never go out of style," said Lori Varlotta, president of Hiram and a champion of Tech and Trek. "This notion of face-to-face and critical thinking and civil discourse skills is very important to Hiram College."
The trek will also be incorporated more literally. Hiram will provide brand new iPads to everyone at the college, but the college doesn't want students to use technology as an excuse to become more engrossed in their phones and computers. To counteract the iPads, Hiram will encourage students and faculty members to set aside time -- maybe once a day, once a week, a couple times a month — to put down their devices and tune in to what's happening around them. That could mean going on a hike or maybe just being more aware of their surroundings at a coffee shop or during a walk through campus.
Brad Goodner, a biology professor at Hiram and director of the Center for Scientific Engagement there, said that, for his regular "trek," he plans to encourage his students to go bird watching with him. It's one of his favorite hobbies, and he thinks that participating will be good community building for students.
After teaching for over 20 years, Goodner has seen the way technology has transformed the traditional classroom environment. These days, he feels less connected to his students and hopes the Hiram initiative will be a breakthrough. 
"I'm willing to try anything if it will get students to engage with me more," Goodner said. "The current generation is less likely to come to my [office] door and talk, and if they're not coming face-to-face, what else can I do to engage them? I think we're going to be able to reach even more students [with Tech and Trek]."
The iPads will allow all of Goodner's students to follow his tweets about lessons, assignments and other highlights from the course. He has already been using Twitter to summarize key points and explain basic concepts from class, but the iPads ensure that every student has the option to follow along. 
"The iPads are an equalizer," he said. "We're no longer assuming all students are equal in terms of the technology they're bringing with them."
In Hiram's education department, Jennifer McCreight has had a chance to see the technology initiative play out on a smaller scale. Since August 2014, the department has provided iPad Minis for all of its juniors. As an assistant professor of education, McCreight has become familiar with these devices -- and seen the benefits in the classroom. 
She has primarily incorporated the technology through interactive presentation tools, she said. Instead of PowerPoint or PDFs, she uses applications with a more advanced interface. 
One of the applications McCreight uses, Nearpod, allows for built-in questions and responses, so in the middle of class, McCreight can assess students and see which concepts of the day they might be struggling with. It also benefits students who are less likely to speak up in class by giving them an option to contribute to the discussion through the app. 
"Everyone is given a good opportunity to be a part of the conversation," McCreight said. "We use that, then, to have a very open verbal discussion."
She can also have students take a mid-class quiz with the iPad Minis, and then the results are automatically reflected in a pie chart or graph to show which questions students got correct and which ones students got wrong. Previously, she might have had to pass out a quiz in class then grade it that night and wait until later in the week to re-teach any major concepts students did not understand. It's a huge time saver in that way, she said. 
McCreight thinks the trek component will be widely used during student internships, study abroad trips and research projects, where they can use the iPad Pros to take photographs, record data or blog about their experiences and share it with a much wider audience. 
"I'm excited about using this to bring to life a lot of what they're already doing and sharing that with the world," she said. 
She also said that, after using the devices in the education department for over two years, she's eager to see how her colleagues in other disciplines manipulate the devices for their own academic lessons.
In order to be successful with this initiative, Evangeline Varonis, an instructional designer at Hiram, said students, faculty and staff need to remember that technology is only there to complement the traditional learning experience, not replace it. 
"It's not about the technology -- it's about what the faculty do in their classes with that technology," Varonis said. "They want the students to demonstrate what they are able to do. How can technology be leveraged to assist faculty in achieving those learning objectives? It's got to be about learning objectives."