You have /5 articles left.
Sign up for a free account or log in.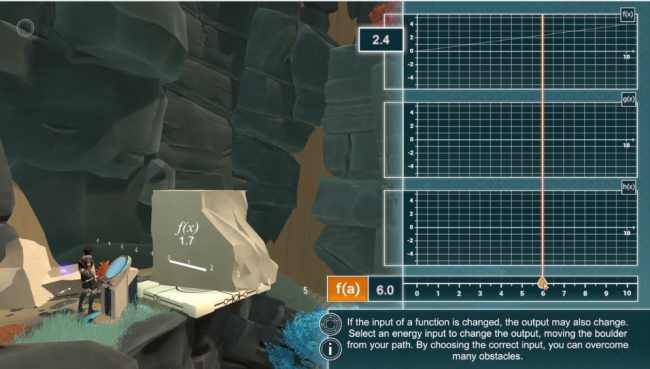 A new video game that launched last month aims to help students learn one of the most difficult academic subjects while having fun.
In the game, called "Variant," users try to navigate an avatar through an abandoned planet by solving calculus-based equations.
In the five weeks since Variant was rolled out, more than 400 faculty members and administrators from over 300 colleges have requested the game, according to its lead developer, Andre Thomas.
Thomas has worked in computer graphics for the last 20 years, primarily helping to create films and entertainment video games. Now, he's an instructor for the visualization department at Texas A&M and the founder and CEO of Triseum, which created Variant.
Calculus functions are an important component of his work in computer graphics, Thomas said, and he's struggled with it throughout his entire adult life. But it wasn't until he joined the Texas A&M faculty two years ago that he realized it was a difficult subject for others, too.
"There's a crisis going on not just in this country, but in the world," Thomas said, referring to calculus. The Mathematics Association of America found a 38 percent failure rate for Calculus I, and Thomas said other estimates are much higher, with percentages in the 60s. "Students can't get a STEM degree without passing calculus."
After learning about the failure rate, Thomas began working on Variant as a solution to the problem. He figured that if students found an enjoyable, indirect way to learn calculus, the mathematical concepts would come naturally.
"I've always believed games can teach," he said. 
The pilot game focuses on the calculus concept of limits, but Triseum is working on three more versions that, together, will span the entire Calculus I curriculum, Thomas said. The second game, set to be released later this year, will focus on derivatives.
About 50 colleges and universities are participating in the pilot this semester (free), and although they don't have data yet to determine whether student performance has improved, Thomas said the response has been very encouraging. In the future, there may be fees for the game.
"The feedback is overwhelmingly positive," he said. "A lot of people are saying, 'I never liked math, but now I like math.'"
After spending much of his career in the entertainment industry -- he developed graphics for EA Sports video games, like Madden, and for films such as Independence Day and Men in Black -- Thomas knew that if he made a calculus-centered game, people would learn the math so they could play the game. He said he wanted it to be "chocolate-covered broccoli" for students -- the idea that you can take something inherently unappealing, like learning the principles of calculus, and make it enjoyable by disguising it as something else, like a video game.
Right now, Variant is available for colleges to purchase for their students. Thomas said students and parents will be able to purchase it directly through their website in the near future.