You have /5 articles left.
Sign up for a free account or log in.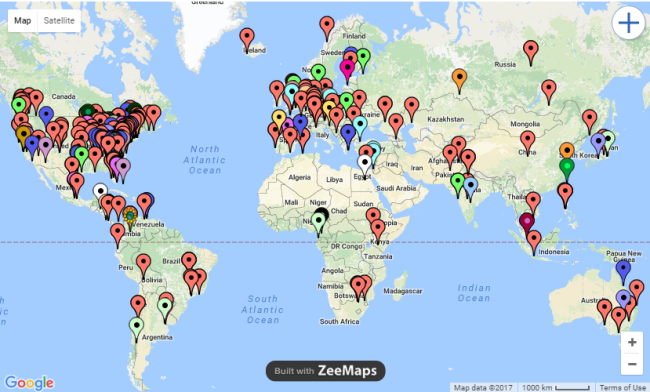 This new feature, Creative Course Finder, presents digital courses that offer innovative instructional techniques or unusual approaches to teaching and learning. We welcome suggestions for courses to feature at digital.learning@insidehighered.com.
***
Institution: Davidson College in North Carolina
Course: After a recent Davidson College graduate admitted to crafting one of the biggest "fake news" stories of the 2016 election, officials at his alma mater felt a responsibility to join the conversation about -- and to combat -- fake news.
The result is a free, two-week online course called "The Story of Fake News," which launched last week. The course -- the second in a new series of MOOCs called Davidson Now, which explores critical current issues -- dissects the history, scope and impact of fake news through videos, interviews with journalists and media experts, interactive tools and quizzes.
The first course in the Davidson Now series focused on voter access and voting fraud in U.S. elections, and was released just before the presidential election in November. The short, online courses are a "productive way to engage the general public around a topic," said Julie Goff, director of engagement for IT services at Davidson.
Because the fake news course is available to the public, more than 2,300 people from across the globe have already enrolled and are working through the lessons, according to Amanda Martinez, one of the faculty members leading the course. For reference, the college only enrolls about 1,900 full-time students. 
"It's definitely transcended the Davidson student body," said Martinez, an assistant professor of communication studies and sociology. 
Target audience: In order to engage in the world around them, people must be informed and be able to trust the news they consume. For this reason, the fake news course is relevant to a wide audience.
During the two hours it typically takes to complete the course, participants learn that fake news originated long before the 2016 election, and that there are many types of fake news -- fabricated stories, satirical pieces and misleading stories with cherry-picked details. They also learn that technology has allowed fake news to thrive, and the ways to identify and avoid fake news stories. 
"I really hope the outcome is also to make everybody more critical media consumers ... to navigate our media-saturated environment, to take a critical eye to everything we consume," Martinez said. 
About 12 percent of those enrolled in the course are Davidson alumni, and 46 percent live outside the United States, Goff said.
Curriculum: The course is divided into two portions, released one week apart. In week one, participants learn about the history of news, what fake news is, how pervasive it is, how fake news can affect real news and real people and where and how technology comes into play.
During week two, they learn about how to fight fake news, the ethics and legality of creating fake news, the consequences of misinformation and how to become a more careful consumer of news.
Throughout the lessons, Martinez and her co-leader Mark Sample, an associate professor of digital studies at Davidson, explain different layers of the fake-news phenomenon. Students also hear from a number of journalists -- including those who work for media outlets NPR, The Associated Press and Politico -- as well as media scholars and faculty members from colleges across the U.S.
"I'm really hoping people [gain] a broader sense of fake news," Sample said. "I want them to realize there are ways to combat fake news, things you can do as a consumer … I want to help people avoid feeling helpless."
Technology: The creators chose to include a number of interactive tools and visuals to make the material accessible and engaging. There's a pre-course survey that assesses participants' knowledge about fake news, and a quiz of 15 recently published headlines that allows users to guess whether it was a real-news headline or a fake-news headline. There's also a user-created word cloud that depicts how people perceive and define fake news.
Because many of the experts interviewed for the course don't live near Davidson, the instructors used video calls for a number of the conversations. For example, last week Goff used Skype to interview John Daniszewski, the editor at large for standards and vice president at The Associated Press, from his office in New York.
And while the class is free, participants can pay $29 for a verified certificate.
Final thoughts: Although everyone can be tricked by fake news, Davidson officials felt particularly alarmed earlier this year, when a 2016 alumnus admitted he was behind a fake news story that went viral during the presidential campaign. In an interview with The New York Times, Cameron Harris said it only took him a few minutes to think up and write the election fraud story that was shared with more than six million people.
"The consensus was embarrassment," Martinez said. "It brought shame to the college." When she and Sample were approached about turning the issue into a short, digestible, online course as a way to combat fake news, Martinez said she was delighted.
"These are very important, pressing issues in the world -- or, at least, American society -- and we're teaching about them," she said.