You have /5 articles left.
Sign up for a free account or log in.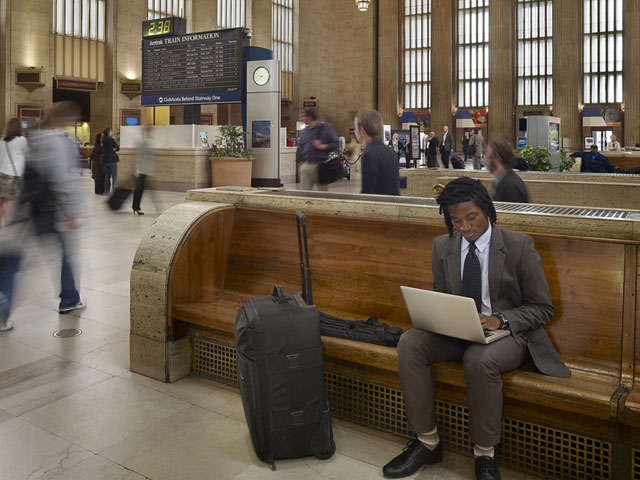 While struggling for-profit institutions are scaling back their online programs, public and private nonprofit colleges and universities are adding online courses and master's degree programs, mainly in business, health care and technology. But the years of explosive growth are over.
Online enrollments at public and nonprofit colleges are not experiencing gains of as much as 30 percent per academic year as they had been for years because the market is maturing and there are many more competitors, ed-tech experts and administrators say.
Based on the latest federal data, the number of online programs increased by 7 percent for all private nonprofit and public two- and four-year colleges in 2015 from the year before, according to Phil Hill of eLiterate and MindWires Consulting.
"That's significant because over all [residential] enrollments are going down," Hill said.
Since 2015, experts interviewed for this article say that the rate of online enrollment growth has continued to slow, and Richard Garrett, chief research officer at Eduventures, said he believes online course growth is about to plateau.
"Not everyone can win," he said. "We will see a bit of a shakeout. Any school that has ambitious online goals that's brand cache is not national is going to be caught off guard."
Competition Heats Up
Despite overall growth, accelerated competition has forced some public and nonprofit institutions, especially the early adaptors that quickly ramped up online course and programs, to scale back or rethink their efforts. For example, Liberty University announced last week that it is reorganizing its online management staff and that some employees would lose their jobs. According to the latest federal IPEDS data available, Liberty is No. 2 in terms of total online enrollments and No. 1 in online enrollments among public/nonprofit institutions.
"As online education continues to evolve and become more competitive, we have to continually evaluate our strategies and position ourselves to be ready for the future by adjusting with changes in the marketplace," Liberty said in a statement.
Liberty has 15,000 residential students and 94,000 online learners, down from its peak of 98,000.
"What I took from the Liberty news is that [they] are no longer one of the only ones in the market," Hill said. "There is a lot of competition for online programs."
Fierce competition for online learners has created a "mixed picture," Garrett said. Baker College in Michigan and Indiana Wesleyan University, for example, have struggled to hold on to their share of online students because most every college offers some courses online, he said.
Smaller private nonprofits, which typically offer only a few online courses or degree programs, have benefited from declining enrollments at the retrenching for-profits -- but the rate at which they are acquiring the former for-profit students is beginning to slow, said Trace Urdan, who follows higher ed as managing director and senior analyst at Credit Suisse.
As for community colleges, Garrett said online enrollments are all over the board: some growing, some declining and some flat. "Their students need more face to face" because they are frequently not as academically prepared as learners enrolled in four-year programs, he said.
Some online programs created from the ground up, like those at Southern New Hampshire and Western Governors Universities, still are experiencing double-digit growth because they act more like for-profits programs than public or nonprofit ones, Hill said.
Scott Pulsipher, president of Western Governors, said increased competition is forcing institutions to focus on quality, not quantity.
"I believe because of our emphasis on student outcomes and opportunity, we are still seeing strong growth," said Pulsipher of the Salt Lake City-based WGU, which was established as an online-only institution. "It's always been about quality, not access, for us."
WGU has 80,000 online students across the U.S. Pulsipher said the university's online enrollment still is growing by 15 to 20 percent per academic year.
One of SNHU's strengths is that it understands its target student population, and has built strong programs -- including marketing, IT, academics and support structures -- to meet its online learners' needs, Hill said.
"Where many school take a 'if we build it, they will come' approach, SNHU is known for 'let's figure out what students need and build that' approach," he added.
While SNHU's online enrollments continue to experience steady growth, Hill said: "How much growth can one institution handle?" 
Garrett agreed: "I have not seen any evidence that SNHU's growth has plateaued, but it is very rare for any school in the U.S. to achieve a much bigger online student headcount."
SNHU serves more than 80,000 online students in 50 states and in 137 countries.
What's Next?
Public and private nonprofit programs that are well designed for the needs of adult learners and take a holistic approach will be the biggest winners, Hill said.
"Part of what's happening is forcing [institutions] to think a lot like a business in ways they haven't had to do in the past," he said. "Ones that are just throwing stuff online to be competitive are going to have it tougher."
The ed-tech experts and administrators predict expansion of graduate programs, especially for big universities and elite private nonprofits that have well-recognized brands far beyond their brick-and-mortar campuses.
Penn State World Campus believes its online programs are well positioned for the future. "We are still experiencing double-digit growth," said Karen I. Pollack, assistant vice provost for online and blended programs. "I think it has to do with the programs we picked. We are building professional degree programs where there growing jobs and scarcity of workers."
Penn State has 20,000 online-only students split evenly between undergraduate and graduate programs, Pollack said. Fifty percent come from Pennsylvania and the mid-Atlantic states, and the other half from around the nation and world. Eighteen percent are in the U.S. military.
Ten years ago, employers were suspicious of online-only degrees, but not anymore. "You get a University of Florida diploma, not a University of Florida online diploma," Hill said.
The experts and administrators also said that there won't be many more new online-only programs, except on the graduate side, and that institutions will offer more components of degree programs online.
"Online is well suited to graduate education," Urdan said. "They are more serious students, and there isn't as big of a need to sit in a classroom."
Drexel University in Philadelphia continues to see robust growth in its online graduate programs because it has specialty schools, including medical, bioengineering and law, said Susan Aldridge, president of Drexel University Online.
"We can launch programs like … research lab management that other universities can't offer," said Aldridge, who has worked in online higher education for public and private nonprofits for 20 years.
Drexel has 7,500 online students in 50 states and 20 countries. Besides online degrees, Drexel also offers many legal certifications online through its law school, Aldridge said.
In search of new opportunities, some institutions are forming partnerships with employers, such as Arizona State University's with Starbucks. Arizona State also has an online freshman year that's available worldwide with no admissions process and full university credit. Others, including Penn State, are tailoring some online courses to better-fit specific employers' needs.
Winners and Losers
Online enrollment winners will offer in-demand courses that can be structured to scale, and will spend the marketing and advertising dollars needed to attract lots of students, Garrett said. Also, institutions that provide seamless and customer-friendly options and service will prosper, he said, holding up Southern New Hampshire and Arizona State as examples.
As competition escalates, online programs must be more than convenient and/or affordable. "You can't just have an online program anymore," said Pulsipher of WGU, which was built as an online-only institution. "It's got to be a rich experience."
"One of my biggest concerns is that we created access, but we haven't invested enough in the quality of the courses," Aldridge said of online learning in general. "Students are demanding quality -- and are not going to continue online courses if they are read only, chat only and video only."
Likewise, many online programs need more structure, as well as student advising services and support for instructors teaching online, Hill said.
Don't Forget the For-Profits
Finally, nonprofit and public universities can't underestimate their for-profit competitors, despite the beating the sector has taken from regulators and in enrollments, the experts contend. For-profits institutions are frequently more nimble, and can more quickly deploy new strategies for market-driven programs, Urdan said. Also, for-profits are better at controlling costs and can discount prices, he said.
Likewise, Jeff Seaman, co-director of the Babson Survey Research Group, said the nonprofits have been enrolling lots of students who left for-profit programs, but they just can't count on that anymore.
Then there is the business-friendly Trump administration. No one knows what new rules and regulations the new president will push through that could aid the for-profits.
"For-profits are the [big] question," Seaman said.