You have /5 articles left.
Sign up for a free account or log in.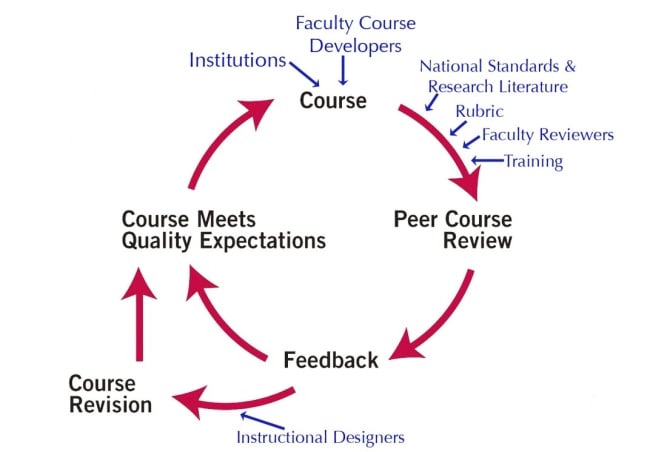 Instructional designers have become invaluable to many faculty teaching online courses. But because the profession is new -- just about 20 years old -- IDs had no clear or common career path. Now formal education is becoming widespread, and most institutions are supplementing with their own training for new hires. 
Continuing education is the key to IDs' success -- and to their institutions' online course development, according to IDs and higher education experts. "One of the challenges is it's a constant evolution of [online] educational tools -- technology, learning management systems," said Rolando Garza, an ID at Texas A&M University in Kingsville. "Instructional designers have to stay in the forefront of learning."
Expanding Education Opportunities
Until recent years, IDs entered the profession with a variety of degrees and training; now they usually come from educational technology, instructional technology, software engineering, media development or related fields. There are dozens of degree- and certificate-granting ID programs offered by institutions and higher ed organizations (although sources interviewed for this story said formal ID education and training aren't not necessarily required for employment).  
Two national organizations, the Online Learning Consortium and the Instructional Designers Association, are educating and training IDs. Through a partnership with SUNY, OLC began offering an ID certificate program last fall. The first session filled so quickly that the organization had to start a waitlist, said Jill Buban, OLC's senior director of research and innovation.
"I don't know of many instructional designers that are coming into this space now without formal training," Buban said. "There are so many opportunities."
OLC also hosted a webinar series last summer about the role of IDs, whether IDs have become indispensable to universities and what the future holds.  
Quality Matters, a nonprofit organization supporting quality assurance in online education, created the Instructional Designers Association in 2014 to develop and disseminate a rubric for quality assurance for IDs and their institutions. IDA's membership expanded rapidly. Membership totaled 150 three years ago; now there are 640 members representing about 350 institutions, according to Garza, who is IDA's vice chair.
The IDA also hosts regional and national conferences, focusing on professional development and best practices.
"Think of us as a big network of instructional designers from all over the country," Garza said. "[IDs] now have a place to go for more guidance or assistance or experiences."
Meanwhile, an initiative developed by Florida institutions is supporting IDs and faculty teaching online courses nationwide. The group's website, Teaching Online Preparation Toolkit (TOPkit), is public and free to all educators. Wendy Howard, an ID at the University of Central Florida who helped launch TOPkit, said the website is particularly helpful to smaller institutions that don't have the same resources of a much larger university.
"This site allows them to use existing resources to start their own [training] program," she said.
TOPkit offers a sample online course that can be tweaked, as well as checklists, rubrics, techniques and strategies. Howard emphasized that the website only is intended to be a starting point for IDs.
"There's no one-size-fits all," she said. "Every college and university has a different set of needs. Context is really important. … Everybody has different resources they can pull from."
Institution-specific Training
Most colleges and universities have on-boarding processes to train and prepare new IDs, and they often supplement the employee's training with memberships in and attendance at conferences sponsored by organizations like IDA and OLC.
Institutions are providing a variety of opportunities for IDs to learn and acclimate. One of the primary training approaches used by Ohio State University is on-the-job mentoring and coaching, said Jessica Phillips, a senior ID in the Office of Distance Education and eLearning.
Newly hired OSU IDs start with a lighter course-development load, and spend the first few months on the job learning OSU processes and their job responsibilities.
"Usually during that time we'll identify areas of growth for that unique designer and create a program for continued development," Phillips said.
OSU, which has about 30 IDs, tries to engrain in its ID staff that there is no training end point; learning is continuous because the profession and technology are constantly changing, Phillips said.
Excelsior College takes a similar approach. When a new ID joins the team, he or she is paired with a senior ID, who acts as a mentor for six to 12 months, said Deborah Natale, senior ID at Excelsior, which has seven IDs. 
"They'll work with their [senior] instructional designer and shadow them with their courses until they get to a point of reverse shadowing," Natale said. "They get more responsibilities as time goes on, until they teach their own."
Excelsior also conducts a needs assessment at the beginning of employment and evaluates the person's relevant strengths and weaknesses.
Meanwhile, in OSU's Office of Distance Education and eLearning, senior ID John Muir hosts "weekly huddles" in which IDs are divided into small groups to discuss the courses they're working on, the challenges they face and the techniques they are using.
"We're working toward a safe space to talk about their work … and stay parallel with the work people are doing each week," Muir said.
The huddles also allow for the ID team members to reflect on their jobs, share ideas and information about innovative technology they've found and provide feedback on projects, he said.
Oregon State University also holds regular, collaborative group meetings with its team of eight IDs, said Shannon Riggs, director of course development and training for Oregon State eCampus.
"We're sharing struggles, triumphs, challenges" at those meetings, Riggs said. "We're brainstorming how to solve a given problem."
Smaller institutions with fewer online courses and programs may only employ a handful of IDs, like Gonzaga University in Washington. Gonzaga's two IDs, Justin Marquis and Lynn Harrison, have graduate degrees in instructional technology, which eliminated the need for technical training early on in their employment, they said.
To expand their knowledge, Marquis and Harrison attend conferences and work with ID professional groups on an informal basis. Harrison also is a member of IDA, which exposes the team to new ideas and practices in the field. 
Marquis, director of Gonzaga's ID staff, said an institution's size usually doesn't limit an ID's performance or continuing education.
"We tend to not be protective of what we do; we tend to be collaborative," he said of IDs in general, adding that openness allows for easy networking and idea sharing among peers at small or nearby colleges.