You have /5 articles left.
Sign up for a free account or log in.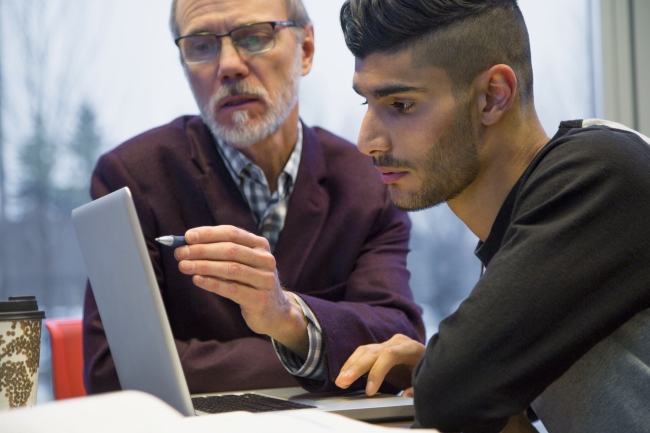 When Michael Knemeyer was approached last year about converting his logistics management course to an online class, he had his share of reservations. Knemeyer, a professor of logistics at Ohio State University, didn't want to sacrifice the face-to-face interaction and personal relationships he valued with his students.
Knemeyer worked closely for nine months with Jessica Phillips, a senior instructional designer in OSU's Office of Distance Education and eLearning, to develop his online course. The professor said he had a positive experience with Phillips -- she heard his concerns and respected his vision.
But he acknowledged that's not always the case with faculty/instructional designer dynamics.
"As an instructor, you feel like you own that classroom and the classroom interaction," he said. "But if you're willing to let your guard down a bit, reassess and have someone challenge you, I really do think it helps."
The problem is not all instructors are willing to let their guards down, which often leads to conflict and misunderstandings with faculty and instructional designers, who are growing in importance at institutions where the number of online courses continues to swell.
During course development, designers and content experts often spend months together -- meeting, brainstorming, exchanging ideas and editing and revising course material. These encounters are often cordial and constructive, but at times, the designer and instructor are at odds.
Instructional design teams interviewed for this story say they establish ways to anticipate, address and avoid tension or conflict between designers and faculty members. A number of these successful methods are described below.
1. Create a Perfect Match
Instructional design teams make every effort to pair people they think will be compatible. At Ohio State, senior instructional designer John Muir is responsible for matching designers with instructors. "One of the things I do really proactively at the beginning is get to know the instructors and make my best guess in matching people ahead of time," he said.
However, some institutions are too small -- or too large -- for this to be a foolproof strategy. So, instructors and designers may be paired based on the designer's background and expertise or just on which designer is available.
If the dynamic does not work, Muir said he will move designers around. But if the pair works well together, he may assign the designer to other course projects in that department.
"That allows [the designer] to have consistency with courses and have greater understanding of the culture in that part of the university," he said.
At Rio Salado College in Arizona, Michael Medlock assigns each instructional designer to two or three faculty department chairs, who appoint subject matter experts for online courses.
Medlock, associate dean of instructional design and technology at Rio Salado, said he wants faculty chairs to get to know (and hopefully respect) the designer to overcome the initial, natural tension and start building a relationship.
Most colleges and universities match one instructional designer with one instructor, but others -- often when they are creating a MOOC -- may assign an entire design team to work on a single course.
2.  Convince the Skeptics
Many instructors still have never taught an online course, but now are being required to teach one. That situation doesn't typically get the faculty-designer relationship off to a good start, said Penny Ralston-Berg, chair of the Quality Matters Instructional Designers Association.
"If it is forced – the faculty members don't have a choice -- we're starting from a point of conflict," she said.
But instructional designers can ease the conflict by helping faculty members acclimate to an online teaching environment. Providing examples of successful online classes and connecting skeptical faculty with online instructors usually works best, said Muir.
"That sort of thing at a local level seems to allay a lot of fear," he said, adding: "[We try] leveraging our faculty champions -- some that maybe started out with hesitation, but came around and adjusted to or embraced their roles as online educators."
Another approach instructional designers can take is achieve a "win" early in the course-development process. "Something small that would have a big impact," said Patrice Prusko, an instructional designer at Cornell University, such as introducing a video conferencing tool to the online course so the instructor can meet one-on-one with students just like they do in face-to-face classes.
3. Clarify Roles
The most common cause of strife between instructional designers and subject matter experts comes from a misunderstanding about what each person's role is and what is expected.
"Clarifying roles can help build bridges between faculty and instructional designers -- two groups of professionals with complementary skills and expertise," said Ralston-Berg, who is also a senior instructional designer at Penn State World Campus. 
Like Ohio State's Knemeyer, others interviewed for this story said that some faculty members fear they will lose control over their courses if an instructional designer helps develop them. That's why it's important for designers to be clear up front about their role in the partnership, Ralston-Berg said. Instructional designers can offer suggestions and ideas, but they know that ultimately, the instructor gets the final say.
"Faculty members really know what works in the classroom," said Ralston-Berg. "It's not that we want to change everything -- we want to keep what's working as much as possible."
Prusko said she tries to be open-minded and receptive to each faculty member she works with. She starts by familiarizing herself with the instructor's teaching approach, goals, concerns and priorities. She asks what he want his students to remember from the course in four or five years. 
"I let them know that this is a partnership and we're in this together," Prusko said. "I think it's really important to develop that relationship with them."
In the early stages for online course development, Prusko said she avoids saying no to anything. "I try to let a lot of ideas flow."
Sometimes, faculty members question the designer's expertise or intentions -- not from a place of disrespect, but from one of misunderstanding, said Shawn Miller, director of the Center for Instructional Technology at Duke.
"None of us want to create a course that somehow doesn't work or fails," Miller said. "We want to make sure learners have the best experience possible. We can all bond over trying to improve the whole experience for students."
Karen Paulson, an associate professor of higher education at Penn State University, said some initial tension arises when instructional designers suggest changes to a faculty member's teaching methods or course structure. Until this process begins, many instructors likely haven't exhaustively considered their pedagogical approach.
"That's when you get people who can get defensive," Paulson said. "Everybody has to respect everybody else as a professional. It can fall apart on either side."
On the other hand, when the subject matter expert is responsive to a designer's feedback, it can be a constructive experience for everyone involved, official said. 
Having converted his in-person course into an online format, Knemeyer said he now is a more thoughtful, intentional online instructor.
"I had been teaching this class in person for so many years that it became straightforward, what I was going to do each week," he said. "I really had to think about how to make it come to life online."
4. Account for Time
Online course development can go on for many months and sometimes multiple semesters. Often it requires at least a few hours of the faculty member's time each week. "Some of the resistance … really just comes from time [constraints]," said Ralston-Berg.
The same issue is common at Carnegie Mellon University, said Martha Lovett, director of the Eberly Center for Teaching Excellence and Educational Innovation.
"We're getting the busiest-of-the-busy faculty who are doing this work," Lovett said. "The biggest thing we can do to reduce tension around time is being really clear with faculty members about the amount of time and the kinds of activities they'll be doing."
Pedro Lasch, an associate research professor in Duke University's department of Art, Art History and Visual Studies, knows how time-intensive developing an online course can be. He worked with a team of Duke instructional designers to create a MOOC series that launched in 2015. Lasch tracked the time he devoted to developing two courses -- 900 hours over about 10 months.