You have /5 articles left.
Sign up for a free account or log in.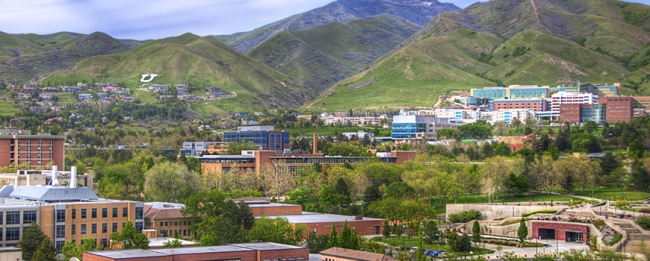 Like many institutions, the University of Utah is seeking ways to reduce textbook and course material costs for its 29,000 students. One thing is clear: Students aren't buying as many textbooks at the campus bookstore. In just three years, textbook sales fell from $8 million to $4 million during the 2016-17 academic year, and the bookstore director Dan Archer said sales will continue to tumble.
Allyson Mower, Utah's assistant librarian, Archer and other university officials contend students are buying fewer books because of their high price tags, and that that's impeding some learners' success in courses.
Mower, who is an advocate of free open educational resources (OER), said there was a movement on campus led by librarians to get faculty to implement OER in their courses, but that many instructors were skeptical and balked at the idea.
" 'If it hasn't come through the publishing industry, it lacks peer review,' " Archer recalled some Utah faculty members saying about OER.
Plus, many instructors, especially those who've been teaching for decades, are reluctant to restructure their courses with new OER materials, Mower said.
In 2014, a Utah Faculty Senate committee conducted a six-month study of textbook and material costs; the top two recommendations were for faculty members to assign older books or to use OER. The report also said that the university needed a group on campus to help professors streamline the process of finding and implementing course materials.
That year, the Course Material Services Team was organized; it is made up of staff members from the library, bookstore, print and mail services department, Teaching and Learning Technologies, and the registrar's office – people who have expertise working with publishers and other course materials providers and understand the importance of lowering textbook and material costs, Mower said.
The team members knew they couldn't "come out with guns blazing" advocating for OER adoption, Mower said, and have opted for a pragmatic approach that they hope, over time, will persuade instructors to employ more cost-effective textbook options.
"We want the professor to be more cognizant of what she's selecting," the librarian said. "It's making sure that the assigned material is serving a purpose. That's at the core of this change."
First Steps
One of the first things the team did was ask instructors to provide information about their course materials, including costs, by the time registration opened so that students knew, in advance, the name of the book and its cost. That information helps students make choices, and gives the bookstore enough time to get the books in stock by the first day of classes, Mower said.
In 2014, 40 percent of instructors provided their course information by the deadline; during the past academic year, the number rose to 54 percent. The team's goal for the 2017-18 academic year is 80 percent – a lofty goal, admitted Rick Anderson, associate dean of collections and scholarly communication at the Utah library. But, he said, "Sometimes a goal is the North Star that just keeps you on target."
Besides mailing information to professors, team members now are meeting with deans and department heads, asking them to spread the word to instructors about providing the course materials information by the registration date, Mower said.
"We are trying to get this information to 2,000 [faculty members]," she said. "That's a lot of people."
Another goal for the coming year is to add several faculty members to the team, ones who have a broad perspective on textbooks, not just knowledge of materials they or their colleagues use, Mower said.
Free Consultations 
The team recently began offering course material consultations to faculty members. The consultations cover:
Publisher price negotiations
Library-licensed e-books and journal articles
Streaming media licensing and file management
Custom course pack publishing
Copyright permissions
Fair use book chapter or more on eReserve
Books or films on reserve
Fair use film clips on university's Canvas learning management system
On-demand printing and support for self-authored content
Finding older editions to minimize costs to students
A buyback program with multi-year adoption options
Inclusive access implementation and management
OER discovery and integration
"We don't push; we just explain approaches," Mower said. "We are taking baby steps."
After a consultation in April, one professor negotiated with a textbook publisher to reduce the cost of a book for a multiple-year agreement from $170 to $89, Mower said.
Instructor Cheryl Wright, who attended a presentation by the team last year, began offering her undergraduate students older book options last fall. During the spring semester, Wright, an associate professor in the department of family and consumer studies, taught a course with an open source book published by the University of Minnesota that she found through the team.
"The book is fabulous," Wright said, adding that it's available in a variety of formats. "It worked really well for the course. It covered a lot of great topics that created a lot great discussions in class. And it helped alleviate some of the cost burden our students have."
Wright said she will "actively look for open source books" for other classes.
OER Challenges
Besides skepticism, Mower said one of the big hurdles for OER adoption at Utah and other institutions is the lack of advocates. Publishers, she noted, employ sales representatives, working on commission, to hawk textbooks to faculty members and campus bookstores.
"There are no equivalent sales reps for OER like there are traditional textbooks," Mower said. "No one is saying they are going to stand up the quality of OER."
Another hurdle is the lack of time and understanding. "Advocates for OER are saying it's better for the student, but the professor is saying 'how am I going to change the course?' "
Wright said one of her colleagues is using an open source book, too, but she noted that many faculty members who have been teaching for decades are reluctant to consider OER because "there is some resistance to change."
Nevertheless, Utah's provost and senior vice president for academic affairs, Ruth Watkins, supports OER and the team's ongoing efforts, Mower, Archer and Anderson agreed.
"We explicitly backed away from the term OER because the pushback was so pronounced, but it will come up again," Anderson said.