You have /5 articles left.
Sign up for a free account or log in.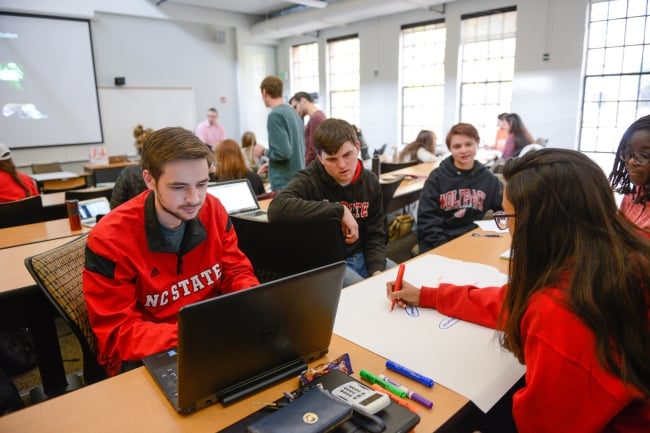 North Carolina State University
Contrary to the declaration in the New York Times recently, Google hasn't quite taken over the classroom—at least not the university classroom. As ed-tech blogger Joshua Kim observed in Inside Higher Ed, Google is "everywhere, but strangely absent" on college campuses. While G Suite for Education is ubiquitous at universities and colleges, Google Classroom, which serves as a frontend to that productivity suite, has not achieved widespread adoption since its launch in 2014.
Skeptical of a product that lacks key learning management system (LMS) features and a broader higher ed strategy, IT administrators mainly have parceled out Classroom to pilot programs and case-by-case experiments.

"To expand its market and replace existing enterprise systems, Google needs a coherent strategy for how individual G Suite tools, including Google Classroom, collectively enhance students' learning experience and integrate with other core institutional workflows, like maintaining student information systems, managing online course content across an institution, facilitating online learning, and providing customized student advising support," said Elizabeth Pisacreta, senior researcher of educational transformation at ITHAKA S+R, a research and consulting firm.
One area where Google Classroom is gaining traction: college and university education departments that are training future teachers who will be using Classroom in K-12 schools.
Classroom's central appeal is that it's embedded with the tools and repository that students and faculty members already use: G Suite for Education. Instructors can create online extensions to in-person classes, post announcements, share documents from Google Drive, attach YouTube links to assignments, or create self-grading multiple-choice assessments using Google Forms.
However, Classroom is no substitute for an LMS. A paper produced by the Academic Technologies group at the University of Notre Dame notes that the platform lacks a grade book, tests and quizzes, discussion forums, a lesson builder, a calendar and support for the Learning Tools Operability (LTI) standard through which administrators might connect it to existing systems. Although Google has since addressed some of those limitations, the promise of future updates is cold comfort to university administrators.
In the Beginning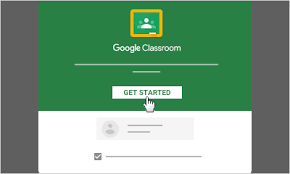 When Google announced a Classroom preview in May 2014, more than 100,00 educators signed up for a preview before it went public in August. The New York Times noted that Google's K-12 strategy sought to persuade teachers who could influence administrators. The past three years have validated the approach: Half of the 30 million K-12 students who use G Suite also use Classroom.
K-12 was arguably ripe for disruption. Bethany Smith, associate director of Institutional Technology Training at North Carolina State University, observed that before Google's entry into the space, high schools began to embrace LMSs like Moodle and Canvas, whereas elementary and middle schools gravitated towards LMS-lite platforms such as Edmodo and Schoology.
"After the Google Classroom announcement, a lot of students and teachers who were already using Google Drive, switched immediately to Classroom," Smith observed. "High schools continued to balance between traditional LMSs and something like Google Classroom."
Google's success in K-12 isn't necessarily transmissible to higher education, where colleges and universities have invested deeply in LMSs.
"Despite its dominance in the K-12 market, Google Classroom has surprisingly not cracked higher ed," said Jeff Denneen, a partner at Bain & Company and head of the consulting firm's higher education practice. "While students and faculty use many Google products, they do so in piecemeal across Google Mail and Google Docs. Blackboard and Canvas have a strong hold on the higher ed learning management system space, and it's not clear that Google Classroom has developed a strategy to unseat them."
Google doesn't have a strategy to unseat Blackboard and Canvas, but it may not need one, contends one Google official. "Classroom rethinks the traditional LMS assignment workflow for cloud-hosted files like Google Docs," said Zach Yeskel, senior product manager at G Suite for Education. "Google Classroom is used by thousands of professors in higher education globally, often as a secondary tool alongside their school's official LMS.
Google claims that numerous large institutions have adopted Classroom, including Arizona State, the University of Michigan and the University of Minnesota, which recently completed a two-year pilot. According Minnesota's website, it will determine next steps this summer.
Administrators at the University of California, Santa Cruz describe their adoption of Google Classroom as a "light exploration" of 63 active faculty and 1,378 active students—about three percent of faculty and eight percent of students.
At the University of Notre Dame, the Office of Information Technologies' Academic Technologies group has collaborated with faculty in biology, business, education and philosophy to test Classroom and produce several papers, including the one cited earlier. Administrators have established a policy whereby faculty must request use and prove a need to receive IT support. The exception is the Alliance for Catholic Education, which has adopted Classroom internally for a master's degree in education program.
For Future Educators
Unsurprisingly, education programs have led in Google Classroom adoption. Program leaders argue that teachers-in-training ought to learn the tools of their trade, and Classroom is increasingly popular in K-12.
At North Carolina State University, for example, administrators are conducting a pilot program with the College of Education. "My interest in using Google Classroom in the classroom is that I prepare K-12 teachers," said Erin Horne, the assistant director of professional education. "In the state of North Carolina, most of the schools are using either Canvas or Google Classroom, so I wanted to be able to best prepare our teacher-candidates to use a learning management system that they would use out in the field."
Whereas NC State's LMS, Moodle, facilitates the transmission and evaluation of completed work, Classroom enables faculty to provide real-time feedback on works in progress, which supports project-based pedagogy. "If they're writing lesson plans to implement in the field, I can give them feedback before they teach," explained Horne.
The University of Minnesota also recently completed a pilot program with education faculty members. "The demands that we have had for Google Classroom have been from our College of Education, where a few instructors have wanted to expose their students to a platform they'll use as K-12 teachers," said Donalee Attardo, senior director of Academic Technology.
Perhaps the most compelling argument for faculty adoption is ease of use. A recent survey conducted by Tyton Partners found that faculty resistance was less an obstacle to online education than lack of time and training. For faculty who use G Suite, barriers are low.
"I probably spent a quarter of the time setting up Google Classroom than I did with Moodle," said Horne. "I was already using Google Drive, so all of my content was already there."
Barriers to Adoption
Limited interoperability with an institution's LMS and student information system (SIS) continue to constrain large-scale adoption of Google Classroom.
"We haven't rolled it out to the entire campus, in part because we want to be able to automate the process of populating class roles from our student information system," explained Stan Martin, director of outreach, communications and consulting at NC State. "For a larger institution like [Minnesota], there's really no way for us to administer it centrally," added Attardo. "We're going to be moving to Canvas, and their Google integration is pretty good. Why would you encourage adoption of a second LMS if you're supporting another good, full-featured LMS already?"
"The holy grail, in my opinion, is a tighter integration of the tool set," said Marc Hoit, the university's vice chancellor for Information Technology and CIO. "Google does a good job of making all of these tools available, but they're still separate pieces. I think that Google Classroom is the beginnings of a more general integration of those tools."
Tighter integration isn't just good for administrators; it's good for educators and students, Horne said. "In higher education there's a great deal of emphasis on content expertise, but we also want our students to learn how to collaborate and to think critically," she said. "Giving students the opportunity to revise their work, to make mistakes, and get that feedback and make changes is valuable in higher ed. It's where we need to be headed."
Will Fenton is a teaching associate at Fordham University, fellow at MLA Connected Academics and the Library Company of Philadelphia, and educational technology columnist at PC Magazine.