Smithsonian Institution partnership provides students opportunity to learn from museum system's expansive online collections.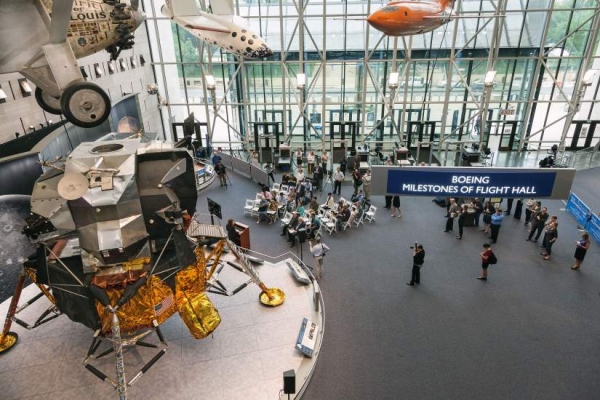 Air and Space Museum/Smithsonian Institution
For the 24 students in Virginia Miller's Principles of Chemistry 1 class at Montgomery College last fall, almost every lesson featured a "trip" to a world-class museum. Miller transformed her traditional, face-to-face course through the use of an expansive digital collection from the Smithsonian Institution in Washington, D.C.
"It almost looks like a digital museum exhibit," the associate professor said of the five "collections" of chemistry-related space imagery that she curated from Smithsonian's online archives and turned into homework assignments for her students. "These objects jump out at you. You think, 'Let me click on this; this looks worth exploring.' … [Students] enjoyed the visual nature of it."
Miller is one of approximately a dozen faculty members and instructors from the suburban Washington, D.C. community college who are using the Smithsonian's 19-month-old digital Learning Lab to enhance classes they have taught, lecture- or lab-style, for years. The lab features exhibits, documents, videos, blogs, podcasts and photographs from the Smithsonian's collections.
Smithsonian staff trained Miller and her colleagues on how to find and use the materials in the Learning Lab. The lab is available to any instructor and to the public, and its resources are free.
Miller transformed one section of her introductory chemistry course into an examination of the use of chemistry in spacesuits, rocket ships and heat shields and on Mars, inviting students to engage in a sort of online scavenger hunt of the Smithsonian museums. The result, she said, were students who were more engaged in classroom discussions, were more likely to turn in their homework, wrote longer papers and raved about the class in post-course evaluations. They also "made the connection between chemistry and the technology," she added.
Miller and her colleagues, who are participating in beta testing of the Learning Lab along with a group of high school teachers, teach science, math, nutrition, journalism, art history, music, mythology, developmental English and other subjects. They were tasked with centering at least one assignment on Smithsonian research or exhibits available through the digital lab relevant to classroom lessons. Their obligation was to use the materials one semester, although many are continuing to employ them, Miller said.
Museum-College Partnership
The Smithsonian chose Montgomery College to test the Learning Lab because of a 20-year partnership between the two institutions. Since 1998, the community college has run a faculty fellowship program, started with a grant from the National Endowment for Humanities, designed to show instructors how to teach with objects and exhibits from the Smithsonian's 19 museums and galleries. Ten full-time faculty members and adjuncts participate each year. The college lightens each fellow's course load by one class during the spring semester of the fellowship.
The year-long program includes six visits to Smithsonian museums, where curators and educators expose the faculty members and adjuncts to the treasures and research, and suggest ways to incorporate them into the curriculum. The college's administrators choose a theme each year—during Miller's fellowship, the topic was American ingenuity; this year's is social justice—and ask faculty participants to structure at least one assignment around it.
In 2016, the two institutions incorporated the digital Learning Lab training into the fellowship.
At some point during the semester when Smithsonian objects and research are part of a course syllabus, each fellow arranges a class field trip to a Smithsonian museum. Miller said her students had seen the Smithsonian exhibits and objects in the digital Learning Lab, but during the class trip, "they could touch it and see it in life and real. Students loved that. That was the highlight of the course for them."
Most instructors allow students to invite friends and family members along.
"That's almost 20,000 students" who have visited the Smithsonian since the fellowship began, noted Philippa Rappoport, community engagement programs manager for the Smithsonian Center for Learning and Digital Access. Some instructors, said Sara Bachman Ducey, Montgomery College's chair for integrative studies, make up to five field trips a year.
Those students, Rappoport added, "Keep coming back every year."
Building Awareness
In fact, museum attendance—or awareness—is among the Smithsonian's goals for the digital Learning Lab, which about half of the Montgomery College cohort opted to incorporate into its Smithsonian-themed lessons since the fall 2016 semester, when Learning Lab beta testing began.
The digital component, Rappoport said, is "a portal to the entire Smithsonian system." Teaching educators how to expose their students to it, she added, will "bring the museum to people around the country and around the world. We have a lot of people who want to know what's going on at the Smithsonian who can't make use of our resources because they can't get here. This is a way they can tap into what we have and make it relevant to their own lives."
In the program's next phase, the Smithsonian will reach out to high schools and other community colleges in metropolitan Washington, and eventually will reach beyond D.C., Maryland and Virginia, Rappoport said. There's no set schedule for the next phase, but Rappoport said if a college contacts her, she will arrange Learning Lab training for that institution.
Montgomery College officials are so enthused about the Learning Lab that they are holding trainings for local college professors and showcasing the work of their fellows on YouTube.
Still, training is not a requirement for instructors who wish to explore the Learning Lab and create collections on their own, Rappoport said. The site includes video tutorials and "is designed to be very intuitive," she said. Still, she added, learning how others have used Learning Lab can inspire and clarify.
Miller, for example, said although she found the Learning Lab "really cool" when Smithsonian educators showed to it her and her colleagues, she thought, "I don't know how I'm going to use this in my class." But when the trainers posted collections they had created and had the cohort work with them, "It helped me visualize what I was going to do with it."
Miller said it took her all summer to create her five space-themed chemistry collections, but recalled the task was "just fun. … I was learning more about using Learning Lab but also about space flight. I'm not a rocket scientist. I'm a chemist."
Some colleagues questioned why Miller didn't simply post photos and videos on Blackboard, the campus's learning management system.
"That's like sending someone with an email list of things to do," she responded. "That's very uninspiring, very unmotivating. But if you have images and you can click on an image and things pop up, that's more appealing. It sparks curiosity. It makes [students] wonder what this is."
You may also be interested in...
Inside Higher Ed's Quick Takes