You have /5 articles left.
Sign up for a free account or log in.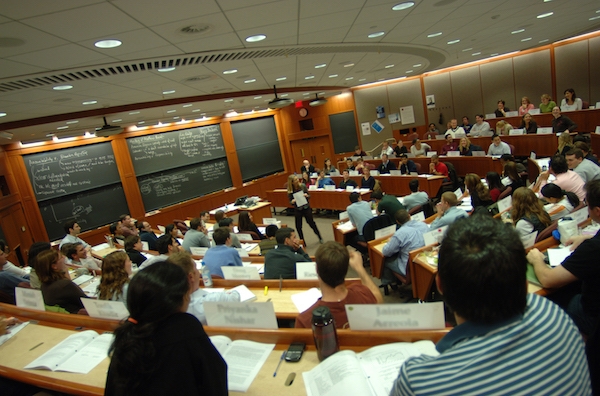 When clickers made their way into higher education in the 1990s, the handheld devices were hailed by professors for their ability to reach everyone in large lecture halls, allowing hundreds of students to answer A-through-D questions instantly from their seats. At the same time, they were bemoaned by students who didn't want to buy (or lose) them, and studies gave mixed results on their efficacy.
While smartphones are more expensive than clickers -- usually by hundreds of dollars -- most students now come to college with one. For students and instructors, smartphone apps represent the opportunity to consolidate technologies, while at the same time allowing for more complex answers than A-through-D questions.
Some apps are free, while others are about the same price or less expensive than a physical clicker, depending on the payment structure a college sets up with the tech company behind the app.
Now, colleges are finding themselves at a crossroads -- even clicker stalwarts, such as Pennsylvania State University, are at least discussing the possibility of adopting apps. App developers have made inroads at institutions that had previously used standardized physical clickers, including Ohio State University and the University of Wisconsin at Madison.
Still, the low-tech, relatively inexpensive devices work just fine, and adapting to apps raises issues of affordability and access to smartphones, as well as infrastructure problems, such whether the Wi-Fi in a lecture hall can handle hundreds of students using an app at the same time.
Mike Silagadze, CEO of Top Hat, a technology company that produces an app and online learning materials, thinks the physical clicker is all but extinct, and the holdouts just don't know it yet.
"In a matter of years, you're not going to have standalone classroom response," said Silagadze, adding physical clickers are an "anomaly" and only became popular because they filled a void smartphones and laptops couldn't previously address.
Steven Ray, vice president of institutional products at Macmillan Learning, hedged his bet on how quickly physical clickers were going extinct. Macmillan owns iClicker, which makes both physical devices and smartphone apps.
"The trend is moving toward mobile," he said. "For the foreseeable future, it's going to be a combination of hardware and software. It's hard to predict when it will go completely to apps -- some would have predicted it already should have happened, and it's definitely not the case at this point."
Testing the (App) Waters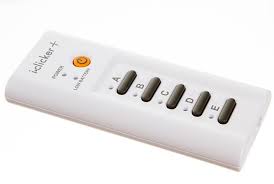 In the past, if a college didn't require a specific model of clicker, students could be on the hook to buy multiple brands. But that's changing. Penn State, for instance, issued a clicker policy in 2011; now it requires all learners and instructors to have Macmillan's iClicker model. PSU Barnes & Noble, the official campus bookstore, only sells that brand of clicker, so everyone is using the same device.
But just as physical clicker standards have emerged, the smartphone app market is heating up, and even physical clicker manufacturers are joining in. David Test, group leader for classroom technology at Penn State, said the university doesn't have a standard smartphone app, but it's testing the waters.
"We usually have a couple instructors, each year, test out the latest generation of the mobile version of iClicker, just to make sure it's a maturing and feasible technology for us," Test said. But, he added, "There are several things to discuss and essentially overcome before moving to that."
While mobile apps, such as the ones offered by Macmillan and Turning Technologies, which make both physical clickers and apps, as well as Socrative and Top Hat -- which have standalone apps -- are drawing attention, they also have limitations, Test said, such as internet connectivity.
"In every classroom on campus, and in most of the rooms where there's between 20 and 150 seats, it's going to work fine if everyone is on the Wi-Fi at the same time," Test said. "But once you get into the 250-, 350-, 700-person rooms, if everybody is actively on their devices, using the Wi-Fi at the same time, we can't guarantee that we're going to have 100 percent [success with apps]."
"A physical clicker … only does one thing, and it does it really well," he said.
At the California State University system, clicker use varies by campus, but each is encouraged to use one brand. Like at Penn State, discussions are popping up around embracing a standard mobile app.
In addition to Wi-Fi issues, Kathy Fernandez, Cal State's senior director of learning design and technology, said that cost concerns are also an important factor.
"You're still having students pay for the data plan," she said. "We are very sensitive to making things affordable for our students." There's also the question of having students pull out a phone in class to use a clicker (or any) app. Fernandez said some Cal State professors might not be OK with that.
Doug Duncan, an instructor in the department of astrophysical and planetary sciences at the University of Colorado at Boulder, said the university's research shows that 70 percent of students who have phones out in class are using them to text.
"Few students are self-aware enough to realize how much sending a handful of texts during class causes them to miss," Duncan, who has studied student perceptions of clickers, said in an email. "This negates the learning gains realized from clickers and good student-student discussion."
Embracing the Phone
For some instructors, however, students' phone use is just something to adapt to in an ever-changing technology world. At Ohio State, for example, Stacey Fineran, an assistant professor in the college of food, agriculture and environmental sciences, has used Top Hat's app in lieu of a clicker.
"In my opinion, that is the world in which we live," Fineran said about mobile phone use.
She brought up moments when students have helped her lecture by looking up a statistic or term that escaped her memory. "They've got their phone out, and they're engaged," she said. "You just have to ask the students, 'Please respect what we're doing in the classroom.'"
Ohio State previously had a physical clicker standard but switched to Top Hat in 2015, and it purchases a universitywide license to allow professors and students to use the system free of charge. Wi-Fi was an issue at first, said Travis Ritter, director of learning systems and infrastructure, but after some upgrades were completed, that hasn't been a problem.
"The transition was surprisingly painless," Ritter said. Accessibility concerns were raised about transitioning to a smartphone-based app, and Valerie Rake, associate director of eLearning support, said the university drew up plans to recommend students purchase a cheap, Wi-Fi-enabled tablet (the institution found some at around $40, similar to the cost of a clicker) if needed.
"To my knowledge, no one has asked us for that information," she said.
Top Hat also sells its app directly to students. For four months -- roughly a semester -- of access, it charges $26; for a year it charges $38, and for a four-year period, $75.
At Ohio State, Ritter estimated that students had collectively saved $2 million by not buying physical clickers, though he said that figure might be inflated since the adoption of Top Hat by faculty members has been at a higher rate than the adoption of physical clickers was.
Dartmouth College has paid for licenses to multiple app companies, including Top Hat, Socrative and Poll Everywhere, in an effort to allow faculty members to choose which app works best for their courses.
"Standardizing clickers was critical, but I don't know that standardizing mobile apps is as critical," said Erin DeSilva, an instructional designer at Dartmouth. "From my desk, it's always nicer to have one product, but we're not limiting it."
As a smaller institution, DeSilva said, Dartmouth also didn't have to worry about dealing with Wi-Fi in large lecture halls. While Dartmouth officials discussed accessibility issues regarding smartphones, it hasn't been a problem.
"Most students do have an internet-enabled device of some sort -- iPod, laptop, tablet, whatever," she said. "There's no perfect solution to that, but I think … more options are better."
Market Future
According to data from the Campus Computing Project's survey of university chief information officers, physical clickers were used in about 3.2 percent of all higher education classrooms in 2005. (The share was think you mean "The share was higher..." -sj--NR higher at public universities and in bachelor's and master's programs.)
By 2016, that number had jumped to 8.9 percent, although the growth has slowed in recent years, increasing only about 1 percent per year since 2012. The data don't include stats for smartphone apps, so it's not possible to say if they're responsible for the slowdown in growth.
Ray, of Macmillan, said that mobile apps offer the ability to ask more complex questions. For example, a professor could send an image of a heart to students' screens, ask the learners to tap where the aorta is and receive an instant heat map of the responses.
Macmillan sees an opportunity to straddle both the app market and the physical clicker market in order to appeal to as many professors as possible. "Clickers are extremely reliable, very easy to use, and they don't distract from the classroom," Ray said. But, he added, "The mobile devices provide more sophistication."
For Silagadze, of Top Hat, concerns about smartphone and Wi-Fi accessibility and some professors' unease about using phones in the classroom are temporary, and solvable, problems.
"All of those concerns are silly and wrong," he said. "They come out of university administrations just kind of being out of touch with reality. Universities and higher education sometimes move very slowly, to the detriment of students. It takes them usually a decade to catch up to the reality on the ground."
Top Hat has about two million users, Silagadze said, adding that there's a growing market for integrating clicker technology with online publishing and homework, which the company is also involved in.
How much apps disrupt the physical clicker market remains to be seen. Test said existing deals with physical clicker manufacturers vary according to who pays to buy or rent clickers -- the college or the students -- and at what price. Future deals with app providers will have to tackle similar business agreements, in addition to dealing with the issues that come with smartphones.
"Some instructors are willing to take that risk in order to advance the adoption of technology in their class," Test said. "Other instructors say, 'I want that proven system that I know that works, that's potentially a little less advanced, but potentially more bulletproof.'"