You have /5 articles left.
Sign up for a free account or log in.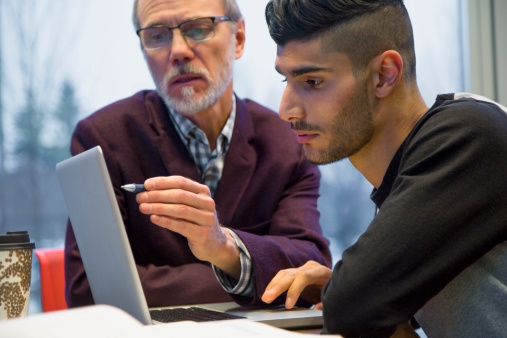 A new study of generational divides shows that a majority of adults believe their children are unprepared for the oncoming challenges of adulthood. Another related factoid in the report has higher ed implications: young adults, men in particular, are far more likely than their older counterparts to agree that they learn more from technology than they do from fellow humans.
Fifty-eight percent of respondents to the study, conducted by the leadership training nonprofit Growing Leaders among more than 2,200 Americans 18 and up, believe they learn more from technology than from other people. Sixty-nine percent of millennials -- between the ages of 18 and 34 -- expressed that opinion, compared with 50 percent of adults over the age of 45.
Part of this response, while striking, comes down to the phrasing of the question, which asks about the perception of learning, rather than an empirical measure of the most fruitful sources of knowledge. In some cases, according to Growing Leaders president Tim Elmore, people are more likely to recognize that they're gaining information from technology than they are to acknowledge the more abstract skills and knowledge they obtain from people, including instructors and classmates.
"Just seeing examples in front of us, good or bad, tend to mold us and shape us," Elmore said. "We don't realize that we're learning as we're with people as we do when we're online."
Growing Leaders offers leadership workshops and other professional development opportunities with a goal of training 1 percent of the world's under-25 population to "think and act like authentic, life-giving leaders." Throughout the organization's work at universities nationwide, Elmore said numerous students have told him that they find it easier to "learn from a screen," rather than having to adjust their body language and facial expression while conversing in a classroom.
Though traditionalists might find such a statement appalling, some educators believe the best course of action is to embrace the generational trends. Peggy Semingson, associate professor of curriculum and instruction at the University of Texas at Arlington, teaches all of her courses online and thinks skepticism about the power of technology in academia is shortsighted. After all, nearly all technology has human fingerprints on it.
"Why are we knowledge guardians? Some people are clinging to that," Semingson said. "I don't see it that way. I see my role as guiding students but also giving them tools to more effectively use technology."
A more productive approach, Semingson says, is to more actively educate students about how to use technology effectively: offering tutorials on research databases and citation software, nudging students toward mobile-friendly tools, and communicating with them through podcasts, webinars and other digital media.
Encouraging students to take advantage of media at their disposal also makes them more likely to discover interesting facts and ideas on their own, Semingson said. She rejects notions from some professors who balk at straying from the traditional lecture format.
"My students have written, why hasn't anyone told me this? Why are you the only one doing webinars?" Semingson said. "I think that it's an ethical duty to stay on top of the new tools so that we can do outreach to students and help them use these tools."
The movement away from traditional classroom procedures has gained traction in recent years. Just this week, the University of Vermont's Lerner School of Medicine announced it will phase out lectures entirely by 2019.
"When you just tell somebody something, the chances of them remembering it diminishes over time, but if you are required to use that information, chances are you'll remember it much better," William B. Jeffries, the school's senior associate dean for medical education, told NPR.
But not everyone believes every class needs to suddenly transform. Gene Roche, an executive professor at the College of William and Mary's School of Education and a faculty fellow at the school's Center for Innovation, thinks some courses benefit from a more traditional approach in which students primarily interact with the teacher and each other face-to-face. There's no one-size-fits-all approach, he argues, especially given that a significant percentage of respondents to the Growing Learning study indicated that they don't necessarily feel strongly that they learn more from technology than from people.
"For an increasing number, technology allows them to learn things much more quickly," Roche said. "For them there's some mix of technology and people that is different."
Still, Roche acknowledges, times have changed considerably from when he went to school nearly half a century ago. Back then, if a student was asked to point to Rwanda on a map, they either knew it offhand or didn't. Now students can pull up a map on their phones within 30 seconds -- and educators have to find ways to address those changing realities, he said.
At William Paterson University, in New Jersey, Alex Chambers, an assistant professor of special education, has already begun implementing some of those techniques -- with mixed success. Students haven't always jumped to embrace his efforts to incorporate social media into the classroom. But in general, they've grown more favorably inclined in recent years toward a digital presence integrated into more traditional teaching styles.
"While teaching is a very human experience, the format in which teaching has been traditionally used by human beings can be restrictive," Chambers said. There's so much variation among learners that when people interact with technology, they are able to have more control over how they absorb the information, how they process the information."
The belief that technology educates more than other people do is also divided along gender lines, at least according to the survey's relatively small sample size: 33 percent of male respondents strongly agreed that they learn more from technology than from people, while only 19 percent of female respondents made the same claim. According to Elmore, that gap can be attributed in part to a recurring phenomenon in the nonprofit's studies in which women have higher expectations for themselves than men do, as influenced by society placing greater obstacles for women to succeed in their academic and professional pursuits.
Experts were reluctant to speculate about the broad array of systemic forces that account for women's different perceptions than men. Roche did point out, however, that American women are socialized more often than men into jobs centered around human interaction, such as teaching.
Even if the reasons for these disparities are nuanced and difficult to ascertain, the existence of the disparities should be enough to motivate institutions to adapt, according to Elmore.
"When I look at schools that are really doing well, they've got a hybrid model," Elmore said.