You have /5 articles left.
Sign up for a free account or log in.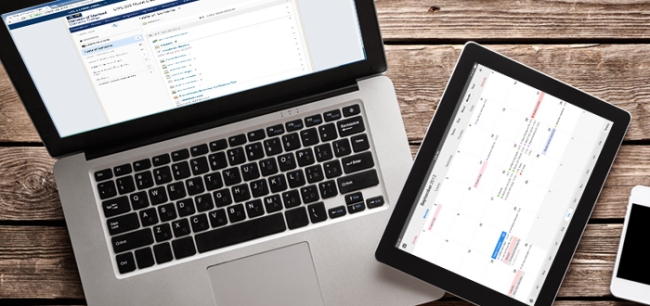 University of Maryland University College
Inside Digital Learning contacted a dozen universities that offer only online courses or blend face-to-face and online offerings, to find out about their year-over-year enrollment numbers. The data reveal pockets of shallow growth, and in a few cases, mild depreciation. But overall, doomsday warnings about the impending bottoming-out aren't reflected in the numbers or the comments of observers we contacted
"It's definitely a steady but unspectacular growth," said Jeff Seaman, co-director of the Babson Survey Research Group. "Going back 10 years we're talking about double digit percentages year to year, things like that. Now we're down to 3 percent, 4 percent [overall]."
Slow Growth, but Growth Nonetheless
A note: These observations do not stem from a comprehensive or scientific study of online enrollments. In addition, each university we contacted tallies its student enrollments slightly differently. Some organize numbers by academic year, while others go by calendar year. Some offer numbers for an entire academic year, while others divide statistics into fall and spring semester categories. Several private for-profit universities declined to provide hard numbers upon request. That said, available statistics paint a fairly consistent picture.
Several institutions -- including Penn State World Campus, Valencia College and University of Maryland University College -- experienced slightly shallower growth between the 2015 and 2016 school years than between 2014 and 2015.
UMUC saw a dip in 2015, which a university spokesperson attributed to a military drawdown overseas, which cut into its sizable military student population, and to the tightening adult market for online education more generally. But with recruitment and retention, UMUC managed to turn the tide, even if its most recent growth was smaller than last year's.
Others, like, Arizona State University and Kent State University, saw their online numbers increase at a slightly higher rate between 2015 and 2016 than between 2014 and 2015.
Kent State credits its success to "a strategic focus on quality over quantity," according to a university spokesperson who relayed comments from Kent State's interim vice president of continuing and distance education. In 2011, the university hired instructional designers to help construct online courses with a focus on pedagogy rather than technology, the spokesperson said.  More fully online programs have also been added in recent years, boosting the overall numbers, she said.
For those non-profit schools with slightly less positive news, the declines barely registered. Northern Virginia Community College saw a modest decrease in online course enrollment, of 13,362 in fall 2015 to 12,983 in fall 2016.
For-profits, meanwhile, continue to see more striking losses. University of Phoenix's online enrollment decreased by nearly 40 percent last academic year, while American Public University saw a more mild reduction between six and seven percent.
The declining fortunes of the for-profit sector make the overall online market appear less healthy than it is as a whole, according to Cavanagh, vice provost for Digital Learning at the University of Central Florida, which is one of the institutions Inside Digital Learning requested data from. But the outlook isn't entirely rosy, he warns.
"That's not to say at some point in the future the market won't become saturated," Cavanagh said.
Behind the Numbers
What accounts for the slowing rate of enrollment growth?
"Put simply: competition," David Aneckstein, a spokesperson for Penn State World Campus, wrote in an email. "There are many quality universities now offering online programs. As a result, there are many more options for students to choose from as they decide where to further pursue their education. "
Analysts generally agree with that assertion. Seaman argues that online enrollment patterns are inching closer to resembling the traditional ebb and flow of face-to-face university enrollments.
"The big change that I see is not that you go from growth to no growth," Seaman said. "You go from an area where essentially everybody grew or just about everybody grew to an era where the pattern of change in enrollment now is much closer to the pattern in change for overall higher ed: growth that reflects market conditions."
Seaman and other observers also attribute the more modest online growth – and more broadly, the downward trend in overall higher ed enrollment -- to the health and stability of the American economy and job market. When fewer jobs are available, more people turn to higher education -- and online is more likely to thrive in times when people suddenly decide they need more education, analysts said.
The Way Forward
Perceptions of online education have shifted in a more favorable direction over the last decade, but experts admit there's still work to be done. Seaman cites research indicating that students report online courses to be more challenging than their face-to-face counterparts because of the self-discipline that's required for success outside the traditional classroom. Some faculty members are still reluctant to transition their traditional curricula into the online space.
Still, many institutions see online education as a means of generating revenue that's lost from losing some face-to-face students.
For universities that are seeing signs that online enrollment might not hold up in the years to come, experts recommend focusing on enhancing student services. According to Veronica Diaz, director of online programs at Educause and associate director of the Educause Learning Initiative, some online programs in her home state of California still require prospective students to finish registering on campus, an arduous trek that can be limiting for students who live far from campus and have busy schedules, many of whom choose to go online specifically for the convenience.
Success is also more likely for institutions that prioritize student service, such as 24/7 tech support, according to Russ Poulin, director of policy and analysis for Wiche Cooperative for Educational Technologies. An online student who experiences a malfunction on Friday night doesn't want to wait until Monday morning for a technician on campus to fix it, Poulin said.
Sometimes efforts to accommodate online students ultimately benefit the student body as a whole, according to Poulin. Once face-to-face students see that online students get 24/7 technical support, for instance, they're more likely to demand it for themselves. The ripple effect could make the campus more attractive to prospective students.
An overwhelming takeaway from many corners of the space: Online has not peaked yet.
"I think as we get more experienced with distance ed and do a better job that the quality's going up," Poulin said. "The expectation of a lot of the younger students in college is that it's just going to be the norm to them and they won't be thinking twice about it."