You have /5 articles left.
Sign up for a free account or log in.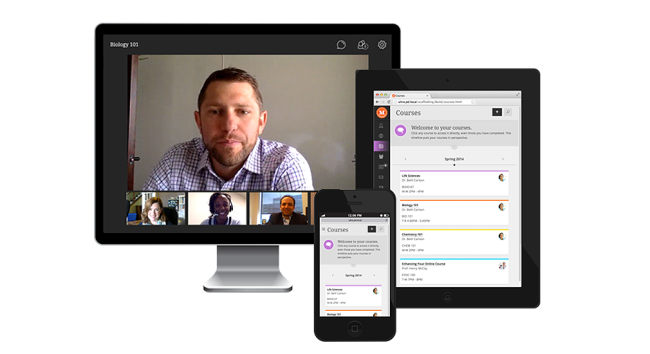 When Cindy Leavitt arrived as Temple University's chief information officer a year ago, one of her first orders of business was to evaluate the institution's future with Blackboard, the learning management system that had served the campus for 16 years.
She gathered the university's deans and eventually arrived at a semester-long pilot test comparing the latest products of Blackboard and Canvas by Instructure. Upgrading the existing version of Blackboard proved more cumbersome than expected, Leavitt said, and the pilot project wasn't even finished before faculty members reached consensus.
"Over the course of that semester when they saw how easy that [Canvas] adoption was, it was a pretty easy recommendation for them," Leavitt said. "Then it just became, how fast are we going to do it?"
Stories like these are increasingly familiar, as Blackboard's share of the learning management system market has dropped while some of its competitors' shares have risen. Those shifts are old news -- in fact, some analysts argue Blackboard's declines in that area are showing signs of leveling off.
But broader questions remain about the long-term future of Blackboard, which is still the leading LMS in U.S. higher education, with a 33 percent market share for its own service and an additional 1 percent for its acquisitions, including WebCT and Prometheus, according to an e-Literate report this spring. Some observers think the company, having entered its third decade and expanded into a wide range of new offerings beyond learning management systems, may struggle to keep up in an increasingly competitive and dynamic digital landscape that's moved well beyond the attributes that marked its beginnings. But others see signs of increasing self-awareness and stirrings of innovation at the company, suggesting that the battle for market share remains vigorous.
In an interview with "Inside Digital Learning," Blackboard's chief strategy officer, Katie Blot, insisted that the company expects to continue to grow its overall market share (including LMS and other market offerings). Blackboard peaked at 44 percent market share in 2002, and the company plus its acquisitions reached 67 percent market share in 2006, nearly double its current position.
Blackboard has been encouraged recently by its high renewal rate and what it sees as a drop in the number of institutions issuing requests for proposals for alternatives to Blackboard, Blot said. She believes the LMS market share numbers will start to stabilize in turn.
"We're always looking to get our products, including the LMS, into as many hands as possible so we can make an even bigger impact on higher education," Blot said.
Blot emphasized that the company's reach extends far beyond the U.S., and its global market share continues to grow relative to its competitors. She also highlighted Blackboard's ongoing commitment to expanding the definition of the learning management system into new tools like embedded analytics and video collaboration. In those areas, Blackboard has been on the rise, even as its LMS market share has slipped slightly in favor of the competition.
Indeed, institutions are gravitating in increasing numbers toward more dynamic services, often opting for cloud hosting and looking for features that hew closer to what an online program manager provides.
Observers argue Canvas has a built-in advantage in some ways, having started out with a cloud-based system, while Blackboard has merely added it over time to its portfolio. But Blackboard officials insist the firm is aware of the rapid evolution and building thoughtfully on its existing products.
Meanwhile, several university administrators interviewed for this article said they had reached their limit on technical support struggles with Blackboard; the company says it has taken steps to dramatically improve its customer services.
"I felt like Blackboard was a vendor, and I feel like Canvas was a partner," said Gene Spencer, chief information officer for library and information technology at Ursinus College, in Pennsylvania.
But Blot thinks complaints like Spencer's are fewer and farther between.
"I've been at Blackboard for nine years. I heard a lot of that," Blot said of technical support concerns. "I hear it so much less now."
Some Growing Dissatisfaction
At Temple, a spate of hiccups and false starts in the process of upgrading to Blackboard's cloud-hosted option, Ultra, convinced leaders there that switching to Canvas would be the most fruitful decision. Even then, many faculty members wanted to stick with Blackboard, according to Leavitt.
"We had a very strong camp which was, 'We know Blackboard, we don't want to learn a new system,'" Leavitt said. "Blackboard is integrated in everything we do. Ninety-five percent of our classes were being taught on Blackboard."
Leavitt thinks that the company recognized the need for evolution too late, perhaps due to its years of unchallenged success, and that its current leadership will struggle to turn that tide.
Ursinus administrators share Leavitt's frustrations with Blackboard -- they recall their tenure with the LMS as one of frequent frustration from faculty members and a general sense of disconnect between company and client.
Faculty members there were eager to jump on board with a full-scale adoption of Canvas rather than a tentative trial, according to Spencer. The college's experience with tech support at Canvas has been a major improvement over Blackboard -- but ironically, according to Christine Iannicelli, instructional technology librarian, less tech support is necessary because instructors find Canvas more intuitive and less prone to bugs.
"It was very promising to faculty who might be hesitant to try something new," Iannicelli said.
Canvas, which launched in 2008, is basking in its early success and optimistic about its growth potential, according to Jared Stein, the company's vice president of higher education product and strategy.
"I think the time is right to come up with something very different," Stein said. "The learning management system should be interoperable, work with the tools you like to use, super easy and reliable."
Others Holding Steady
Even as stories of disgruntlement are louder and more noticeable, far more institutions than not continue to use Blackboard. Framingham State University in Massachusetts last fall conducted a review of the LMS landscape after having used Blackboard since the early 2000s. According to Robin Robinson, Framingham's director of education technology and instructional design, the alternatives -- Canvas, D2L, Moodle and Schoology -- didn't convince the administration that an arduous conversion process would be worthwhile.
Faculty members and students had acclimated so seamlessly to Blackboard that the student government raised ire at the prospect of leaving Blackboard, according to Robinson.
"They were comfortable with what we had," she said.
The university last conducted a review in 2011 and has another planned for three to five years from now, Robinson said. Though other institutions have complained of strained relations with the company, Robinson said officials at Framingham feel they have a "partnership" with Blackboard. Tech support is generally helpful, she said.
"Is it perfect? No," Robinson said. But familiarity with the tool also played a role in the decision. Despite the resistance to a change in provider, Framingham this fall will undergo a shift to Blackboard's cloud-based SaaS (software as a service) to be complete in time for classes next semester.
Even as some institutions have begged off Blackboard, others flirted with leaving but decided in the end to stay. For instance, Purdue and Washington State Universities all evaluated other LMSs but ultimately stuck with Blackboard, according to a 2017 analysis from Temple University. Purdue's faculty members slightly preferred Canvas to Blackboard, but decision makers thought moving to Canvas would be too costly and out of step with other research institutions, according to the Temple document.
Southern New Hampshire University, meanwhile, fretted that Canvas might not be able to support its full capacity of 80,000 residential students and distance learners, according to the report. Southern New Hampshire has since changed course, announcing last month that it will switch from Blackboard to Brightspace from D2L.
Steps in the Right Direction
Blackboard's team knows some clients have become disillusioned after more than a few technical issues, Blot said. In the last couple of years, the company moved to improve operations "fairly dramatically," adding more employees and investing in more staff around the globe to more easily provide around-the-clock support.
"We are able to work client issues now 24-7, not with tired resources that are up at 2 a.m., but fresh people in Australia, Europe, North America," Blot said. "That's made a marked difference in clients."
Blackboard has also drastically expanded its global footprint as part of a larger strategy that looks beyond domestic losses. The company calls this process of adapting its services "countrification," according to Blot.
Institutions have come to expect the capability of the LMS to digitally manage a classroom and engage in peer-to-peer learning. Now they're looking to garner insights into student behavior that they could only glean through technological resources, and they want to capitalize on synchronous learning, Blot said.
"Five years ago you could think about an LMS without that," Blot said. "Today you can't really be a school that's doing any type of online learning in a real way without a collaboration tool."
While Blackboard officials maintain that the company expected that transition, they acknowledge that the user interface was slower to catch up to newer competitors, which didn't have to continue serving hundreds of existing clients in the process of upgrading its systems.
Where It Went Wrong
Some analysts are less charitable in characterizing Blackboard's response to an evolving market. Phil Hill, partner at MindWires Consulting and co-publisher of the blog e-Literate, believes the company took a substantial hit when its flashy new Ultra service flopped upon launch, requiring substantial retooling and a more modest rollout after transition proved an uphill climb.
"They've been going at this for years," Hill said. "I could easily see the sales force being demoralized."
That said, Hill thinks Blackboard's biggest shortcoming right now is not its products or ideas, but its messaging.
"I actually think that Blackboard's product is getting more solid and more reliable from what we've talked to customers about," Hill said. "They're just not very good at showing [that to] the customers lately."
Getting in step with OPM providers makes more sense for Blackboard as a long-term strategy, argues Trace Urdan, an independent analyst who specializes in for-profit education and technology issues.
"Their future has to be about bigger and broader and more extensive a solution provider than what a school can get from Canvas and Moodle," Urdan said.
Veronica Diaz, associate director of Educause Learning Initiative, thinks disputes among LMS providers are less interesting than the clash between the more staid LMS concept and the more dynamic range of offerings that could be on the way to replacing it.
"There is something like 95 percent adoption of the LMS. When you dig into what that adoption really looks like, it's the grade book, discussion boards -- those are not very sophisticated tools," Diaz said. "Things are evolving beyond the need for that kind of environment."
On the question of whether Blackboard wants to become more like an OPM, Blot demurred.
"If I think about purely what the OPM providers do from outsourcing the management of an online program, we are not in that business and don't intend to get in that business, mostly because of this philosophical belief that there are certain parts of student experience that the institution should own," Blot said.
But Blackboard hopes to continue serving institutions that might not want the cost burden of a deal with an OPM, but could use many of the lower-level services that go along with an OPM, such as strategic consulting on marketing, call center support for recruiting and financial aid support.
James Wiley, principal analyst at Eduventures, sees hope in Blackboard's future, but like Hill and others, he's keeping a watchful eye.
"They're at least talking a good talk now. It seems to be very believable," Wiley said. "We'll have to wait and see."