You have /5 articles left.
Sign up for a free account or log in.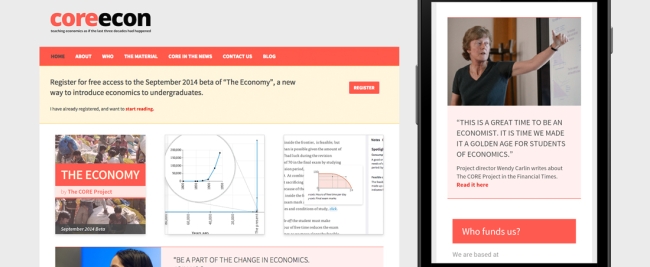 The 2008 economic crisis prompted quite a bit of hand-wringing about the best approach to teaching the next generation of economics students how to navigate the markets. An international coalition of educators spent several subsequent years debating the best revision approaches.
What emerged was a textbook that differs from precedents in form as well as content. CORE Econ offers traditional economic background and a modern assortment of facts and principles laid out across an open-source online platform. According to its creators, it's already being used by at least a dozen U.S. institutions large (Missouri State University, Columbia University, University of Massachusetts at Amherst) and small (Middlebury College, School for International Training Graduate Institute).
"We've established what we now think is sufficiently different from the standard textbooks to be called a new paradigm," said Wendy Carlin, director of the CORE project and professor of economics at University College London. A team of two dozen economics professors from around the world wrote most of the materials, with some contributions from a host of others who provided data. Funding came from the Institute for New Economic Thinking and numerous other foundations.
CORE is among the most high-profile OER efforts that offer new content in addition to making printed materials more accessible -- but it's hardly the only example. While OER can be useful for broadening access to existing books and materials, it's also become a breeding ground for new kinds of curriculum content, sometimes offering professors more autonomy in their creation of course materials.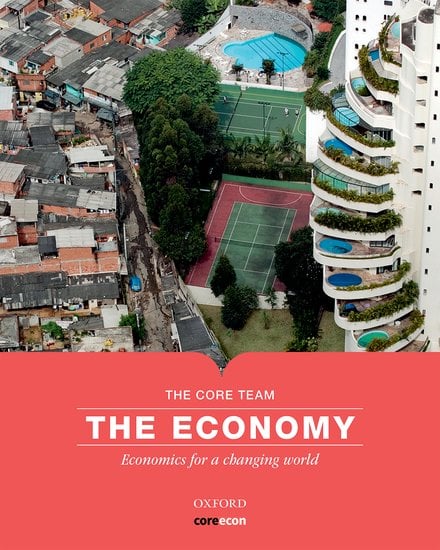 For the CORE project, OER offered the opportunity to throw out what wasn't working and start from scratch.
"A publisher would normally allow you to change a maximum 10 percent of a printed textbook. We were operating under no constraints," Carlin said. "We just started with brainstorming about how we thought we should teach and what we should teach."
That process entailed several rounds of edits from economics instructors, Carlin said. Early users called for more content focused on math and for a section comparing economic thinkers. Later, instructors dinged the open textbook for lacking explicit declarations that economics is an increasingly contested discipline. The team also acted on other instructors' feedback and beefed up a section on climate science and the environment to incorporate more economics.
Another set of revisions is planned within the next five years, according to Carlin.
"There has to be a kind of balance between continually updating and responding to suggestions on the one hand, and on the other having a sufficient amount of stability so that people can try something, plan, learn from their mistakes," Carlin said.
Improving Student Experiences
Other OER projects have sprung from student dissatisfaction. Kurt Sandholtz, assistant professor of organizational behavior and director of management communication at Brigham Young University's Marriott School of Business, saw some dispiriting results from a midsemester survey of his management communication students: 91 percent argued that at least some of their outside course work "felt like busywork" that wasn't adding value to the learning experience. (Seventeen percent assigned that label to most or all of the outside course work, while 20 percent said about half was busywork.)
Inspired by a presentation program called Slidedocs, in which each module contains more text than an average PowerPoint slide but less than an average page of a print textbook, Sandholtz teamed up with Lisa Thomas to solicit feedback from instructors in the department and begin writing a new course document. (Thomas, a BYU adjunct instructor and associate director of the management communication program, led the overall authorship of the book -- drafting chapters, collaborating with designers and securing funding.)
Funding for contributions from adjuncts came from the university's deans and its library friends group. After comparing numerous competing textbooks in the discipline, Sandholtz concluded his team's version needed to be more concise.
"We don't need to produce all these paragraph-after-paragraph texts," Sandholtz said. "State what needs to be stated, illustrate it and be done."
The online format also gave Sandholtz the freedom to link to articles or videos in lieu of lengthy text-block explanations. This approach thus far appears to have paid off; Sandholtz's students this spring rated the management communication course higher than they typically did for his non-OER version, even though he admits the first semester using the OER textbook was bumpy at times.
"Objectively what I was doing in that course was not as put together or as refined as what I was doing in the earlier course," Sandholtz said. But, he added: "The 'book' more than made up for it."
Freedom and Authority
Producing OER materials can also afford instructors creative freedom and authority over their course domain. Two grants from the University System of Georgia initiative Affordable Learning Georgia gave Mark Kunkel, associate professor and director of the master of arts program at the University of West Georgia, the opportunity to build a textbook around his concept of what is important for his psychology students to learn.
He stopped assigning a traditional print textbook for his Introduction to psychology course a few years ago when the $300 book became cost prohibitive for some students. For a while he simply cobbled together material from internet sites and individual readings. But then he started using a textbook from OpenStax, the nonprofit based at Rice University that offers free, open peer-reviewed textbooks and materials to participating institutions. It was an improvement, he said, but still missing "some specific depth and breadth."
Kunkel decided to supplement the existing OpenStax resource with what became 170,000 words of his own material on subjects like humanistic, existential and transpersonal psychology; culture and social disorders; and development.
The writing itself ended up being more conversational in tone than the detached prose in a more conservative print tradition, Kunkel said. He dictated much of his portions while walking, speaking extemporaneously as though he were delivering an informal, free-flowing lecture.
"I have a text that is fine in areas that I don't have a whole lot of investment in writing myself, and more than fine or at least as fine as I can make it in other areas," Kunkel said.
Skepticism Lingers
Kunkel likens the current churn in the textbook world to the congressional debate over health care -- few agree on who ought to pay for it, but the bigger question of how to drive down costs goes underresearched.
"Rather than having a conversation about how to help students afford more college that includes $800 a semester for books, I'd much rather have a conversation about how to make knowledge more available to them, in ways that are both efficient and effective and that also kind of are of a piece with what happens in the classroom," Kunkel said.
But some still question the legitimacy of OER as a replacement for peer-reviewed texts, even though OpenStax and some for-profit platforms conduct peer review on the materials they host.
Carlin's CORE team purposely aligned itself with the established publisher Oxford University Press, which conducts peer review of all its scholarly publications, to pre-emptively stave off accusations that the online material isn't legitimate or prestigious.
Even in an increasingly digital world, Carlin said she heard from some faculty members currently using CORE who still only wanted physical textbooks.
"We would always get the sort of adventurous types," Carlin said. "We wouldn't necessarily get some of the more conservative adopters, people who had to convince their deans or head of department or chair or whatever it is that this was a credible, long-lasting product."
The Printed Textbook -- Not Dead Yet
The future of the print textbook market remains very much in doubt. Naomi Baron, professor of linguistics at American University and author of Words Onscreen: The Fate of Reading in a Digital World (Oxford University Press), knows the old textbook model is unsustainable -- but while she's a proponent of OER in concept, she's not ready to back it wholeheartedly as the best way forward.
Her central concern about OER stems from the idea that producing quality materials continues to cost money, even when the cost to access that quality appears to be decreasing. Peer review for OER needs to expand, she said, and even where it does currently exist, it's often insufficient for ensuring quality.
"Our challenge today in the United States is we are driven by the financial exigencies of the cost of higher education and the rising cost of textbooks, rather than being driven by the quality from wherever the materials come from," Baron said. "We don't know the answers. Assuming because the price is right that digital is the way to go -- I think that's a questionable assumption we need to look at more carefully."
As of July, even CORE Econ was available in a print version from Oxford University Press.
Various players have attempted to transform the textbook market. OpenStax, for instance, allows instructors to adapt texts on its platform to fit the specific requirements of their courses. Top Hat, a for-profit company that offers low-cost digital books and materials written by instructors, boasts of incorporating tools to create interactive modules directly into its user interface. The company allows instructors to iterate on the platform's published material, and it is actively cultivating a network of peer reviewers, according to a Top Hat spokesperson.
Concrete standards, however, remain elusive. Eventually, Baron posits, more research will emerge about whether students actually learn best from OER materials, and how existing offerings can be refined. But until that time, OER remains an evolving concept.
"If we want this as a movement to work, we're going to have to work out a system," Baron said.