You have /5 articles left.
Sign up for a free account or log in.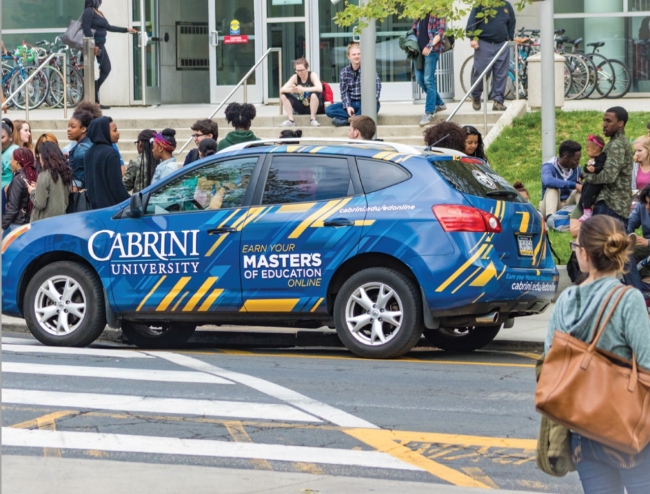 Celia Cameron is always seeking new strategies to market the online programs of Cabrini University, a small private liberal arts college in Radnor, Pa. Cameron said her efforts have to be creative and cost-effective in order for Cabrini's online programs to stand out among those of better-funded institutions in nearby Philadelphia.
Cameron, the institution's vice president of marketing and communications, recently employed a unique campaign -- through the firm Carvertise, she paid to have glossy, full-body vinyl decals advertising Cabrini's online programs made and affixed to the cars of six high-mileage-driving local residents for six months.
"I would have people ask me, 'Really, Celia, is that your car?'" she said, noting that friends and acquaintances thought she was driving the vehicles. "It was a fun [campaign]; it got buzz."
The campaign got more than attention, Cameron said -- it helped Cabrini produce a double-digit increase in deposits for online courses this fall.
Institutions attract most of their distance learners from a 100-mile radius of their physical campuses, but as more colleges offer online courses and programs, competition continues to expand beyond state borders. For example, 50 percent of Colorado State University Global Campus's 20,000 online learners don't live in Colorado -- and many reside outside the U.S., said Lauren Burns, senior vice president of marketing.
"Your competition is anyone offering online courses," said David Eby, chief marketing officer of Grantham University, an online-only institution offering associate, bachelor's and master's degree programs. "There is a lot more competition in the space. That can be confusing for consumers."
However, the administrators interviewed for this article all said they no longer have to spend marketing and advertising dollars trying to convince potential online students -- mainly busy adults with families and jobs -- of the practicality or quality of distance learning. Instead, they spend much of their budgets boasting about the benefits and advantages of their institutions' online programs over their competitors' offerings.
"Now that online is proven … we are talking about the quality of our programs and the quality of our faculty," Burns said. "We focus on how we can help them in their work now."
Valerie Cavazos, director of marketing and communications for the Dallas County Community College District Foundation, agrees. "From a marketing standpoint, we don't have the budgets of the for-profits," said Cavazos, who until recently was in charge of marketing for DCCCD Online. "We have to focus on the fact that we are familiar and that we are close by. That's our advantages."
But finding ways to differentiate in crowded field of online players isn't an easy task, said Roger Lee, executive vice chancellor and chief marketing officer at Brandman University, which has campuses in Washington and California and offers online programs for California residents.
"The primary challenge is differentiation," Lee said in an email. "At the end of the day, we all say the same thing … 'we provide real-world perspective,' 'we have great faculty,' 'we're a great institution.' In the crowded space filled with seemingly the same message, the challenge for a high-quality institution like us is giving students the right tools to make an intelligent choice."
Digital Campaigns Work Best
The marketing officials interviewed by "Inside Digital Learning" declined to reveal how much their institutions spend annually on marketing online courses and programs. They did say, though, that in the past, they could base some decisions on a "gut" feeling about which campaigns would work. Now most of their campaigns are online, and they employ tangible data about where to advertise and how to utilize free social media.
If data show a message doesn't resonate with potential students (online or residential), the institution can quickly change gears. "We're really focused on digital marketing -- it's really been effective for us," said Mark Porcaro, executive director of online learning at Wichita State University. In 2013, the university offered its first fully online program -- an R.N. to B.S.N. degree. Now it has 24 fully online programs.
Porcaro said Wichita State's biggest and most effective ad spend is on paid search, and that the institution buys narrowly focused search terms. "The large schools -- Western Governors, Southern New Hampshire, Phoenix -- they will buy big terms like 'online bachelor's degree,'" he said. "We'll bid on really specific terms, such as 'online degrees in Kansas.'"
Wichita State also buys tracking pixels, tiny images that allow marketers to track how many users visited a website or saw their digital ad. "That's why you'll be on a site and an ad pops up for the same thing you were just looking at on Amazon," Porcaro explained. "It's big data coming together to serve you something interesting to you. It's kind of creepy."
But, he added, "You can't do that very effectively in print or on a billboard or radio."
In addition to tracking pixels, Wichita State exercises geofencing, a practice that uses global positioning or radio frequency identification to define a geographic boundary. Once the "virtual barrier" is established, a marketer can set up triggers that send a text message or an email alert or app notification to a mobile device as the owner enters or exits the specified area.
Burns noted that many of CSU Global's online students are in the military or working for corporations, and the university works with a digital marketing agency to target the websites those types of learners visit before they decide to pursue an online degree.
Social Media Is Key
Social media also plays a big role in marketing and advertising of online courses. Because many online students are adults, institutions are focusing their efforts on Facebook, the platform most used by nontraditional students. (Statistia.com reports that nearly 80 percent of Facebook users are 25 years or older.) Some pay for ads on Facebook, while others use the site to post free announcements.
"A Facebook ad can do very specific marketing," Porcaro said. "Facebook knows who people, are and they know the things they like. We look for students [on Facebook] who are like our students but who don't know Wichita State."
"Social is becoming a larger part of the marketing mix," said Eby of Grantham. "Social media is a tool to change and guide opinions … People are more trusting of people they know on social media."
Traditional Marketing Tactics
Colleges continue to employ traditional advertising outlets -- TV, radio and, to a much lesser extent, print. Cabrini has had "tremendous success" with messages on the local public radio station whose listeners are higher-income adults, Cameron said.
Besides car wrapping, Cabrini posts ads in Philadelphia's Southeastern Pennsylvania Transportation Authority commuter trains. Cameron said she knows that the SEPTA ads are effective because a lot of online students mention them on their application forms. An added bonus: the SEPTA ads aren't targeted at potential undergraduates, but Cameron said they, too, report seeing the ads in the commuter trains.
"The return on investment isn't perfect; we're about breaking even," she said. "We know a lot of people are exposed to them, so we're going to keep on doing them."
Print advertising for online or face-to-face courses isn't dead, but it's a much smaller part of marketing budgets. "I think it will be very hard for print to convince people that the spend is worth the return," Cameron said. "I want to measure lead generation. That is the reality."