You have /5 articles left.
Sign up for a free account or log in.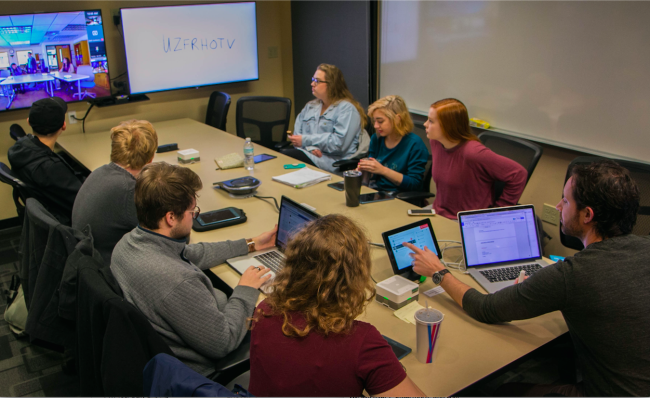 Presidents of six small liberal arts colleges in rural Michigan have been talking for a decade about the possibility of adopting a consortium model to facilitate sharing courses and other resources. Online programs are increasingly popular solutions to this issue in higher education, but they don't necessarily meet the small-classroom characteristics of a liberal arts education.
Last fall, at long last, a surprising path forward emerged. Just three months later, at lightning speed for a cross-college collaboration, three of those institutions -- Alma, Albion and Calvin Colleges -- have begun a pilot course-sharing program that makes use of Google hardware, including its brand-new Jamboard for interactive videoconferencing.
Early returns from the program's three courses indicate positive effects on students. Plans are under way to add six more courses next semester and rope in the other three Michigan institutions -- Adrian College, Hope College and Kalamazoo College  -- next year.
For Google, the program represents an opportunity to road test a brand-new product -- the Jamboard was added to the Michigan partnership as a last-minute experiment. For the institutions, Google's products have opened the door to new learning opportunities and ideas for energizing the intimate classroom experience at liberal arts colleges, many of which have in recent years faced enrollment declines and existential anxieties.
Google fronted the cost of the underlying technology (valued at $2,000 apiece) and the Jamboard ($6,000 apiece), while the institutions paid for mounted television monitors and personal devices for each student and instructor. Each room is roughly comparable in cost to a standard classroom, with a projector and computer, according to Andrew Bare, academic technologist at Alma College.
Everyone involved understood the initiative involved an element of risk. Thus far, participants said, it has paid off.
"I don't want to come off in this as shilling for Google," said Anthony Collamati, associate professor of new media at Alma. "I honestly came in neutral to skeptical. I really think it's a great addition to what a college can offer."
Right Place, Right Time
The partnership came about thanks to the presence of Cyrus Mistry, a Google group project manager in charge of the company's Chromebook initiatives, on the board of the Michigan Colleges Alliance, which encompasses 14 institutions. In discussing course-sharing possibilities, presidents of the liberal arts colleges asked Mistry whether Chromebox computers could serve as the foundation of such an initiative.
"The answer was a resounding yes," said Jeff Abernathy, president of Alma College. Google sent its engineers to the three campuses, and one of the alliance's board members flew representatives from the institutions on his private jet to the company's headquarters in Mountain View, Calif., for an in-person demonstration. The initial idea only included the Chromebox and videoconferencing features -- the key appeal was having the ability to conduct videoconferences with the touch of a button, schedule them in advance and rely on consistently higher quality than Polycom, which Alma had previously used, to frequently frustrating effect.
Jamboard came later, according to Mistry.
Google's Next Steps
The company will aim Jamboard at business clients but hopes higher education institutions adopt it in greater numbers. Michigan institutions will have to pay for any additional Jamboards they want for their classrooms. The company didn't insist on its own products for the Michigan project, and it doesn't plan to do so going forward, either.
"Whether they use our videoconferencing technology or something else, it doesn't actually matter," said Mistry. "Our goal is to give kids an experience that they never would have had otherwise."
"A month before this was going to launch, I had the crazy idea of, we have a brand-new technology that is definitely not in any college or university," Mistry said. "It was a very Hail Mary move. I kept telling everyone, 'This is very unlikely we'll get this in.'"
But they did. The 55-inch, internet-connected 4K Jamboard allows the instructor and students in classrooms across all three institutions to write and draw simultaneously on the same surface -- similar to the interconnected experience of a shared Google Doc, but with functions like drawing shapes in different sizes and colors, pulling photos and website screenshots, taking pictures with a built-in webcam, and videoconferencing.
The goal of the product is for videoconferencing to feel as simple as securing a dial tone on a landline phone, Mistry said.
The special classrooms have also been outfitted with two 50-inch TV monitors ($2,500 each) connected to Google Hangouts software for high-quality videoconferencing, enabling students not physically in the classroom to engage "face-to-face" with those on campus.
Students in the initial pilot's three classes also receive a free Samsung Galaxy tablet to use for schoolwork during the semester and to keep afterward. If the tablet proves a worthwhile learning tool, the institutions might give them to future students as well, Abernathy said.
Alma purchased 19 Samsung Galaxy tablets for $200 each -- 17 for students, one for the instructor and one for the academic technology staff. The tablets allow users to access the Jamboard at their fingertips.
For now, the promise of free devices functioned as an enticement to register, according to Abernathy. Course-sharing programs at other institutions have reported challenges convincing students to register, but Abernathy said the tablets at Alma and Chromebook laptops at Albion and Calvin have mitigated that issue so far.
Robust Faculty Interest
Google's engineers worked rapidly between the week before Christmas and the start of the semester in mid-January to complete wiring and other behind-the-scenes work. Provosts, meanwhile, spent the last bit of 2017 searching for the right faculty partners for this initiative. At Alma College, Collamati emerged quickly -- he had taught online before and expressed interest in engaging with technology. His course on media theory and culture dovetailed nicely with the aim of this initiative, he said.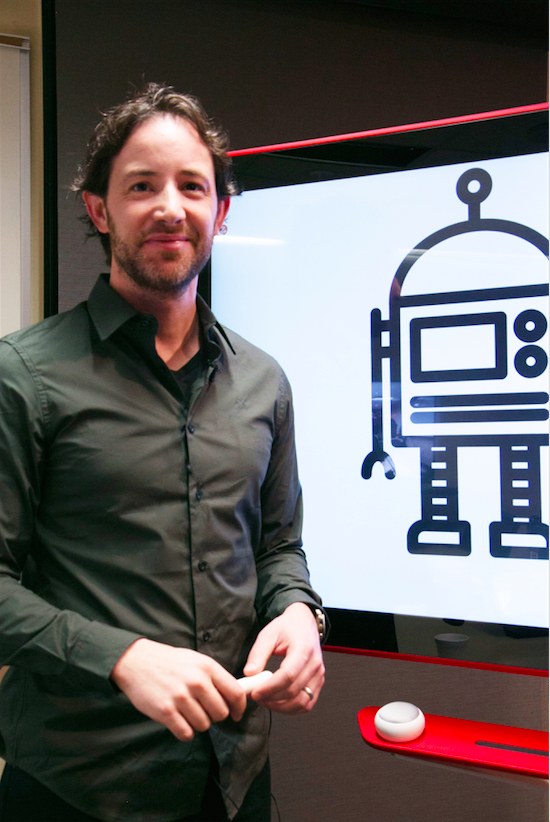 A few weeks in, Collamati said he's observed students from all three institutions interacting with each other in a more "generous" way than he usually sees -- offering to let other students speak and listening intently to their ideas.
Collamati thinks the novelty of the devices might wear off, but the feeling of connection with unfamiliar students is powerful.
"The real heart of this class, why students feel engaged by this class, is not the TVs or the Jamboards," Collamati said. "This is just anecdotal, but it seems to be that really basic connection of 'hey, it's new people in a new classroom in a new place that I'm getting to know through the course.'"
Albion's Google-infused course covers visual earth, art and the environment, while Calvin's is centered around visual sociology. Each class has between 15 and 20 students across the three institutions.
Collamati likens the experience of learning in this environment to the difference between a lavish bathroom at an upscale hotel and a one-stall facility at a rest-stop gas station.
"You do the same activity, the same thing happens, but it's totally different," Collamati said, pointing to the seamlessness of the interactions and the high quality of the visuals and audio. Technical hiccups have been few and far between, he said.
Numerous faculty members at the participating institutions and the ones slated to join next year have expressed fervent interest in using the technology, according to Bob Bartlett, president of the Michigan Colleges Alliance.
"We had a review after the first week of classes with Google people, faculty and IT people," Bartlett said. "Even after a week in this completely new pedagogical framework, there was nothing but enthusiasm."
What Could Be
An independent firm, the Calvin College Center for Social Research, has already begun conducting an assessment of the program's effectiveness and will continue to do so until the end, when researchers will interview a focus group of students about their experiences.
The immediate impact of connecting students at one college to courses at another is already being felt. Abernathy sees potential for further development of those benefits. Alma College only employs one French professor for the entire major -- but if the college could share faculty member resources with the other five institutions in the consortium, he said, French majors might get a more robust experience.
He also thinks the technology could help connect students with alumni throughout their online experience -- mentoring a business student when they arrive on campus, through the internship process, past graduation and beyond.
Creating a faculty-driven culture that boosts participating institutions and expands opportunities for students? "That would be kind of the holy grail of bridging that proximity barrier that we have," Bartlett said.