You have /5 articles left.
Sign up for a free account or log in.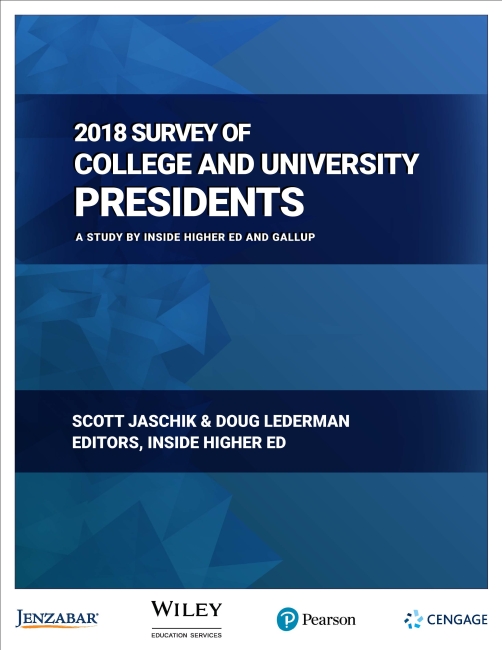 Inside Higher Ed's 2018 Survey of College and University Presidents, released late last week, focused much of its attention on ever-urgent issues like money and politics, not surprising at a time when many colleges are feeling intense financial pressure and campus leaders are grappling with a changing public policy landscape.
But the study also examined several elements of the changing instructional landscape in higher education, with questions related to open educational resources, enrollments of online students and presidents' preparation for dealing with digital learning issues.
Textbooks and course materials. In line with Inside Higher Ed's recent surveys of chief academic officers and faculty members' views on technology, presidents strongly agreed (61 percent) that "textbooks and course materials cost too much." Thirty percent more agreed.
Eighty-five percent of presidents also agreed (52 percent strongly) that colleges should embrace open educational resources, free and openly licensed online educational material. Presidents of doctorate-granting universities, public and private alike, were somewhat less likely than their peers at other institutions to agree, at 49 percent and 40 percent, respectively.
Their support comes with conditions, though. Campus leaders were fairly divided (44 percent agree, 34 percent disagree) on whether "faculty members and institutions should be open to changing textbooks or other materials to save students money, even if the lower-cost options are of lesser quality." Public college leaders were significantly more likely to agree (51 percent) than were their private college peers (39 percent).
Campus CEOs as a group were more inclined to agree with that statement than were chief academic officers in January's survey, only 35 percent of whom backed that view. (Forty-three percent of provosts agreed.)
And about half of presidents agreed (20 percent strongly) that "the need to help students save money on textbooks justifies some loss of faculty-member control over selection of materials for the courses they teach."
Leaders of private doctoral and master's institutions (36 percent agreed) were less amenable to a loss of faculty control than were presidents of community colleges (58 percent agreed, 20 percent strongly) and four-year private colleges (24 percent strongly agreed).
Enrollments of online students. A set of questions in the survey asked campus presidents about the enrollment issues that most concern them.
Concerns about enrolling more students who study online fell in about the middle of the pack, with 52 percent of presidents saying they were very (12 percent) or somewhat (40 percent) concerned about that issue.
That was less than the proportion who were worried about enrolling their target number of undergraduates (84 percent), enrolling students likely to be retained (82 percent), enrolling international students and students who don't need institutional aid (56 percent each), and giving out too much aid to students who may not need it (54 percent).
More presidents were concerned about enrolling more online students than enrolling more minority students to have a diverse student body and out-of-state students (45 percent each), first-generation and Pell Grant-eligible students (42 percent each), and academically prepared athletes (41 percent).
The answers to the question about online students differed by sector, as seen in the table below. The leaders of public master's and baccalaureate colleges expressed the most concern, and public doctoral university leaders the least, with other sectors in the middle.
Doubts about their digital learning knowledge. Asked to rate how well prepared they were for a series of duties and topic areas important to their jobs, presidents acknowledged significant shortcomings in their comfort with issues of digital learning.
Only 45 percent of campus leaders described themselves as very well prepared or well prepared to deal with those issues, the least of any of the 12 issues presented to them. Presidents said they were most prepared for financial management (71 percent), admissions and enrollment management (67 percent), and working with trustees (66 percent). Majorities also said they were well prepared for public and media relations (61 percent) and race relations (54 percent). About half say the same about athletics; hot-button student-affairs issues, such as sexual assault, drinking and Greek life; and fund-raising.
Government relations was closest to digital learning, at 47 percent.


Whether that's because the presidents are the farthest thing from digital natives -- 50 percent reported being in their 60s and another 30 percent in their 50s -- or for some other reason, the findings may raise questions about how ready the presidents are to lead their institutions through a time of great change in the instructional model for most colleges.