You have /5 articles left.
Sign up for a free account or log in.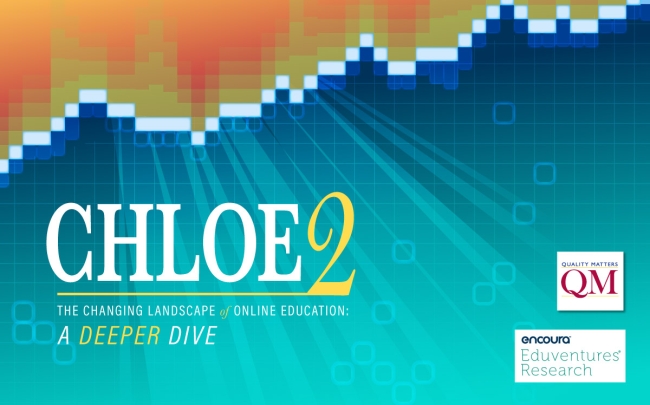 A new survey of those who oversee online learning programs at their institutions reveals significant diversity in the online education landscape, from differences in colleges' strategic goals in going online to how they structure and price their programs and how much they require/encourage faculty members to work with professional designers to craft their courses.
The report, "The Changing Landscape of Online Education: A Deeper Dive," is the second such report from Quality Matters and Eduventures Research, leading them to dub it CHLOE2. (Inside Higher Ed and "Inside Digital Learning" covered last year's report here and here.) One hundred eighty-two senior officials responsible for online education at their institutions responded to the survey (up from 104 last year), drawn roughly equivalently from four-year private, four-year public and two-year public colleges.
The survey explores a wide range of topics and issues, related to the administrative structure of online offerings, the economics of their programs and the role of instructional designers. Among the most interesting findings:
Online Programs as Revenue Generators -- for Some. A common meme, particularly among skeptics of online education, is that colleges are taking their academic programs online purely or mostly for economic reasons. The survey findings suggest otherwise -- at least in results.
Nearly half of chief online officers -- 45 percent -- describe their online offerings as overall revenue generators, while 18 percent say they are a net cost. About a quarter, 28 percent, chose a middle path, saying there is wide variation among the programs.
Officials at community colleges and at midsize programs (between 2,500 and 7,500 students) were most likely to say that online programs remained a financial drain as of now -- 22 percent of each answered that way, compared to 13 percent at four-year publics and 17 percent at four-year private colleges.
Even 11 percent of the chiefs at the largest programs -- those with enrollments over 7,500 -- described their programs as net costs, which surprised the authors. "It is possible that heavy investment to build a large online presence, with an array of many online programs and courses, may result in present-term deficits in anticipation of longer-term revenues, but we do not at present have the data to test this hypothesis," they write.
Pricing Programs. About three-quarters of chief online officers (74 percent) reported that they charge the same per-credit tuition for their online courses as for the equivalent in-person programs. Much smaller numbers -- 18 percent and 23 percent, respectively -- said they charged less or more for equivalent online offerings. (The total adds to more than 100 percent because most institutions have multiple programs that charge differing tuition rates.)
There was significant variation by type of institution. Institutions with large enrollments were twice as likely (43 percent to 20 percent) to charge higher tuition for some programs than they were to charge lower tuition, while community colleges were less likely (4 percent and 17 percent, respectively) than other institutions to charge lower or higher tuitions for online programs than for on-ground programs.
Roughly three-fifths of online officers who priced their online programs higher than their in-person programs attributed those higher fees to the added costs of online instruction, support services and online course and program development. Only two in five who said they did so cited the added costs of marketing their online programs, and one in five said they did so because high-demand programs gave them more headroom for price increases.
Those who charged less for online programs were likeliest to say they did so because of "pricing constraints in a competitive market" (60 percent), the absence of costs for campus activities, facilities, maintenance and security for online students (48 percent), and lower costs of delivering online instruction (39 percent).
Large institutions and public four-year colleges were likelier than other institutions to charge online students special fees on top of tuition. Chief online officers at about two-thirds of both categories of institutions said they imposed an online course or credit-hour fee, about 15 percentage points higher than those in other sectors.
The Impact of Instructional Designers. Roughly a quarter (27 percent) of chief online officers say their institutions require faculty members to work with instructional designers -- far more (42 percent) say they offer professors optional design support, and 9 percent say instructors work independently. Those that do not require collaboration with staff designers cite both insufficient resources and a desire to preserve faculty autonomy as reasons.
The online officers believe that flexibility comes at a price.
Nearly 70 percent of those who require professors to work with designers or in teams report "lots of" student-faculty interaction in their online courses, compared to about 40 percent of those whose campuses either don't provide design support or make it optional.
And online officials at campuses that require faculty-design staff collaboration are roughly twice as likely to say there is little technical variation among their online courses and somewhat less likely to say that there is major pedagogic diversity in their courses.
Blended Takes a Back Seat. Many argue that blended learning -- courses that mix digital and in-person elements -- is the future of higher education, and research has shown that student learning is better in blended or hybrid courses than in either fully online or purely face-to-face classes. That may be, but the survey suggests that they are not the present, at least in terms of driving institutional strategy.
Asked to describe how their college or university prioritizes fully online courses or programs versus blended ones, about half of chief online officers said they prioritized fully online courses (55 percent) and programs (48 percent). About 20 percent said there was wide variation by department, roughly one in six said they strove for balance between fully online and blended, and fewer than 10 percent said they were focusing more on blended courses than fully online.
The authors cited several reasons for the seeming disinclination to focus on blended education. First, the chief online officers surveyed are responsible for broad institutional strategy, rather than the course-level offerings that are arguably more likely to be blended.
Second, "busy adult learners may find fully online options to be pragmatic, even if it's not their first preference," the report's authors write.
And third, "blended learning may be underdeveloped as an institutional strategy because a structured approach demands choices and coordination [that] many faculty and leaders seem unprepared or unwilling to make," they add. "Fully online and fully or predominantly campus-based programs suggest a clarity and familiarity, in terms of teaching and assessment, while blended learning might be seen to occupy a no-man's land, where no specific combinations of online and in-person activities have been spelled out and justified."
Among other findings from the survey:
The vast majority of the chief online officers (69 percent) report to their institution's chief academic officer, while 15 percent report directly to the president and 8 percent report to the dean or director of continuing education.
More than a third (37 percent) of chief online officers report that their institution pays professors a fee for developing online courses. The figures are highest at private four-year colleges (51 percent) and lowest at community colleges (26 percent).
More from Digital Teaching & Learning