You have /5 articles left.
Sign up for a free account or log in.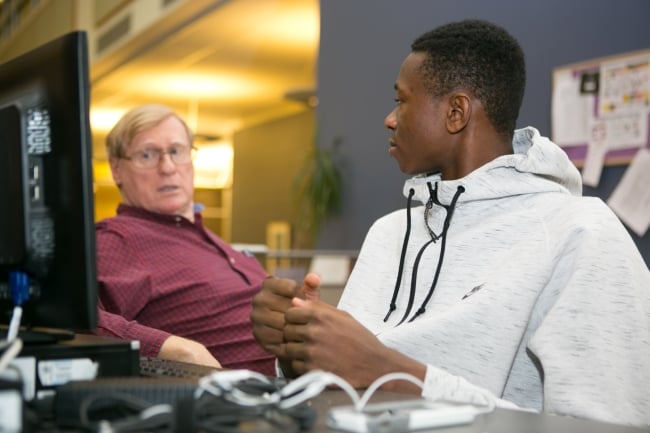 Officials at the City University and State University of New York had a pretty narrow focus for how to spend the more or less out-of-the-blue $8 million investment that New York State's politicians decided to make last year in open educational resources: get more professors to create more OER-driven courses serving more students.
"We essentially sent money out to campuses with the goal of spending it wisely to grow enrollments in OER courses," says Carey Hatch, associate provost for academic technologies and information services at the SUNY system.
CUNY's primary goal was "delivering the numbers we thought the state would scrutinize," says Greg Gosselin, its interim university dean for libraries and information systems.
Deliver they did: SUNY and CUNY, respectively, re-engineered roughly 3,700 and 1,500 course sections that served roughly 56,000 and 40,000 students. By using OER instead of traditional textbooks, officials say, students in the sections were estimated to have saved about $12 million.
They were rewarded last week in the form of another $8 million from Gov. Andrew Cuomo and state legislators to split in the 2018-19 academic year.
The two university systems have no intention of taking their foot off the pedal in terms of growth, as together they aim to more than double, to 260,000, the number of enrollments in OER-driven courses. 
But officials at CUNY and SUNY fully recognize that they can't be sure that the government dollars will continue to flow. So while continuing to pursue growth, much of their plan for the second year of funding involves finding ways to be more strategic about the funds' impact and building what Gosselin calls a "sustainable infrastructure for the future."
"The money's not going to be there forever," says Hatch. "We want to be sure we can make this work when the state money goes away. Er, if the state money goes away," he quickly (and hopefully) corrected himself.
Bolt From the Blue
The original state funding for OER was essentially manna from heaven. While some of New York's community colleges had been active with open education (especially those participating in an Achieving the Dream program to create zero-cost degrees), the decision to fund OER adoption at the state level emerged quickly late last spring as part of Governor Cuomo's larger plan to make higher education more affordable with free public college tuition. As at many colleges, OER was a "niche activity," Gosselin said, championed by individual professors or librarians.
The state budget allocation of $4 million each for SUNY and CUNY forced both systems to scramble to put together requests for proposals for their 64 and 20 campuses, respectively.
The two systems took different approaches. CUNY paid $2,000 to each faculty member who converted a course to using open educational resources, and offered $500 to each instructor who took training to teach those courses; additional funds toward local infrastructure (information technology services, instructional design support, or selecting a vendor); and then a flat fee based on the number of course conversions, ranging from $25,000 for five courses up to $75,000 for more than 10.
SUNY offered $20,000 in base funding for each project, and then provided additional funds per enrolled student. The system office also funded professional development, hiring "faculty champions on release time," Hatch says, "so it's faculty on faculty" in terms of getting buy-in for OER.
Officials at both systems said the campus adoption more than met their expectations, allowing them to exceed the targets they had set. Each CUNY campus met its own goals, Gosselin said. "Everyone delivered."
State officials said SUNY and CUNY hit their marks, too, helping the state expand its various efforts to make higher education more affordable.
"Through programs like the Excelsior Scholarship, the first-in-the-nation free college tuition program for students at SUNY and CUNY, and the OER initiative, we are providing important financial relief for many of our students and families, helping to make quality higher education accessible for all New Yorkers," Gov. Cuomo said.
Building on First Year's Foundation
The two university systems plan to continue delivering on enrollment growth, but their officials also say they'll use the second year of funding to build on the strengths they saw in year one and try to ensure OER's longterm viability on their dozens of campuses.
SUNY, for instance, is mining data from the first year's adoptions to identify the academic disciplines in which faculty members have most embraced open resources. Mathematics "looks like one of the areas where there's been the largest uptick," says Hatch. The system hopes to "bring faculty from across the institutions together and have a conversation," to see whether professors across the system might be able to develop a common OER-based curriculum.
The state system also aims to try to export successful experiments from one institution to others, such as a distinctive first-year experience course that Monroe Community College has developed.
And much of the focus in the year ahead will be trying to shift from OER adoption to "open pedagogy," in which faculty members don't just use existing open content but take the next step toward involving their students in modifying it, "so they're involved deeply in the content," Hatch says. "When you get students involved in creating is when you start to build their creativity."
SUNY officials hope to take advantage, too, of the scholarly capacity of its several major research institutions. The University at Buffalo's Graduate School of Education has established an Open Education Research Lab that is "watching what's going on with the funding that's going to the campuses and doing A/B studies ... of how effective the practices are," Hatch says. Getting answers will take some time, he notes, but SUNY expects to be in this field for the long term.
"We have the seeds planted," he says. "Now it's about how do we become more targeted and more specific about what we want to do."
CUNY's attention in 2018-19 will be increasingly focused on building support for OER for the future.
Professional development for faculty members will be a priority. The CUNY Graduate Center, which educates many future instructors for the system, will be a nexus for much of that training, but CUNY (like SUNY) aims to bring instructors together by discipline and to encourage its faculties at its two-year and four-year colleges to work on transfer pathways within disciplines. Borough of Manhattan Community College and John Jay College of Criminal Justice both have criminal justice programs, and Gosselin described as "unprecedented" "having the two faculty groups agreeing to adopt OER," with implications including aligning learning outcomes across the two programs. 
"To get the community and senior colleges to agree on learning outcomes and materials has often been a bridge too far" in the past, he says. But they are coming together around open resources.
Many impediments to faculty adoption remain, he says, with the most significant being the need to reward professors in tenure and promotion for creating and using OER and embracing the pedagogical innovation that it can spur.
The investment of state money into OER has made a big difference in "raising awareness of OER as an open, engaged pedagogical movement," Gosselin says. College affordability may be what's motivating state officials to invest in OER, and that matters to professors, too, he says.
"But what the money has brought is exposure, and that has provosts talking about OER, librarians talking about OER, and faculty slowly becoming more and more knowledgeable and curious," Gosselin says. "It's going to take years and years and years, but this has made a big imprint."
***
Follow me on Twitter @dougledIHE.