You have /5 articles left.
Sign up for a free account or log in.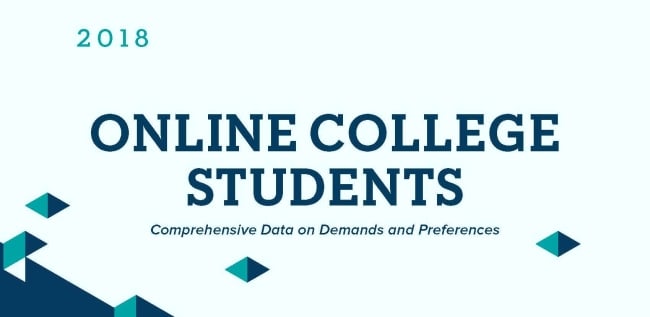 Ask online students about the most important factors in choosing to enroll in a particular academic program, and total tuition and fees tops the list. Price clearly matters -- a lot.
But if you ask them whether they chose the least expensive program -- or if price trumped other factors such as convenience, program fit or reputation -- the answer gets a good bit more complex.
That is clear from the 2018 edition of Online College Students, an annual survey conducted by the Learning House, an online program management company, and Aslanian Research. The survey of 1,500 current or soon-to-be students in fully online academic programs (for degrees, certificates or licensure) has been conducted for seven years and examines their attitudes and behaviors on a range of topics.
Issues of price and perceived value are increasingly central in many discussions of higher education, as tuitions climb and public questioning of higher education intensifies. The survey comes at matters of price from several angles, to try to "add nuance" to the topic, as the Learning House's Andrew J. Magda put it.
Tuition and fees easily outdistanced other reasons when respondents listed their three "most important factors" in choosing a specific online program, with 34 percent saying that, followed by program reputation (13 percent), reputation of the college (11 percent) and location of the institution (11 percent).
But when asked to name the "single most important reason" for selecting their college or university over others, 24 percent said the program "best matched my interests/needs," while 19 percent said they had done so because it was the "least expensive." (Thirteen percent said the institution had the best reputation, and 12 percent said it had the best "value," which the survey defined as the combination of cost, reputation and convenience. Fifteen percent said they had considered only one college.)
Yet another question asked respondents to position the program's price directly against other factors. As seen in the chart below, 28 percent said their program of choice had the lowest tuition of those they considered, while the rest of the respondents were roughly divided among three other options that placed more importance on convenience (28 percent), the program's reputation (23 percent) and its content (21 percent).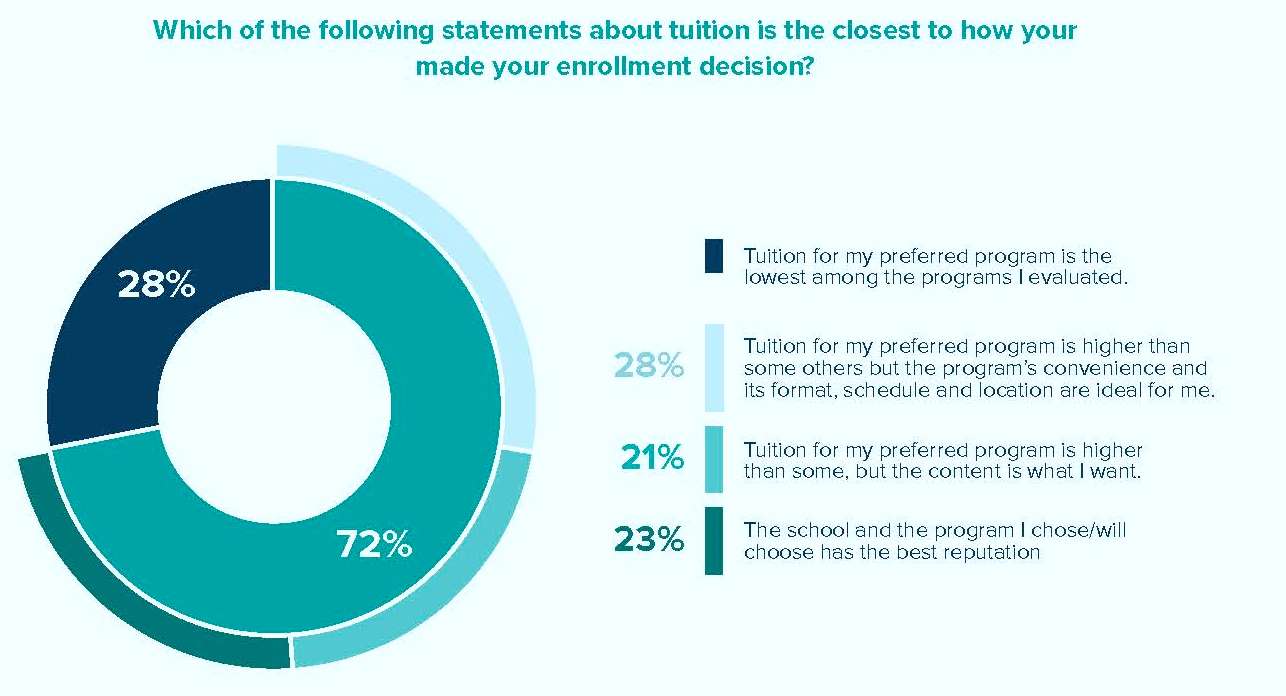 Taken together, what these answers mean, Magda said, is that price clearly matters a lot, but "there is more to it than it's the least expensive" program. That's obvious in traditional higher education, where we know some students and families prioritize prestige and in fact assume that lower-priced institutions are of lower quality.
Online education might be thought to be a little different, because many of the students are older and perhaps focused more on practical considerations than prestige. But the success of higher-priced online programs like those offered through 2U (and to a lesser extent by the Learning House, it should be noted, which works heavily with private nonprofit colleges) is evidence that price is not always determinative, Magda said.
"Not every school wants to or can be the least expensive," he said, so many colleges need to decide "how do you justify a higher tuition" -- is it program fit, convenience, quality? "Most online programs are trying to lower their prices," Magda said, "but if you're not able to do that, are there other things you can do in terms of messaging to justify a slightly higher price?"
Price is one thing; value is another. About a third of respondents (32 percent) said the "lifetime value" of the credential they earned online exceeds the cost they paid for it, while 54 percent said the value equaled the cost. Fourteen percent said the degree or certificate was not worth the cost.
Comparing to Face-to-Face
Online education has long been viewed as an alternative for students who might not otherwise have access to higher education, because of geography, work and life demands, or other reasons. That's clearly still the case, but the survey suggests that growing numbers are affirmatively choosing online education over in-person options.
Asked if "the program you wanted was not available, how likely is it that you would enroll in a classroom program?" a majority said they would definitely (26 percent) or probably (31 percent) do so. About a quarter said they would definitely (9 percent) or probably (15 percent) not.
That is up significantly from how respondents answered the same question in 2015, when 39 percent said they would definitely (14 percent) or probably (25 percent) enroll in a face-to-face program, and 33 percent said they wouldn't.
"These students chose online because it was online," not because it was only available that way, Magda said. The flexibility and convenience of online education probably factor in, he said, but others may be drawn by the sorts of innovations that online settings make possible, such as competency-based learning, stackable credentials and textbook-free courses -- all of which significant proportions of respondents expressed interest in.
Other Findings
The survey touched on a number of other topics. Among them:
Demographics. Four in 10 respondents had never taken a fully online course or program before enrolling in their current one. Of the rest, 37 percent had completed an online course, 8 percent a fully online program and 15 percent both courses and programs. A full two-thirds of students were enrolled in a program that was housed at an institution less than 50 miles away from where they live, while 13 percent were in a program more than 100 miles away. Of the latter group, about three in 10 said they wanted a program they could not find closer, and roughly the same proportion said the college they chose had a strong reputation or that the program had a lower cost.
Fields of study. Significant shifts have occurred in the kinds of programs online students are enrolling in. This year's survey shows more students enrolled in business programs than any other -- 23 percent of undergrads and 21 percent of graduate students -- but that's down from 28 percent for each in 2014. The number of master's students in education has also tumbled over that time, from 22 percent in 2014 to 14 percent this year. Following business this year are health and medicine (19 percent and 16 percent, respectively, of undergraduate and graduate students) and computer and information technology, at 13 percent and 15 percent.
Importance of mobile. A full third of respondents said they had conducted almost all of their research about colleges on mobile devices, up from 23 percent just two years ago. And half of students or more said they had conducted their required reading and communicated with professors using a mobile device.