You have /5 articles left.
Sign up for a free account or log in.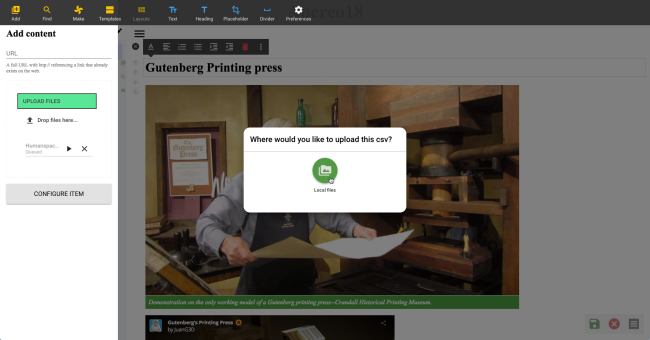 Courtesy of Bryan Ollendyke
Creating an online course requires time, patience, ingenuity -- and, often, technical expertise beyond the grasp of many instructors accustomed to teaching primarily face-to-face.
Developers at Pennsylvania State University's main campus have created a tool they think will address the latter hurdle. The Headless Authoring Experience (HAX) organizes in a single browser screen all the functions necessary to create an online course or an open educational resource. Its aim, according to Bryan Ollendyke, an instructional technology systems developer, is to make the creation of online courses possible even for instructors with limited technical capabilities.
"HAX is basically a way to let people write really complex HTML without having any idea that that's what they're doing," Ollendyke said.
The front-end development term "headless" means "you can build it and it's just rendering in the browser," Ollendyke said. After HAX gets integrated into an existing learning management system, instructors can seek and embed YouTube videos and search for internet articles all on the same screen. They can also drag and drop spreadsheets and convert them to data tables; embed and cite Wikipedia articles; and create multiple-choice quizzes and knowledge checks, all without leaving the main dashboard.
The tool aims to improve upon the learning management system, which does a "pretty terrible job of content management as a specific operation," Ollendyke said. Bryan Alexander, an ed-tech futurist, told "Inside Digital Learning" he's particularly intrigued that HAX allows users to drag and drop content "between different digital domains and business verticals," rather than within a single learning management system.
Three years ago, a tool like this was "an idea on a whiteboard," Ollendyke said.
"It seemed like we didn't have the right tech concept to do it effectively," Ollendyke said. A year later, Ollendyke and his three team members attended a conference expecting to learn about a concept they'd been hearing people discuss: web component architecture. But the topic never came up, so Ollendyke and his team researched it on their own and soon came to regard it as their "holy grail."
"It basically just let us work more logically and effectively in the way we build things," Ollendyke said.
Active development of HAX started in November 2016.
The closest comparison Ollendyke can make to an existing tool is WordPress, Wix or Squarespace -- but all of those are proprietary, not open source.
When Ollendyke's colleague Nikki Massaro Kauffman, programmer analyst in the Penn State arts and architecture department's Office of Digital Learning, presented HAX in February at the Drupal conference in Nashville, Tenn., attendees came up to her afterward to let her know that they could envision applications for the tool beyond higher education.
"As the technology is open source and can be hosted locally anywhere, it can be used to make any website that has the integration better," Ollendyke said.
A few faculty and staff members have previewed the tool's desktop application. Within a few months, it will become the default editor on Penn State's ELMS, an open-source alternative to the LMS. Eventually it will be available on the iTunes and Google Play app stores.
A developer from Arizona State University has been contributing to development of the tool. Ollendyke said he's also heard interest in using HAX from representatives from IT departments and "higher up the chain" at institutions including West Virginia, Duke, Indiana and Brigham Young Universities.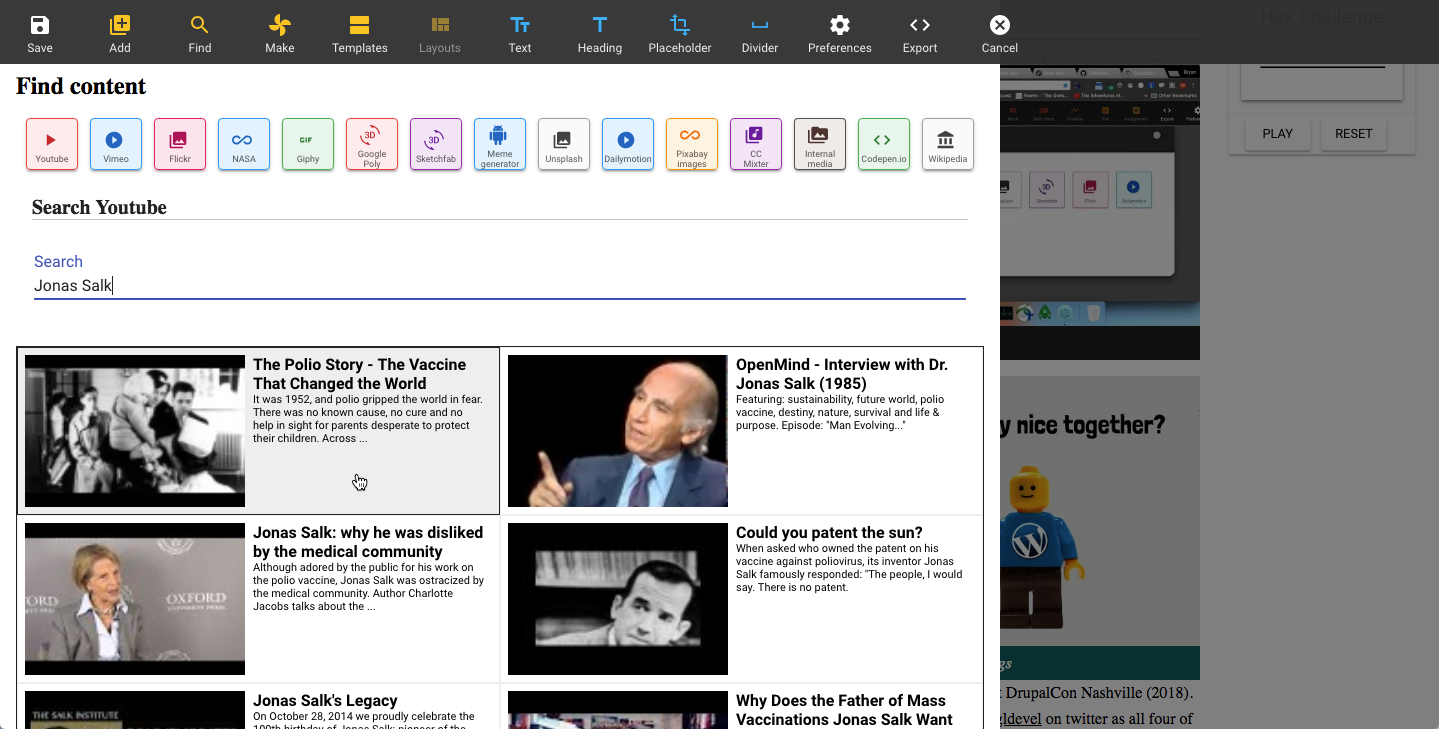 Ollendyke even sees potential for the tool to supplant the learning management system within a few years -- though he's not the only one with a tool aimed at that market. The next-generation digital learning environment (NGDLE) from Educause and other tools have broadened the conversation around hosting digital materials for courses.
More work remains on refining HAX. Ollendyke hopes to add more "experimental support for layout" so that instructors can present more complex content (like a two-column layout with text on one side and stacked images on the other), and to make it possible for instructors to view and interact with revision history. Kauffman also sees potential for more development of the tool's ability to create open educational resources, and to establish an OER repository within the tool that content creators can use.
"I've watched instructional designers and faculty struggle with what, at least to a developer, is a relatively easy task," Ollendyke said. "We're kind of trying to optimize those microtransactions."