You have /5 articles left.
Sign up for a free account or log in.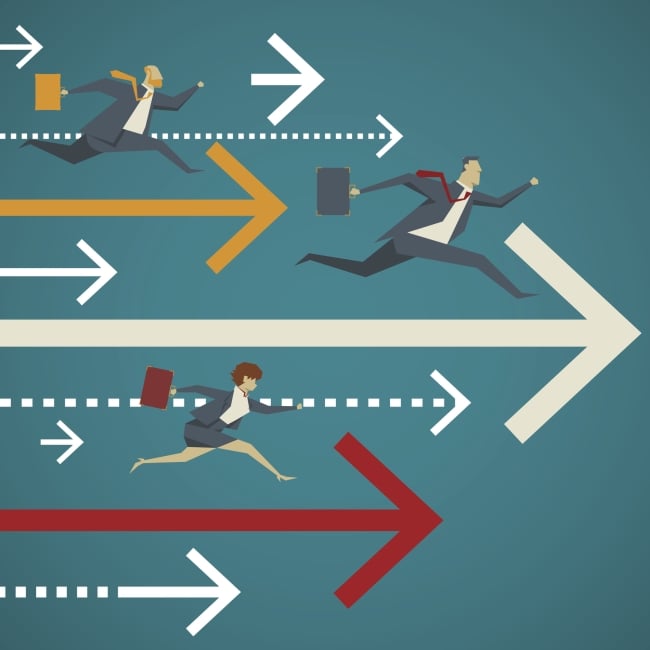 Canvas has unseated Blackboard Learn as the leading LMS at U.S. colleges and universities, according to new data from MindWires Consulting.
In a blog post on Monday, Michael Feldstein, partner at MindWires Consulting and co-publisher of the e-Literate blog, wrote that Canvas now has 1,218 installations at U.S. institutions, compared with Blackboard's 1,216. Although the two-figure difference may seem insignificant -- and Blackboard and some of its allies say the data don't accurately reflect the two companies' relative reach -- most analysts agree that Canvas's ascent, largely at Blackboard's expense, is noteworthy.
"This is a stunning development for a company that seemed to have established an unbreakable market dominance a decade ago," wrote Feldstein.
At its peak in 2006, Blackboard controlled approximately 70 percent of the U.S. and Canadian market, with its nearest competitors "far, far behind," said Feldstein. But slowly Canvas, and others such as Moodle and D2L's Brightspace, have closed the gap.
Blackboard and Canvas now each control 28 percent of the U.S. higher ed LMS market, followed by 23 percent for Moodle and 12 percent for Brightspace, according to MindWires Consulting's data partner, LISTedTECH.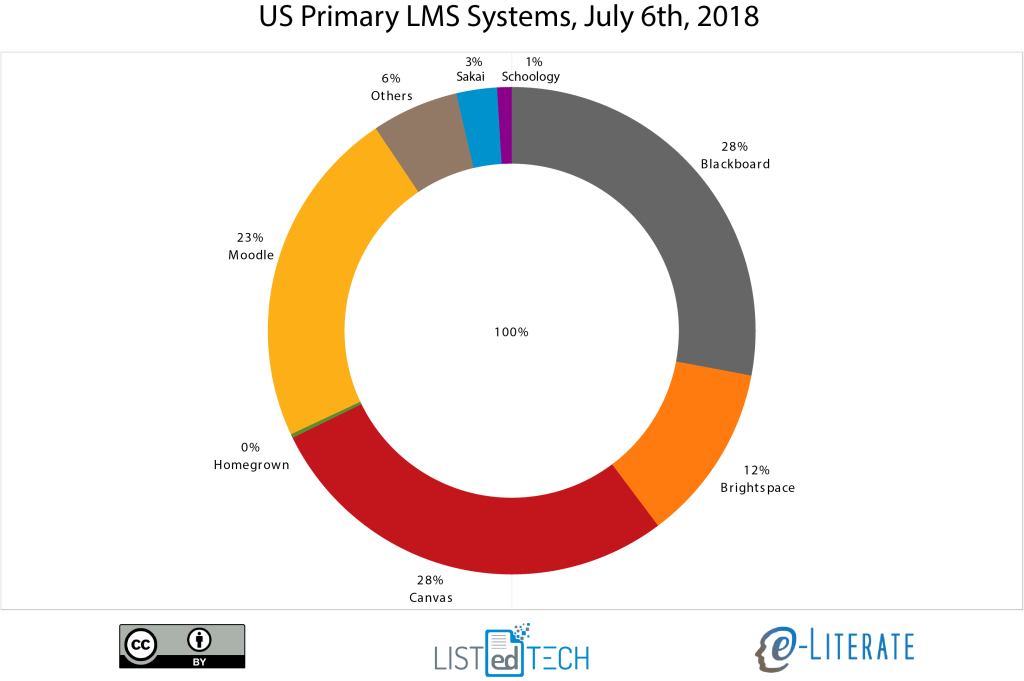 The rise of Canvas to near market dominance is one that "nobody would have predicted," said Feldstein.
The Canvas LMS is offered by Instructure, a company that was established in 2008 -- several years later than Moodle (2002), D2L (1999) and Blackboard (1997).
Yet Canvas's "cloud-based offering, updated user interface, reputation for outstanding customer service and brash, in-your-face branding" have helped it to surpass these more established systems, said Feldstein.
Trace Urdan, managing director at Tyton Partners, a higher education consultancy, said that it was "almost inevitable" that Blackboard, as an early pioneer in the space, would eventually be knocked off its perch.
Canvas has been chipping away at Blackboard's customer base "for a while now," said Urdan. But for Canvas to overtake Blackboard as the LMS of choice at U.S. institutions is a "notable milestone," he said.
Instructure's success comes down to being in the "right place at the right time," said Urdan. The company developed a cloud-based LMS just as institutions started to feel comfortable moving from on-premises to cloud-based services, said Urdan. As a newer product, Canvas was able to come in with a "superior" user interface that "people just like better."
Jared Stein, vice president of higher education strategy for Canvas, said that it was successful because "higher education wants an easy-to-use, reliable platform that encourages engagement between people and is open for DIY innovation."
Ease of use is one reason why Emporia State University switched from Blackboard to Canvas three years ago, said Rob Gibson, director of learning technologies at the university. The Kansas institution didn't save any money by switching -- in fact, Gibson said Canvas cost slightly more than Blackboard. But Gibson believes Canvas is the "best option on the market."
Canvas doesn't have as many features as Blackboard, but it does include "most of the features that we know faculty use," said Gibson.
"No product is perfect," he said. "But it's been a good transition for us."
Now that Canvas is the "hot product," Instructure has been trying to aggressively increase its fees, said Gibson. A 5 percent increase per year for such services is not unusual, but Instructure has been asking for more. Gibson said his institution has had to push back against further increases.
Blackboard, on the other hand, was "desperate to keep us," said Gibson. They offered a 50 percent discount to stop Emporia from making the switch. "I think they could see the writing on the wall," he said.
Last week it was reported that Cornell University will be switching from Blackboard to Canvas, leaving Princeton University the only Ivy League university still using Blackboard. The announcement was a blow to Blackboard, as CourseInfo LLC, a software company that later merged with Blackboard LLC to form Blackboard Inc., was founded at Cornell.
Julia Thom-Levy, vice provost for academic innovation at Cornell, said price wasn't a factor in Cornell's decision. After piloting three different systems -- Canvas, Brightspace and a new version of Blackboard Learn called Blackboard Ultra over a single semester -- Thom-Levy and colleagues concluded that "Canvas seemed the platform that faculty and students preferred."
If Blackboard continues to lose customers, the company could face serious financial challenges, said Feldstein.
"It's very hard to kill a company the size and history of Blackboard, but it's not impossible," he said. "They need to turn things around."
Lou Pugliese, former CEO of Blackboard and a senior innovation fellow at Arizona State University, which also recently began the switch from Blackboard to Canvas, said Blackboard will need to be "convincing" that it can deliver on its long-term product roadmap at its annual conference, BBWorld, in Orlando, Fla., next week.
Blackboard's new Ultra interface has been slow to get off the ground, but it could help turn things around for the company, said Pugliese.
"It's a radical upgrade to both front end and back end," he said. "Cloud deployment is a huge advancement, though it's been a long time coming."
Pugliese said that the statement that Canvas is "now the primary LMS in more U.S. colleges and universities than Blackboard Learn" is misleading. "The real measurement metric should be akin to website traffic. Statistical data on number of unique users, not total 'installations,'" he said.
The question of which LMS will become dominant is one that has yet to be played out, said Pugliese.
"Most systems still work on the premise that faculty need to adapt their teaching to the technology, instead of adapting the technology to the teaching," he said.
Phill Miller, chief learning and innovation officer at Blackboard, said that the data shared by Feldstein were "not consistent with our own," which show that "Blackboard remains the dominant ed-tech company around the globe." He added that Blackboard Learn is not the only service that the company offers -- "we have thousands of Blackboard Collaborate, Moodle and Blackboard Ally clients," he said.
Miller said that over the past year and a half, Blackboard has "taken a hard look as a company at what we need to do to better serve our clients."
In response to customer feedback, Blackboard has been working to improve existing products and develop new ones. Though Miller notes that development of Ultra "took longer than we anticipated," he says institutions are reacting positively to the changes.
"We're in a much different and better place than we were a year ago," said Miller. "We're seeing that RFPs are slowing down, our renewal rate is strong and we've won in a number of competitive situations recently."