You have /5 articles left.
Sign up for a free account or log in.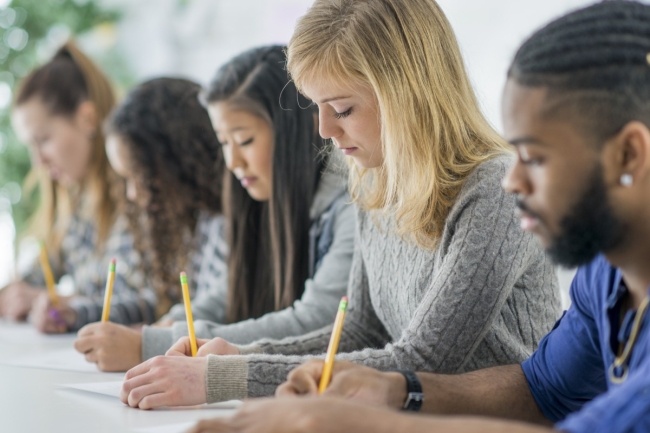 Istockphoto.com/FatCamera
Foothill College, a two-year institution in California, recently signed a deal with Proctorio, a technology company that allows students to take remotely proctored exams from the comfort of their home. According to Kurt Hueg, Foothill's division dean of business and social sciences who has temporarily taken over for the recently departed dean of online learning, this new option has made life easier for students and instructors.
"There had been an agreement [between Foothill and its students] that a student could take tests at some local testing centers or other community colleges that were near them," Hueg said. "But it was always very challenging because you have to have a clear process for people to follow. If you're living in Sacramento and go to Sacramento City College, for instance, you have to wonder, is anybody going to help me?"
Some online students at Foothill still take exams in person, though. Proctorio is optional and has been used to varying extents by different departments, Hueg said.
Digital technology might be changing the proctoring landscape, but it's not yet dominating. Even as institutions like Foothill have begun to outsource some exam-proctoring duties to technology companies offering services like remote proctoring, many online students continue to take exams proctored in face-to-face environments -- at local universities, external testing centers or with other professional individuals selected by students and vetted by institutions.
The persistence of analog proctoring environments offers benefits in some situations, like for military students posted overseas and for any students leery of ceding their at-home privacy to a tech company. It can also create logistical challenges for students, who often have to seek proctors in their community on their own time, and for institutions, which have to continually evaluate prospective proctors and keep records of the myriad ways online students are taking exams.
The stakes are high for figuring out the balance of traditional and technology-enabled proctoring, according to Justin Ortagus, an assistant professor of higher education administration and policy at the University of Florida.
"A disproportionate number of online students face significant time and location constraints, so the logistics associated with scheduling a proctor can pose serious challenges for online students unless institutions offer a host of options," Ortagus said.
Challenges for Face-to-Face Proctoring
Students in online courses are frequently required to take exams that are monitored to prevent them from cheating. Institutions often establish rooms and offices on campus where online students come to take scheduled exams, overseen by an instructor or staff member. Alternatively, institutions send students who don't live near campus can go to physical locations run by external organizations -- other local education institutions, for-profit exam proctoring companies, public libraries, houses of worship and even their own employers' offices.
Generally online instructors provide learners with a list of approved options for proctoring at the beginning of the semester. In some cases, students have to track down and designate a proctor of their choosing who meets the institution's established qualifications. The volunteer proctors then submit their qualifications to institutions, which either approve or deny their application.
Observers of exam proctoring struggled to point "Inside Digital Learning" to data that reveals specific details on how prevalent face-to-face proctoring remains. One might assume that the massive growth in online education corresponds to an equally massive shift toward purely online exam-proctoring solutions. But in many cases, digital technology hasn't become sophisticated or mainstream enough to cancel out traditional proctoring approaches, according to Adel Lelo, senior principal product manager at Western Governors University.
Lelo oversees exam proctoring at the fully online institution, which offers more than 40,000 proctored exams every month, he said. More than 98 percent of the university's 90,000-plus students choose to have their exams proctored remotely because, according to Lelo, they believe it's easier. The institution also prefers that approach because it provides test observers with a visual record of the student's progress during the exam, according to Lelo.
All Western Governors students have the option of taking a test at one of more than 1,000 testing centers around the world. Students who want to take tests in person sometimes get discouraged when physical testing centers aren't open at their preferred time, according to Lelo.
Logistical issues become increasingly common outside a student's home institution. In some cases, institutions suggest students seek out public library employees, only to find out that their local libraries have discontinued proctoring services because a small number of staff members couldn't accommodate a large number of student requests.
Lelo said Western Governors has steered away from libraries in recent years because students often experienced technical issues while taking tests there. The Western Governors assessment infrastructure operates on a secure browser that locks down the rest of the computer while the exam is in progress. But if a librarian doesn't have administrator access to log in to that platform, students are unable to complete their exam at the scheduled time.
Stricter requirements from institutions and dwindling funds from governments have forced many libraries to stop offering proctoring to online students, according to Monique le Conge Ziesenhenne, president of the Public Library Association. Plus, she acknowledges libraries aren't an ideal space for strictly monitored tests.
"When I first worked in a library that offered proctoring, it was free, and the student sat near the reference desk, so we could keep an eye on them," she said. "But we were careful to let the school know that we could not guarantee they had not cheated."
Institutions with students in rural areas also have difficulty figuring out proctoring, according to Mollie McGill, deputy director of programs and membership at the WICHE Cooperative for Educational Technologies (WCET). McGill said one of WCET's member institutions recently reached out to find out how other institutions ensure the validity of proctoring for online students in rural communities far from the campus.
McGill believes it's increasingly important that online students shoulder as little of the logistical burden of proctoring as possible, especially given that many students choose online classes because of their convenience.
"I think they need to be provided the guidelines of a legitimate proctoring service," McGill said. "I think that that needs to be thought of as part of the whole course offering."
How Institutions Make Proctoring Work
Large institutions with thousands of online exams per semester have to establish structured processes for ensuring that all students successfully complete their exams in an appropriate environment. At the University of Waterloo, in Ontario, Canada, a team of three staff members in the institution's Center for Extended Learning coordinates proctoring for more than 1,300 online students' exams each semester, according to Janice Cooke, the institution's manager of client development and learner services.
All of those students' final exams take place across a handful of schedule blocks on a weekend in early December or May. Students who live close to campus can take exams at the university's designated testing site. But students who live far away have to secure alternative proctoring, as do close-by students with more than two final exams.
That's where the Center for Extended Learning comes in. Students receive a letter a couple of weeks before the term starts letting them know their options for identifying a proctor and a deadline for securing one. Once they do, they submit their preferences to the center, which has to verify that proctors are legitimate, communicate with proctors about procedures and requirements, and coordinate mailing printed exams to the right locations, sometimes to other continents.
Cooke recognizes that this process places a burden on students even as it creates a mountain of work for her team. She's tried over the years to ease the requirements for students -- instead of asking them to get their proctors to fill out a form and mail it to the university, students now send Cooke's team their proctor's email address so that the center can contact the proctor directly.
Other ideas in the works for streamlining the process, according to Cooke, include sharing proctor lists with nearby institutions and establishing a searchable online database that students near and far can explore when seeking a proctor.
"We're always looking for options," Cooke said. "We definitely want to make life easier for students."
Waterloo covers proctors' out-of-pocket expense and pays proctors a "salary" of 15 Canadian dollars per hour, according to Cooke, though proctors can opt out of payment if they choose to volunteer.
Even for smaller institutions, strategizing proctoring for online students can be a major undertaking. Online instructors at the University of Illinois at Springfield assign to each exam an importance level, from quiz to final. Students pay $25 per in-person proctored exam, which means the institution has an incentive to minimize the number of lower-level exams offered in-person, according to Vickie Cook, executive director of the university's Center for Online Learning, Research and Service.
Though some observers have speculated that remote proctoring increases the risk of cheating, Cook said she's seen plenty of situations in face-to-face testing centers that lend themselves to academic misconduct -- one person managing a large number of students taking an exam concurrently, "people coming and going, multiple distractions."
The institution provides faculty members with a list of testing centers that can be passed along to students, as well as assistance setting up remote proctoring for students who prefer a technology-enabled approach. Some military students submit their designated education officer to the institution for approval.
According to Cook, many testing centers near the university have reduced their hours in the last few years, or have simply become increasingly overscheduled as a result of growing enrollment in online education. That has meant fewer free options for online students enrolled at the Springfield campus, making web-enabled proctoring increasingly essential as a component of the institution's proctoring offerings.
Those challenges aside, exam-proctoring solutions generally present themselves in time for students to take an exam, according to Cook.
"Seldom do we have a faculty member that comes to us and says this student can't find any proctoring and the web conferencing is not an option," Cook said. "I think we've had that twice in maybe five years."
Efforts at the State and National Level
A handful of broader solutions to proctoring uncertainties has cropped up in recent years. The University of North Carolina Online facilitates proctoring for all 16 of the system's campuses. When an instructor creates an asynchronous online course, it's automatically imported into the UNC Online system, which includes a platform for creating exams.
The online office serves as "licensing agent" and "gatekeeper" for face-to-face and online proctors -- establishing standards and policies, vetting candidates, handling academic misconduct concerns. The system's internal online database offers a visual representation of capacity at local testing centers on a particular day, which helps students make scheduling decisions, according to Diane Horton, proctoring coordinator for UNC Online.
"We're kind of the umbrella that is making sure everything is running smoothly," Horton said.
The system pays three full-time employees for the online office, which also offers cross-registration for online courses across campuses and a marketing site for fully online programs.
"The efficiencies gained by having a shared infrastructure guarantee that our 'centralized' strategy is always significantly cheaper than the costs of capability duplication/replication would be across the system," said Kevin Nathanson, the system's senior director of product management and technology implementation.
Florida Virtual Campus, a state-funded organization that serves the state's online education efforts, has established a testing centers page on its website that includes links and contacts for testing resources at each of the state's institutions. The organization created the page upon a request from the state's council of undergraduate deans, which expressed that many students were struggling to identify appropriate proctoring centers, according to John Opper, executive director of Florida Virtual Campus.
Each Florida institution has an administrative log-in to the site so it can update information as needed. Florida Virtual Campus also sends out an annual request to institutions to ensure their page's information is up-to-date, Opper said.
Opper isn't sure why most other states don't have a resource like this. He said his organization took cues from North Carolina's efforts. But in general, creating the page wasn't especially difficult.
"The hardest thing to do was essentially deciding to do it and then collecting the information," Opper said.
Eventually the organization plans to add to the page more information about noninstitutional testing centers, and to mention institutions' partnerships with for-profit testing centers.
From a wider scope, the National College Testing Association has developed over the last decade the Consortium of College Testing Centers, which currently has 348 participating institutions. Online students with access to the consortium can search the database for approved testing sites in their local area.
The network is useful because it offers a wide range of testing environments, from small computer-based rooms to large-capacity lecture halls, according to Duane Goupell, director of testing services at the University of Wisconsin, Oshkosh, and a former president of the testing association.
"There's a large range of sizes and options," Goupell said. "Every institution does its own thing to meet the needs of its campus and its community."
The consortium operates on an honor system that assumes the professional integrity of the participants. The association provides guidelines to institutions in the consortium in an effort to ensure consistent testing standards across the network.
In a small handful of cases, according to Goupell, the association has received reports of "something a little funny" at one of the testing sites. A typical red flag is a large group of students who took the exam at the same time and place and scored roughly the same.
The investigation process in situations like that can be challenging, Goupell said. The organization's resources are limited, especially from afar.
Reputable testing sites typically have an associated address that's "not some warehouse," as well as a functioning website and a professional email address. According to Goupell, many institutions have their own "reverification process" that happens annually for frequently used testing sites, rather than having to vet a site every time a student requests it.
The Future of Proctoring
Proctoring isn't the only mode of assessment at play in online institutions. The University of Maryland University College made a conscious move away from proctored exams four or five years ago, according to Doug Harrison, associate dean of the university's graduate school. Particularly for working adults and military-affiliated students, both of which make up a significant percentage of the university's enrollment, Harrison believes proctored exams don't adequately lead to upskilling and gaining work-force competencies.
"Proctoring is one kind of deficit model thinking about assessment that assumes the student is always already about to cheat. That can really have highly negative effects on student success," Harrison said. Exams overseen by an instructor or authority figure can also make the student feel like "we don't trust you; we suspect you pre-emptively," Harrison said.
Most of the university's assessments now consist of scenario-based projects. The university didn't move away from proctoring because of Harrison's concerns about their value, but rather in an effort to shift the learning model toward the priorities of its students.
Proctoring also proved a logistical burden on top of its shortcomings as a teaching approach, according to Harrison.
"Even if those testing centers and proctoring tools work in the sense that they ensure that the assessment is free of academic misconduct, it's a larger question of, is that assessment really measuring what a student knows and has learned," Harrison said.
Michael London, CEO of the proctoring company Examity, has seen many of his company's 500-plus higher education clients moving aggressively away from in-person proctoring. One of his university clients recently asked his team to strategize new uses for its testing center facility, which doesn't get much use anymore. 
From his perspective, in-person proctoring is on its way out, and only makes sense in isolated instances.
"If for some reason there's a very small number of students that prefer that, I think it's okay if the school accommodates them," London said. "Just the large majority aren't going that route."
Still, in-person proctoring isn't yet a thing of the past. Horton, of UNC Online, thinks students understand that in some cases face-to-face proctoring is part of the online experience, even if it does represent a departure from the "fully online" billing.
"It's just part of the educational process," Horton said. "You know if you're going to be in a distance environment taking an online class, that's just another tick mark you have to check off on your to-do list."
She believes face-to-face proctoring will persist even as technological solutions grow more sophisticated.
"You're also going to have a group of students who would lean towards the online proctor," Horton said. "I would imagine they're going to grow in tandem."