You have /5 articles left.
Sign up for a free account or log in.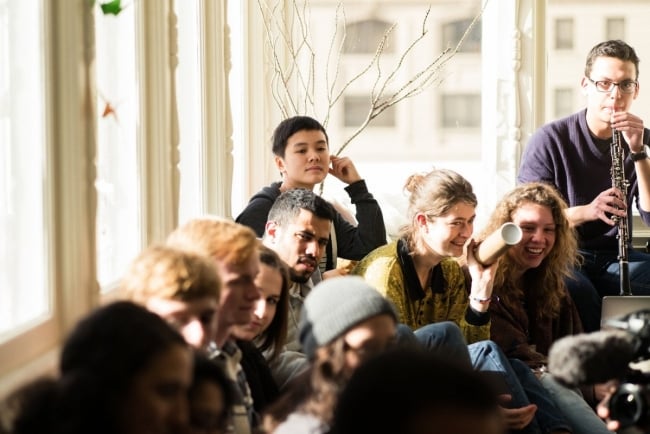 Much of the attention the Minerva Project received around its much-watched launch in 2012 focused on the start-up's lofty goal of creating an elite "Ivy League 2.0" university, with top traditional-age students doing immersive stints at campus locations around the world while also taking online courses.
But Minerva's biggest success so far is its curriculum, which the university describes as a systematic rethinking of the liberal arts. The nonbuzzy approach hearkens back to higher education's roots with a focus on practical, vocational knowledge, and is drawing attention from both traditional academics and would-be disrupters.
"They're focused on the learning outcomes that we feel are most critical," said Lynn Pasquerella, president of the Association of American Colleges and Universities.
Pasquerella praised Minerva's highly structured curriculum and its emphasis on project-based, hands-on learning, which ensures that assignments become more challenging at each step.
"It's applicable to all institutions and should be adopted," said Pasquerella, former president of Mount Holyoke College. "Their results are impressive."
Minerva has numbers to back up the praise.
In fall 2016, first-year students at the Minerva Schools at KGI took the Collegiate Learning Assessment (CLA+). The test is a standardized measure of students' performance in analysis, problem solving, scientific and quantitative reasoning, critical reading and evaluation, and critiquing an argument. While the CLA+ is controversial in some circles, it's perhaps the most respected assessment of collegiate-level learning.
A previous iteration of the test was used famously for the research that underpinned the 2011 book Academically Adrift: Limited Learning on College Campuses (University of Chicago Press). The high-profile book found that 45 percent of college students showed no significant learning gains after two years of college.
Minerva's incoming class in 2016 performed in the 95th percentile on the CLA+ compared to their peers at other colleges. That wasn't particularly surprising, the university acknowledged, given its admissions rate of just 1.2 percent, which is more selective than Ivy League universities.
However, Minerva gave the same group of students the CLA+ eight months later. They performed in the 99th percentile compared to seniors at other institutions. The university ranked first among all institutions that administered the test.
"They did well, very well," said Roger Benjamin, president and CEO of the Council for Aid to Education, the creator of the CLA+. The assessment's strength, many have said, is that it attempts to measure the "value add" of a college education, which has come under increasing scrutiny in recent years.
The curriculum and pedagogical approach are behind the high-flying scores, Minerva's leaders said. The university bans lectures and requires that students be actively engaged at least three-quarters of the time while in their seminar classes, meaning that they must participate rather than passively listen to an instructor. By incorporating the science of learning across the curriculum, Minerva strives to improve how its students think before they move on to the specific subject matter most colleges emphasize.
"A lot of universities are coming to touch Minerva to see if it's real," said Ben Nelson, the founder, chairman and CEO of the Minerva Project.
Global University, Global Curriculum
Minerva wants to export its learning model to other universities, particularly for honors programs or for newer, hungry institutions that aren't bogged down by traditional thinking.
"We are the only university who tells you how to do it, in a box," said Nelson. "This is our focus. Our goal is to enable structural, broad-based higher education reform."
One of Minerva's first big gets was the Hong Kong University of Science and Technology, a prestigious research institution. The university in April partnered with Minerva to allow its students to take Minerva's four "cornerstone" courses, which focus on foundational critical thinking, during their first two years of study. In exchange, Minerva's fourth-year students will have the option of spending part of their final year taking classes and conducting research at HKUST.
Minerva features two divisions. The for-profit Minerva Project, based in San Francisco, provides technological and other supports to the nonprofit side, the Minerva Schools at KGI, as well as to other institutions. The university division's name refers to its unusual partnership with the Keck Graduate Institute, a nonprofit graduate university that Minerva teamed up with in 2014 to gain approval from a regional accreditor for its degree programs. Keck is part of the Claremont Colleges consortium, which includes highly selective, traditional liberal arts colleges.
The corporate side of Minerva has substantial revenue potential, experts said, from working with other universities to help them adapt versions of its curriculum or to use Minerva's online learning technology.
Even so, Minerva isn't particularly protective of its curricular approach. Nelson and Stephen M. Kosslyn, Minerva's founding dean and chief academic officer, last year published a book, Building the Intentional University: Minerva and the Future of Higher Education (MIT Press), that they edited on the "blueprint" for the curriculum. (Kosslyn, a high-profile hire who previously worked at Harvard and Stanford Universities and helped develop Minerva, left earlier this year to create Foundry College, which is aimed at adult students.)
"Universities owe it to themselves to try it," Nelson said.
Pasquerella agreed. While pockets of experimentation with serious curricular revamps can be found across higher education in the U.S., Pasquerella said Minerva's approach likely will be most appealing in countries like South Korea, which are rapidly adding to their research university capacity.
"There's a huge interest in applied liberal learning," she said.
Nelson still has plenty of goals for the Minerva Schools at KGI, which now enrolls 600 undergraduates but has a target enrollment of 10,000 by 2025.
Students at Minerva pay $13,450 in annual tuition, with a total estimated cost of $30,950 per year. That total includes housing in Minerva's seven residential locations. Undergraduates begin with eight months in San Francisco and then spend semesters in Buenos Aires; London; Berlin; Hyderabad, India; Taipei, Taiwan; and Seoul, South Korea.
Minerva also this fall launched its first graduate program, a master's degree in decision analysis, with part-time and full-time options. The degree program focuses on "systematic thinking tools," Nelson said. "That's what we're really good at."
Despite its relative success so far at creating a legitimately groundbreaking university, Minerva faces challenges at getting to scale. The business model is tricky, not least of which because of the high cost of creating residential student living options in expensive global cities.
But it seems like a safe bet that Minerva's curriculum will have a broad impact. And Nelson tends to think big.
"Our ambition is to change higher education all over the world," Nelson said. "This is something anybody should be using."