You have /5 articles left.
Sign up for a free account or log in.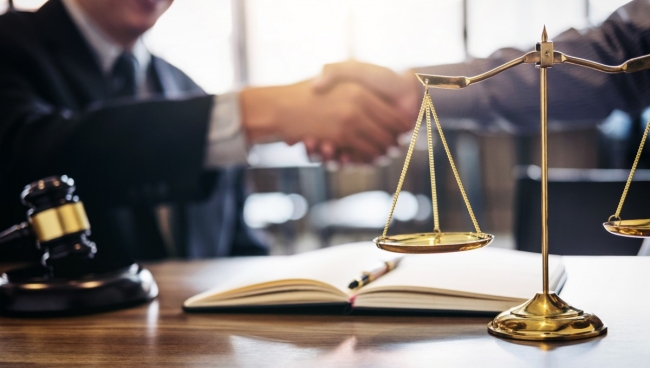 Istockphoto.com/Pattanaphong Khuankaew
Syracuse University College of Law earlier this month launched a juris doctor program that's delivered largely online to a cohort of 32 students. To get this program approved, the institution had to navigate an accreditation minefield, abandoning an initial partnership with the online program manager 2U and getting permission from the American Bar Association to exceed its restrictions on online delivery.
But the program comes out of the gate facing a notable obstacle: under the current rules, its graduates won't be eligible to take the bar exam in the institution's home state of New York -- one of the world's most sought-after jurisdictions for practicing law.
More From "Inside Digital Learning"
More details on the ABA's slow embrace of online learning.
Perspective on online law education from AccessLex.
States pursue methods to reduce burden on online students.
This limitation hinges on a discrepancy between national accreditation standards and New York state law.
The American Bar Association, which has U.S. Department of Education approval to accredit law schools nationwide, last year loosened its restrictions on online education. Law programs can now deliver 30 credit hours of a 90-credit program online, up from the previous maximum of 15. And students in law programs can take distance courses during their first year of law school instead of waiting until their second year.
Many law school administrators and observers applauded the new rules, given the increasing prominence of online education more broadly. Law schools in recent years have struggled to maintain enrollment amid competitive pressures and skepticism over their value as pipelines to employment. Slightly more than 110,000 students were enrolled last fall in law schools nationwide, according to the ABA -- down from close to 150,000 a decade ago.
For proponents, online education represents one path toward innovation -- and it can be easier for accreditors to evaluate than traditional classroom instruction.
But New York state law imposes additional rules for students taking the bar exam there. Among them is a series of provisions regarding online education that mirrors the ABA's stricter standards from before last year's changes. To take the New York bar, students must not have taken an online course within the first 28 credits of their degree program, and only 15 of their 90 credits can come from online courses. Law school administrators believe New York is the only state lagging so far behind the ABA, though other states' policies are ambiguous.
Students in the new Syracuse online program will be taking up to 66 credits online. Alumni of Mitchell Hamline School of Law's first-of-its-kind part-time online J.D. program, which will have graduated more than 100 students by the end of this month, also aren't eligible for the New York state bar under the current rules. The same is true for new online programs entering the market, including the University of Dayton School of Law later this year.
Craig Boise, dean of Syracuse's College of Law, is leading an ad hoc group of New York law schools to petition the New York State Bar Association to endorse the ABA's rules for online education or drop the restrictions altogether. The association, however, can't actually change policy, which will ultimately be decided by the New York Court of Appeals, the state's highest court.
Asked whether a judge plans to review the online law education standards, a spokesperson for the New York court declined to comment.
Many students in the new hybrid Syracuse program are midcareer adults who wouldn't be able to commit to an in-person program, Boise said. Institutions need to be able to evolve to meet demands from that increasingly prominent demographic, he argues.
"For New York to be in the Stone Ages with something like this, to me is not a good thing for the state," Boise said. "I think that New York should be leading as the practice of law evolves."
The New York State Bar's 22-member Committee on Legal Education and Admission to the Bar will weigh in on the issue in February or March, according to the committee's co-chair Patricia Salkin, provost of graduate and professional divisions at Touro College. Members have been wrestling with how to proceed with a law that could affect law school strategies across the country.
"Students from New York go to law schools all around the country, and students who may not be originally from New York may want to practice law in New York," Salkin said.
Though Salkin hopes the committee can influence the court's position, she acknowledges that judges aren't obligated to formally adopt or even review the committee's decisions. She personally supports mimicking the ABA's new standards, but others want to proceed more conservatively, she said.
"We're at the beginning of the wave here, and so the question is how do you get a comfort level with everybody," Salkin said.
Ripple Effects
These discrepancies won't have a major immediate effect on law schools' program offerings. Administrators at Dayton, for instance, expect only a small minority of students in their upcoming online program would have ambitions to practice law in New York, according to Andrew Strauss, dean of the Dayton law school.
Still, the institution has sent a letter to New York requesting more leniency on online education, Strauss said. Dayton and other institutions also warn students before they enter new programs about different states' bar-eligibility requirements.
"A couple" graduates of Mitchell Hamline's law program told administrators during their program that they want to take the bar in New York. In one case, the New York bar accommodated the student after he took additional law classes beyond his degree, according to Greg Duhl, associate dean for strategic initiatives for the Mitchell Hamline School of Law.
The current restrictions also pose challenges for New York law schools eager to flex their online muscles. Touro Law Center has since last fall offered its part-time J.D. program partially online, within the bounds of the ABA's prior restrictions. Jack Graves, Touro's director of digital legal education, wants to add more online elective courses as part of an effort to expand the program from 25 students to as many as 100. But he can't do that without bumping up against New York's limits.
"I have to do whatever I can in collaboration with others to try to get the State of New York to adopt the ABA rules, because until that happens it's pretty hard to expand," Graves said.
Though Salkin from the New York State Bar committee believes there's widespread support within the New York law school community for the ABA's online education standards, some holdouts remain. Faculty members at Albany Law School recently took a position urging caution on permitting online delivery to expand at the institution, according to Alicia Ouellette, president and dean of Albany Law School.
The institution currently offers supplemental online classes in cybersecurity and compliance, but nothing for degree programs. "Our faculty's position has been that we really want to perfect the pedagogy in the online space through these specialty programs rather than jumping in through the core curriculum," Ouellette said.
Ouellette hasn't yet been convinced by data and research around online law education that's emerged. She's taught online for more than a decade but thinks law schools need to be more careful about how they educate students. She's also concerned that looser restrictions could lead to competitive pressure for online expansion among law schools.
"That could stifle innovation in other ways because we have very limited resources," Ouellette said.
Skepticism over online legal education exists outside New York as well. Following the Mitchell Hamline carve-out, Southwestern Law School in Los Angeles in 2017 secured approval from the ABA council for an online J.D. program of its own. But the institution has since pulled back on those plans, instead making a more modest step by converting its part-time evening program to partially online.
The evening program used to require students to come to campus four times a week. As of this fall, students will come twice a week and complete the remaining work online.
Plans for a full hybrid program haven't gone away, but Southwestern administrators want to be sure the market can support it. "We thought it probably did not make sense to invest heavily in the original idea that we had to target students who were at some far distance from us," said Michael Dorff, the Michael & Jessica Downer Endowed Chair and director of Southwestern's Technology Law & Entrepreneurship program, and co-chair of the institution's distance learning committee.
More online law programs will be entering the market soon. One month after the looser restrictions went into effect, the University of New Hampshire proposed a J.D. program with more online delivery than what's allowed even under the new ABA rules. The institution's hybrid J.D. with a focus on intellectual property, first reported in the Concord Monitor, would require only three to 10 days per term of in-person instruction.
The ABA council won't take up the university's accreditation proposal until next month, according to a spokesperson for the university, but the program has already begun accepting applications.
Under current state law, graduates from the University of New Hampshire program might not be eligible to take the state's bar exam. The law permits graduates of partially online programs to take the bar if their program earned accreditation from the ABA. It doesn't say one way or another whether programs approved by the ABA through a variance also count. According to Sherry Hieber, general counsel for the New Hampshire Supreme Court Office of Bar Admissions, that question won't be answered until a graduate applies to take the bar.
"Is that compliance with the standard or is that treated differently because it's a waiver?" Hieber said. "I think that's an issue for the court."
Cropping Up Elsewhere
While the ABA council demonstrated increasing comfort with online education, it has no plans to further loosen or remove restrictions for institutions, according to Barry Currier, the ABA's managing director of legal education. The council plans to watch closely for outcomes from programs taking advantage of the new rules, including with a "supplemental questionnaire" that accreditors will administer when checking in with institutions, Currier said.
Loyola University Chicago School of Law and the University of Denver's Sturm College of Law have been offering their part-time J.D. programs partially online, within the ABA's previous limits, for several years. In California, which has separate accreditation standards from the rest of the country, two accredited law schools last fall began offering hybrid J.D. programs, having secured exceptions from the state's limit of 12 online credits for an 80-credit J.D. program, according to Jonah Lamb, a spokesperson for the State Bar of California.
The California bar is considering allowing accredited law schools to offer fully online programs, Lamb said. In the meantime, 12 unaccredited law schools with registration in the state already offer distance education or correspondence programs, he said.
At Mitchell Hamline, Duhl considers the program a success so far. Administrators have heard anecdotally that graduates are passing bar exams at a similar rate to graduates from traditional programs, and students have expressed interest in more specialized online courses, which the institution plans to accommodate. More than 2,000 students have applied for the hybrid program, compared with slightly more than 600 who ended up enrolling, according to Duhl. LSAT scores for students in the online program have been higher than for the comparable face-to-face program, Above the Law reported.
The program costs more to maintain than a traditional program, Duhl said, though he declined to say how much. But the interest from students, and the quality of the programs, justifies the investment, he said.
"Students are still flocking to us," Duhl said. "It's exceeded my expectations."