You have /5 articles left.
Sign up for a free account or log in.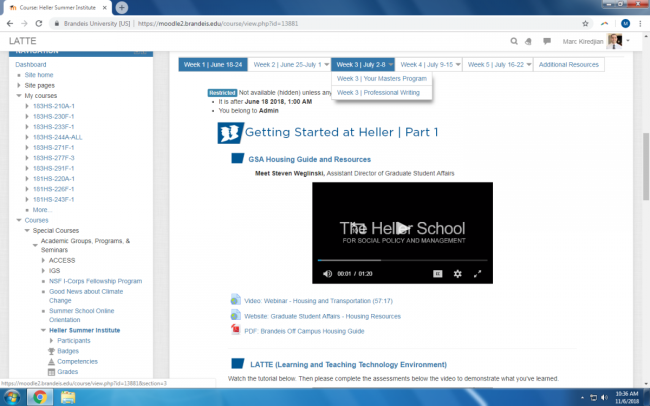 Courtesy of Brandeis University
The Institution: Brandeis University, in Waltham, Mass.
The Problem: In January 2017, David Weil, dean of Brandeis's Heller School for Social Policy and Management, identified that many students said they didn't feel prepared for their graduate programs prior to arriving on campus. The school offers six programs that enroll 450 students per year.
The Goal: Weil commissioned Marc Kiredjian, the Heller School's associate director of academic affairs and innovation, and a colleague to develop a pilot program for an online platform with which students could interact during the summer before their first on-campus semester. The platform would reach more than 120 students in three of the school's six programs; of those, approximately half hailed from outside the U.S.
As for the structure and contents of that platform? The dean asked Kiredjian to figure it out.
"My colleague and I looked at each other -- we had a minimal budget, no staffing other than volunteers," Kiredjian said. "We freaked out at that point."
Though the summer semester was fast approaching, Weil wanted to get a plan going right away.
"My only message to the group was, let's not let best be the enemy of good," Weil said.
The Experiment: Kiredjian asked Brian Salerno, Brandeis's director of online learning, as well as a team of instructional designers and volunteer graduate student assistants, to help him figure out what to offer students, and on what platform. Research into other institutions' offerings yielded few models worth emulating, Kiredjian said.
The first iteration of the online platform ended up having three main features:
A professional writing course.
A suite of student services resources including course registration assistance, academic research and citation tips, and support for international students.
Borrowed tutorials on statistics, economics and other topics from Khan Academy and other open-source options. "Future iterations we'd really like to make homemade here at Heller," Kiredjian said.
All told, the institution spent between $15,000 and $20,000 on establishing the platform, not including faculty and staff time investments, according to Weil.
The Challenges:
The institution presented the online platform, on a Moodle-based learning management system, to students as "completely optional" and free of charge, Kiredjian said. As a result, only 15 to 25 students participated in the discussion board, and some students engaged only once in a while with the content, rather than throughout the summer. Eventually, Kiredjian hopes the offerings will be palatable enough that a majority of students will see them as essential.
Funding for the project was limited, which meant staff resources were minimal. Future iterations could involve more sustained contributions from faculty members and other experts on campus, according to Kiredjian.
"Mission creep" started to set in at times, as more and bigger ideas bumped up against dwindling time and resources.
The Successes:
The platform collected real-time data on students' interactions, which allowed the team to drive traffic throughout the summer to certain underattended areas of the site with larger banners. More than 100 students logged in to the platform at some point over the summer, far exceeding Kiredjian's initial predictions.
Of the available tools, the writing course got the most engagement, indicating to Kiredjian an element of the learning experience for which many students feel particularly unprepared -- and for which this resource was particularly valuable.
When students early on appeared uninterested in signing up for remote office hours according to specific time blocks, Kiredjian and his staff tweaked the office hours option to a by-appointment arrangement. Almost instantly, more students started signing up, Kiredjian said. This change gave the team confidence to continue investing in the platform as a necessary resource for students.
Next Steps: The team will take a closer look at data on student activity, as well as qualitative reactions from student focus groups, to refine the platform for next summer. "The general idea is to make the suite stronger, more engaging, more user-friendly," Kiredjian said.
Last summer the program was offered to students in three globally oriented programs within Heller. This year, the plan is to expand the pool to students from all of Heller's master's programs, according to Kiredjian.
He's also received a $400​ grant to participate in a workshop series featuring faculty from across Brandeis honing techniques for improving online accessibility of the institution's offerings.