You have /5 articles left.
Sign up for a free account or log in.

Steven Schinke was, by all accounts, a wonderful teacher. When the endowed professor died from pulmonary fibrosis earlier this year at the age of 73, his colleagues at the School of Social Work at Columbia University wanted to find a way to pay tribute to him as an educator, academic and friend.
A memorial on campus would have been fitting. But Schinke taught exclusively online in recent years, and many of his students would have been unable to attend.
As the faculty director of the School of Social Work's online campus, Schinke was a vocal proponent of online learning. He told colleagues that his teaching had improved so much since he started doing online instruction in 2013 that he never wanted to go back to teaching in a physical classroom.
It seemed appropriate, therefore, to honor Schinke by organizing an online event, said Matthea Marquart, director of administration for the School of Social Work's online campus.
After Schinke died on Jan. 1, the school published an official announcement and a selection of online tributes on its website, as it would for any faculty member who had passed away. But Marquart and her colleagues wanted to do something more, to organize "a time everybody could come together online to remember him," she said. They organized an online memorial using the same Adobe Connect platform that Schinke used to teach online. Around 100 people joined the online remembrance on Jan. 25. A good number of Schinke's students tuned in, as did friends, colleagues and acquaintances who were using the online platform for the first time.
"What I heard from folks afterwards was that they didn't know an online event could be so intimate. That you could convey so much emotion or feel so close to people," said Marquart. "It ended up being a really nice way to honor and remember him."
She said it took a large number of people to plan and pull off the memorial. She and several colleagues from the online campus recruited speakers and designed and set up the online platform. The school's communications team created an online invitation and helped get the word out through emails, social media and the school's website. The communications team also created a video of Schinke, which was aired during the online memorial.
There were not many resources available to help Marquart organize the online memorial, she said. To her knowledge, there have not been other events like it.
"I googled around, but I couldn't find anything similar. There was a lot on memorial services and how to plan them -- that was marginally helpful," she said.
Although an online memorial was uncharted ground, it helped that Marquart and her colleagues were experienced in creating online events.
Given that so many students now study exclusively online and may not ever meet their professors in person, Marquart hopes the memorial for Schinke might serve as a useful template for other colleges looking to organize memorials for online faculty.
"This was a real team effort," she said.
The memorial started with a slideshow of quotes from faculty and students who knew Schinke. Then there was a welcome and brief introduction to the online learning platform for people who hadn't used it before. Marquart really wanted the event to be accessible and arranged for it to be live captioned for people who are hard of hearing. She also took time to explain how to access the captions and increase font size on the platform.
There was a moment of silence followed by a series of prepared remarks from the current and former deans of the School of Social Work. Several of Schinke's colleagues made live remarks; one of them read a poem. A video that included clips of Schinke teaching, dancing and making jokes was also shown. Attendees could sign a virtual guest book designed to look like those found at traditional memorial services, to encourage people to write more formal, less chatty messages.
Because Schinke was well-known for his interactive teaching style, which might include 50 online polls in one class to check students' understanding of the material he taught, his memorial included two polls -- quizzing attendees' knowledge of Schinke's achievements and asking for their favorite Schinke catchphrases.
"He was a really humble person," said Marquart. "We asked which of his accomplishments did you know about. Most people didn't know he'd raised over $30 million in just National Institutes of Health grants alone. He was also one of the top 10 most cited social work scholars who are fellows of the American Academy of Social Work and Social Welfare -- he never talked about that."
There were also thoughtful touches in the design of the online event space. A banner at the top of the page had peach blossoms on it because Schinke often used to say he was "peachy keen," said Marquart. The event organizers also shared a visual timeline of milestones in Schinke's life.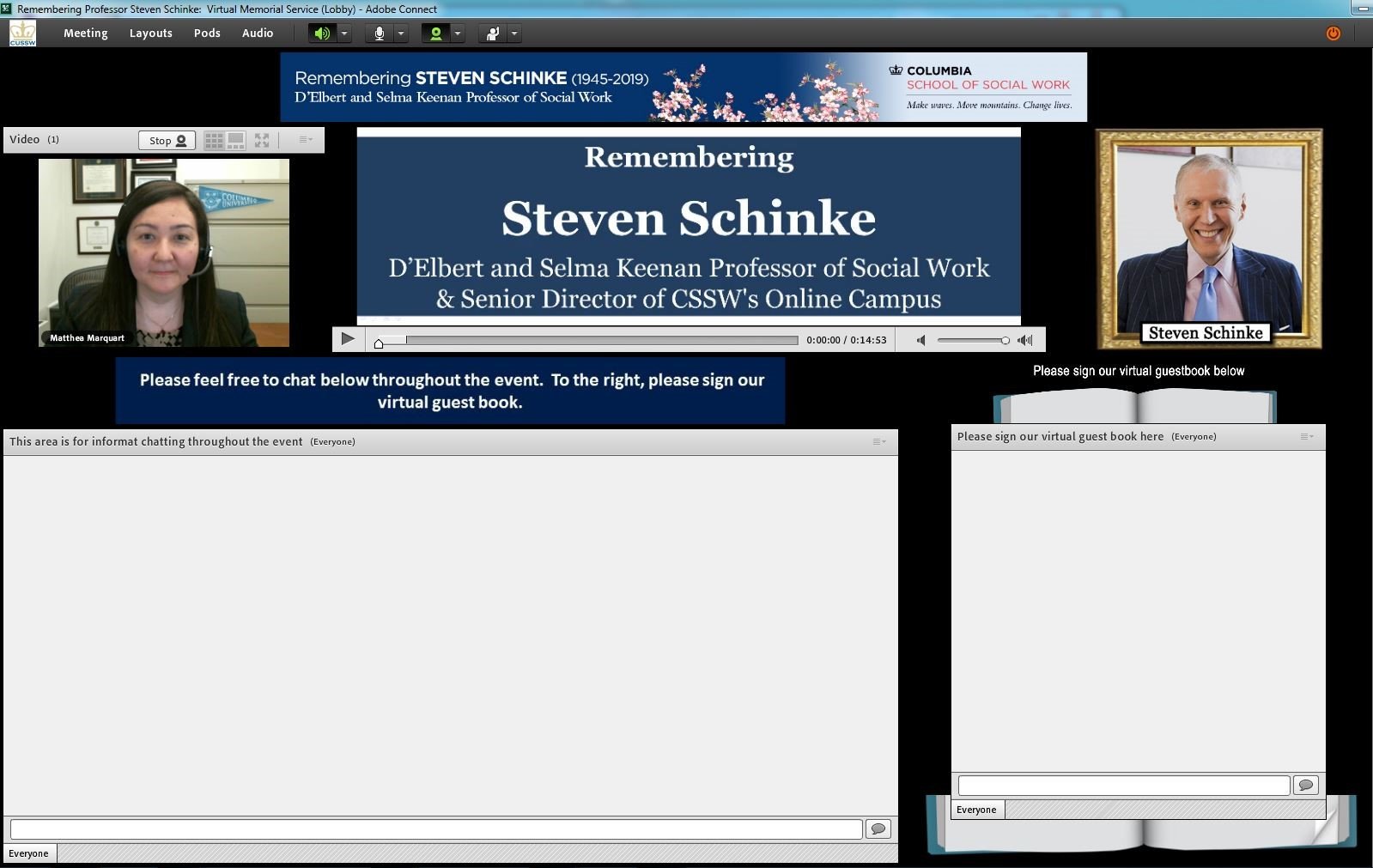 Several people acted as tech support for the event -- testing speakers' webcams and mics, promoting speakers to presenter roles in the platform when it was their time to talk, monitoring the online comments and communicating with Schinke's wife, Mary, to make sure she was comfortable.
"When you have a public online event, you just never know. If anyone said anything unkind, I wanted them removed immediately from the room. That didn't happen, but it was good to have people monitoring that just for peace of mind," said Marquart.
At the end of the event, which started at 8 p.m. and ended around 10 p.m., an open mike was made available for anyone who wanted to say a few words.
"It was great to have people who knew him throughout his life join us, as well as his recent students who maybe never met him in person," said Marquart. The tone of the event was kind and sweet, she said. There were amusing moments, too. Schinke was known on campus for being very dapper and professionally dressed. But a childhood friend of Schinke's said this was certainly not the case when he knew him. Former colleagues based in Canada and South Korea also joined the event.
Kristin Garay, a former student of Schinke's who now works as the School of Social Work's manager of online campus technologies and who helped organize the event, described it as a "perfect tribute."
"He was an amazing teacher," said Garay, who took Schinke's Introduction to Statistics class in 2016 and later worked with him to provide tech support for his online classes. "He was really engaging; he'd be in conversation with us the whole time, adjusting, getting feedback, asking what we understand," she said. "He worked in a lot of humor, too."
Schinke felt strongly that online learning could benefit a lot of people, Garay said. "It seemed very fitting to host an event online."
Anna Garriott, another former online student, said she didn't know what to expect from the memorial, but she said organizers did "a phenomenal job."
"All the different stories people told, the mix of videos, slideshows and polls that he used so frequently -- it really captured his work," she said.
She particularly enjoyed that there was an open mike. "It very much reflected what the online community is like at Columbia," she said.
Marquart said the online memorial was somewhat similar to the practice of celebrating an academic's work with a festschrift. Traditionally, a festschrift is a meeting where an academic is handed a manuscript celebrating their work. They are also sometimes written posthumously. A printed festschrift in memory of Schinke is being prepared, said Marquart.
David Schleicher, a professor of law at Yale University, wrote a humorous paper about how to prepare a festschrift. "I think they are terrific -- a little silly, but mostly terrific," he said. Festschrifts, he wrote, "are usually quite fawning, and a bit formulaic." But they are also "very interesting as intellectual history."
Festschrifts are common at law schools, said Schleicher. They usually take the form of a conference followed by a series of published articles in a law journal. These are often in print but also accessible online.
Schleicher said he liked the idea of a digital festschrift.
"All scholarship should be freely available online, as far as I'm concerned," he said. "That goes for festschrifts, too. An online one seems great -- it's probably easier to show to your kids, but a little harder to put on your bookshelf."
More from Digital Teaching & Learning