You have /5 articles left.
Sign up for a free account or log in.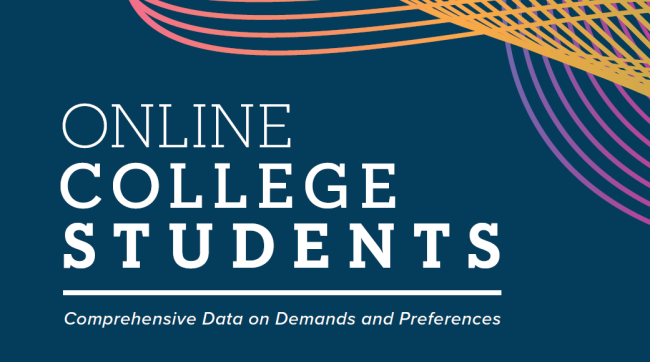 It's trendy to talk about how mega-universities -- high-enrollment institutions with a national footprint, typically online -- are the future of higher education. But assuming that many or most students will choose to enroll in an institution across the country or even in the next state ignores the reality that increasing numbers of online students choose to study close to home.
That reality is ever clearer in Online College Students 2019, the latest iteration of an annual study from the Learning House; its parent company, Wiley Education; and Aslanian Research, a consulting firm. The survey of 1,500 current or soon-to-be students in fully online academic programs (for undergraduate or graduate degrees, certificates or licensure) has been conducted for eight years and explores their attitudes and behaviors on a range of topics.
Among the most interesting data points in this year's survey appears in a section of the study about how online students decided where, what and how to study. A majority (58 percent) said they had decided what to study (in terms of discipline) before they decided to study online, rather than the reverse. And more than three in five of the students (63 percent) said they had decided to study online because that fit best with their "current work/life responsibilities," not because online was their "preferred way to learn" (34 percent).
While studying online theoretically gives students who are place bound for work or family reasons more geographic flexibility than does in-person study, the Online College Students research shows that ever larger numbers of fully online students are staying close to home.
As seen in the graphic below, 67 percent of respondents said they lived within 50 miles of a campus or service center of the college where they are studying, up from 42 percent just five years ago. Meanwhile, the proportion who said they are studying at least 100 miles from where they live has dropped by more than half, to 15 percent in 2019 from 37 percent in 2014.
The report's authors offered this analysis: "The growing number of schools offering online programs provides students with more options closer to their home. Local schools have greater visibility among employers and others in the community, which is valuable to students."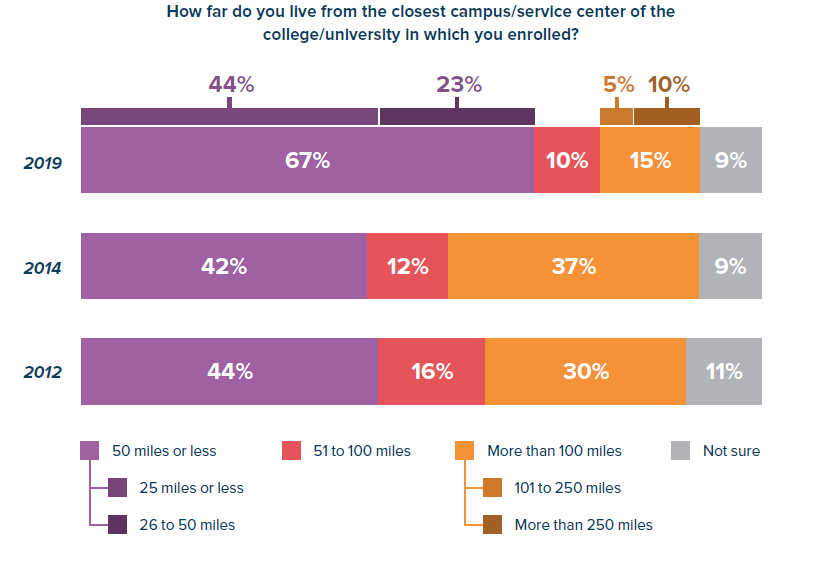 Here is how the data look year by year since 2014:
Some of the other highlights of the study include:
At a time when many people (especially politicians) are questioning the value of higher education generally and online learning in particular, consumers themselves (at least the ones who answered this survey) appear not to be. Eighty-four percent of current and former fully online students strongly agreed (44 percent) or agreed (40 percent) that their "online education was worth the cost." Eleven percent neither agreed nor disagreed, and 6 percent disagreed.
Nearly half (47 percent) of current fully online students said they planned to take additional courses from their institution after they earn their current degree.
More than 80 percent of current and former students agreed that their online program improved their mastery of various "soft skills" such as critical thinking and problem solving, time management, and attention to detail.
Nearly three in five students age 45 or under said they completed some or most of their course-related activities using mobile devices. Another 17 percent said they would have liked to. Only about a quarter (27 percent) of students 46 or older said they had completed course work on mobile, and 51 percent said they would not want to.