You have /5 articles left.
Sign up for a free account or log in.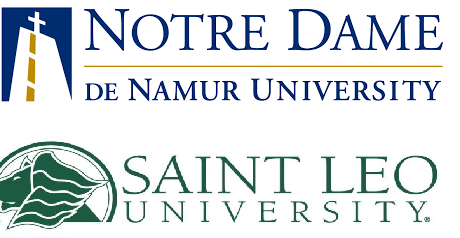 Notre Dame de Namur University has taken several stabs at expanding the reach of its online master's program in public administration. It worked with Deltak (an online program management provider now part of Wiley Education Services) to create the online version of its in-person program in 2012, and then brought management of the program in-house "after we learned how to manage the [learning management system] and technical aspects of the program," said Hernan Bucheli, provost of the Roman Catholic institution in the San Francisco Bay Area.
Neither approach "has proven to be successful for growing the scale of that program," Bucheli said.
Now the university is trying another tack. It is turning to another Catholic institution with a strong tradition of online education, Florida's Saint Leo University, to market the online M.P.A.
Notre Dame de Namur officials believe Saint Leo's expertise in marketing online programs and its nonprofit Benedictine status will help it succeed in "messaging a Catholic values-based program" to a broader audience in a way that neither a for-profit company nor Notre Dame de Namur itself could.
Plus, "we worked out a good agreement" with Saint Leo, Bucheli said, declining to share pricing details.
"Small independent Catholic institutions are stronger together than they are apart," he said. "Collaborating together is really kind of key."
Jeffrey Senese, Saint Leo's president, couldn't agree more. Its partnership with Notre Dame de Namur is just one of several the Florida university is exploring with other (mostly) faith-based institutions, primarily Catholic ones.
"I see higher education in a state of consolidation that is starting to occur," Senese said. He notes that about 15 percent of the 230-odd Catholic universities in the United States have federal financial scores suggesting they could face trouble in the near future.
"We're trying to be Catholic and Benedictine about" these arrangements, such that they are "mutual and not one-sided." While the partnerships Saint Leo is exploring are in different realms, in most cases they leverage Saint Leo's scale and experience to bolster the other colleges' history or niche or location.
The partners get some capacity or expertise they didn't have; Saint Leo gets "additional resources" to continue to carry out its own mission, Senese said. He too declined to provide details of the financial arrangement, saying only that it was much more favorable to Notre Dame de Namur than a corporate partner would be.
Bringing Different Things to the Table
Saint Leo went online more than 20 years ago, when its then president, Arthur Kirk, realized that doing so was essential if it was to maintain its prominent role educating military service members at remote learning centers. In 1997, it struck what was then an unusual deal with Bisk Education, an early player in what is now known as the online program management, or OPM, market. About a decade later, though, it brought all of the instructional design, marketing, recruiting and other services in-house, a move Inside Higher Ed profiled in 2011.
The university now has more than 60 online programs, which it supplements with 30 physical locations in seven states. Nearly another decade after it stopped outsourcing online services to a company, Saint Leo now wants to be outsourced to, but in what Senese said will be a very different way from the many corporate providers in the space.
"Part of our mission is to serve as a Catholic, Benedictine institution," Senese said. "We're a business and we need to make money, but we also need to serve. So these relationships are more advantageous to the other institutions than to us."
That's not to say Saint Leo doesn't expect to derive meaningful benefits from the partnership, over and above whatever additional revenue it produces. Notre Dame de Namur's location in Northern California is a draw, potentially giving Saint Leo access to an "area where we do not have a market presence now," said Senese. "NDNU's a 10th our size, but they have a strong market position, having been there 100 years."
The fact that Saint Leo was not only a nonprofit but also a fellow Catholic institution was a clear draw for Notre Dame de Namur as it looked (again) for outside help trying to increase the reach of its online M.P.A., from its current 41 students to the roughly 200 to 250 it would like to have annually within five years. (The university also just joined the Council of Independent Colleges' online course-sharing arrangement.)
"They obviously have expertise in online marketing and admissions," said Bucheli, the Notre Dame de Namur provost. Saint Leo has about 180 admissions and financial aid counselors in its service centers in Tampa, Fla., and Las Vegas, while Notre Dame de Namur has four admissions officers.
But lots of places, corporate and nonprofit, have that expertise, Bucheli said. Saint Leo's understanding of Catholic higher education should ensure that it knows how to attract students to a program offered by another such institution, he said, and Saint Leo's large military student population could feed nicely into Notre Dame's public administration master's program.
The collaboration with Notre Dame de Namur on online learning is the first of its kind for the university -- but is unlikely to be the last, said Melanie Storms, senior vice president at Saint Leo.
The university won't team up with just anybody, though, she said. Saint Leo rejected partnerships with two other institutions, she said, one of them because it "didn't have the same foundational values we have."
"At the very foundation of these partnerships is that we're seeking institutions that share a common set of values."