Cost, Price and Competition in Online Learning
Colleges generally still price their online programs similarly to their on-ground counterparts. A panel of experts explores whether that is starting to change.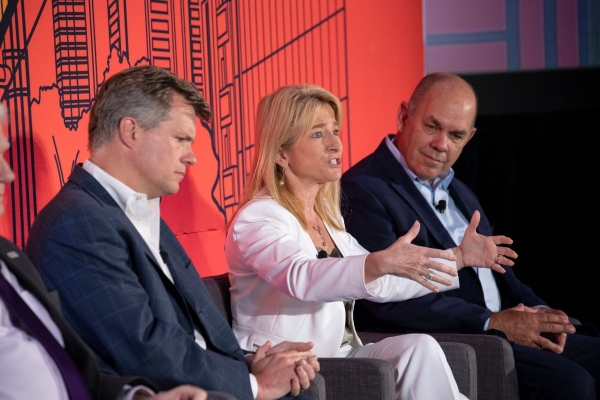 BALTIMORE -- Does online education cost colleges less to produce? And if so, should online courses therefore be priced lower for students?
Many supporters of digitally enabled learning have long believed that it has the possibility of bending higher education's cost curve by using technology to broaden how many students an institution can serve, thereby lowering the per-student cost of providing a higher education. And at a time when tuition and student debt levels continue to rise, some advocates for students believe online education should be a tool to drive down students' spending on their postsecondary educations.
Online courses, New America's Kevin Carey wrote in his widely discussed article this spring, are "a lot cheaper for universities to run. There are no buildings to maintain, no lawns to mow, no juice bars and lazy rivers to lure new students. While traditional courses are limited by the size of a lecture hall, online courses can accommodate thousands of people at a time. This is how universities could break the tuition cost curve -- by making the price of online degrees proportional to what colleges actually spend to operate the courses."
Carey's argument about whether online courses cost less to produce largely got lost in the shuffle of debate over his view that outside companies that manage colleges' digital programs were a primary culprit in driving up the price of online education.
But the topic is an important one, and a discussion about the role of online education at Inside Higher Ed's conference here this month on the future of public higher education kept returning to it.
The session touched on a wide range of issues -- including how digital learning is reshaping the competitive landscape for public colleges and universities -- but cost and price played a central role in the discussion among four prominent online ed experts as they assessed the current landscape.
Burck Smith is founder and CEO of StraighterLine, which years before it was in vogue began offering low-priced general education courses as an alternative to college programs. He said the world is finally catching up, with more colleges and universities (including well-established ones) beginning to price their online programs significantly lower than their in-person counterparts.
This is particularly occurring in the adult learning space, he said, citing entities such as Southern New Hampshire University's College for America and Arizona State University's Global Freshman Academy that are giving students lower-priced (and lower-risk) ways to test out their readiness for higher education. But Smith said "that's more a function of where innovation starts in higher ed than of its applicability" to other parts of the higher education market. Major universities such as the University of Illinois at Urbana-Champaign and Georgia Institute of Technology are lowering the price of online master's programs, too.
Others were less confident that prices will fall, even if to a person they agreed that online learning, at scale, is less expensive to offer.
"It's pretty clear that if you move down the path to complete digital delivery, the cost of instruction will go down," said Don Kilburn, president of UMass Online and former president of Pearson North America. "But there are a number of institutional pressures that may not allow you to price them less. You may not want to cannibalize your on-ground programs, or legislators may stop you."
Online education is at the core of what the University of Maryland Global Campus does, and that allows it to price its education much lower than its face-to-face peers, said Javier Miyares, the university's president. "There's an up-front investment, but as you spread that investment over more students, it becomes cheaper. You don't need the structure of buildings, you don't need the [health] counseling center. You deliver most of the education through adjuncts," most of whom -- at a place like Maryland Global Campus, which is aimed at working adults -- are moonlighting working professionals rather than the sort of adjuncts who yearn for the tenure track.
But the picture looks much different at traditional campuses that are trying to move more aggressively into online education, said Michelle Marks, vice president for academic innovation and new ventures at George Mason University.
"Institutions like UMUC [UM Global Campus's former name] … started delivering online education for working adults," with a direct state investment for that purpose and a fully developed set of "competencies and mechanisms to serve that type of student," Marks said. "For many of us, who started as traditional institutions, you don't have expertise, you don't have that competency and you don't have capital to invest in the things you need to do very differently to serve those students. There are real switching costs involved."
She added, "To think that you can go from a traditional institution to serving online students as well as they need to be supported without an investment is unrealistic for most of us."
So many things are different, Marks said: transforming the institution's schedule to allow for more regular program "starts" ("changing a calendar is a really hard thing!" Marks said), new systems for payments and advising and psychological services.
George Mason's solution, in part, was to take on a partner (in its case, Wiley Education Services, an online program management company). "We don't have the tens of millions it would take, so they provided the capital investment to help us scale quickly," she said. "There are obviously pros and cons to that," in a bit of understatement, given debate over the large proportion of tuition revenue that online program management companies often take.
Smith of StraighterLine conceded that most colleges and universities are loath to lower their prices, "because that has a negative market signal."
But there are ways other than formally cutting prices that one can lower what students spend, he said. "You can set up better credit pathways, since reducing risk upon entry is another way of reducing the effective price. You can be consistent around fee structure, or lock in tuition. Most likely those are the tools that will get used rather than direct price reduction."
Ultimately, though, unless higher education is even more different from every other industry than it clearly is, there's only one way for prices to go, Smith said.
"Every other market's been transformed by online delivery," he said. "When the cost structure of a big chunk of the model changes, it doesn't just change that part. There's a nest of cross-subsidies internally, and external subsidies.
"We're struggling in fits and starts to figure all that out," he said, "but it is happening."
You may also be interested in...
Inside Higher Ed's Quick Takes