You have /5 articles left.
Sign up for a free account or log in.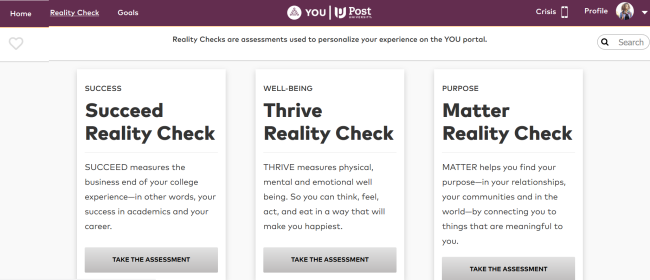 Listen in on a discussion about the differences between fully online academic programs and those delivered in person, and someone is likely to assert that online education ought to cost less to deliver because online students need fewer services than their in-person peers. Mental health counseling is on the list of discretionary offerings, on the assumption that on-campus students may be less mature and more likely to need emotional and other nonacademic support.
That's misguided, says Lisa Antel, director of the counseling center at Post University, in Connecticut, whose roughly 10,000 online students are mostly working adults.
"The online population is often juggling quite a bit more than our main campus population" -- roughly 800 mostly traditional-age students, she says. "They've got life, family, work and then school, and our online program has accelerated eight-week classes that move at a very fast pace, so when something happens in your life, it can be difficult to keep up."
Online students also typically don't have as many ways of hooking into the campus (should they desire to) as traditional students do, raising the odds that they can be isolated, Antel says. "Being on a college campus itself can be a resiliency factor."
Antel and Post began several years ago to try to ramp up the mental health services they provide to their online students. They laid out the possible solutions from those that had no cost up to more expensive options, beginning with providing more information about the importance of student mental health, then added a service, HelpPRO, that helps individuals find local counseling in their areas. (They've since added a complementary service, for more immediate concerns, through 211.org.)
The university also began offering mental health screenings to students (online and on campus), which, depending on the results, offer students suggestions for next steps they might take.
Like most institutions, Post is seeing significant increases (in its case, roughly 50 percent) in the number of its on-campus students seeking appointments for psychological services. Not every student who might need help seeks it out, though, which is why the university has established a protocol for faculty members who sense a student might be in distress.
The challenges are different for online instructors. They might live half a continent away from their students, says Antel, and some signs a professor might spot in a physical classroom -- inconsistent attendance, tearfulness, worsened personal hygiene -- may not be visible to an online instructor.
"We have to teach them how you would see the distress," Antel says of online instructors. "It may be in a discussion post, or in an email from them."
Instructors are taught to spot the difference between students who might be at risk and those who might be a threat (though in both cases, the faculty members share information with a campus threat-assessment team). If the former, the student receives a standardized (but personalized) email from the faculty member, suggesting possible avenues for help.
If the distress seems more urgent -- a student who reveals that "I tried to kill myself last night," Antel says, citing an extreme example -- the outreach comes from the director of campus safety, who would contact both the student and local authorities, who will when necessary dispatch someone to check on the student.
Seventy-five percent more instructors used the platform to send alerts to the threat assessment team in the 2018-19 academic year than in the previous year, Antel says.
Another Tool
The newest strategy Post is implementing -- rolled out just last week -- broadens the scope of the university's look at its students' well-being.
The new program, You@Post, "casts a broad net on the college experience," Antel says. The platform (delivered via You at College) creates a personalized profile for each student, gauging how well positioned they are to succeed (academically and in potential careers), thrive (physical and mental health), and matter (their sense of belonging).
The tool helps students assess their own well-being and, depending on how they fare, connects them to academic and mental health counselors.
Digital tools and platforms can't and shouldn't replace human beings in identifying and helping students with mental health problems, Antel says, but they can help institutions like Post serve a growing student body -- especially a dispersed one online -- without "tremendously expand[ing] our department."