You have /5 articles left.
Sign up for a free account or log in.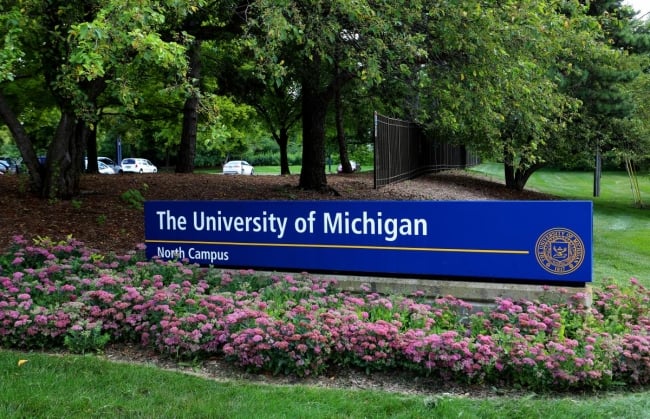 The University of Michigan has allocated $50 million to establish a Center for Academic Innovation. The new unit is an upgrade for what was previously the Academic Innovation Initiative and even earlier the Office of Academic Innovation. Academic innovation programs at the university have focused on technology for both online and on-campus learning.
"The University of Michigan was not a first mover in the online degree space," said James DeVaney, the center's founding executive director. "When we created the team that ultimately became the Center for Academic Innovation, our charge was very much to look at what tools and research and pedagogies and design principles might help us to reach learners well beyond U of M, but in doing so to determine how these new instruments in technology and design would impact the residential learning experience."
The center's three focus areas, DeVaney said, are curricular innovation, educational data and tools for learning. While a large part of the investment will go to expanding the university's online and hybrid offerings -- the college launched three online degree programs this September, bringing its total number to eight -- a substantial portion will also benefit on-campus learners, DeVaney said.
"There's a great deal of blurring between our activities in the online, hybrid and residential domains," he said. "What we're looking to do is combine the gains and the strides forward we've seen in online learning with some of the educational technology we've built for campus-based students and see how we might further personalize those learning experiences."
The center has worked to develop various software through an ed-tech incubator and estimates that over 85 percent of current Michigan students have used the programs. ECoach, one of the pieces of software developed by the institution, is designed for large, introductory lectures and provides guidance to students in the voice of their peers.
"It's helping students to develop better study habits and to meet their desired goals for a course by way of providing students with good information from students like them who have taken similar courses in the past," DeVaney said.
Much of the other software also focuses on personalized learning. GradeCraft, a platform to support "gameful instruction," can help students predict their grades and decide what assignments to complete.
DeVaney says that developing educational software in-house allows designers to zero in on faculty and student needs. "[We put] these users of tools in the driver's seat to determine best use cases and best user experiences," he said, "and to make sure that along the way we're addressing any concerns about privacy or thinking about how to take advantage of the social learning experience in ways that learners and faculty will enjoy."
Bryan Alexander, a futurist and educational consultant, commended the university's focus on development and said that the mentality is relatively unusual. "Once you create a tool, you're kind of responsible for it. You have to keep developing it, or if you stop developing it, you have to maintain it at a certain point," he said. "Most colleges and universities in the U.S. don't do that kind of work, or they're not comfortable doing that kind of work."
Alexander also said that the university would be wise to keep in mind how its tools could be used at the many institutions that are unlike Michigan. "They're developing some things for a large research university that's very well resourced," he said. "I would ask them to keep in mind that the majority of postsecondary education is nowhere near that. The biggest sector of American higher education is community colleges."
Howard Lurie, principal analyst for online and continuing education at Eduventures, said the investment is exciting and a natural progression for the university. "They're taking advantage of the existing ecosystems they have about teaching and learning," he said. "Rather than stand up a business unit to go and enroll more students, they're thoughtfully going about trying to figure out what they can learn through the innovation cycles."
Other colleges have made strides in developing their own software, Lurie said, noting the Massachusetts Institute of Technology and Carnegie Mellon University specifically. Michigan is notable in the space for its commitment to sharing its results and its intention to address diversity and equity.
"All of this is intended to help a very big place feel a little smaller," DeVaney said.