You have /5 articles left.
Sign up for a free account or log in.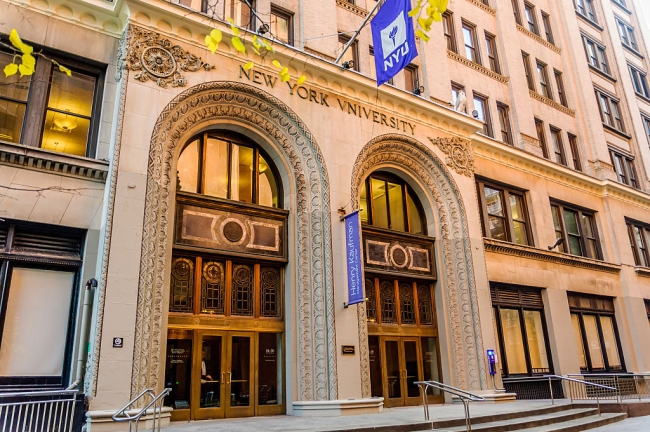 New York University's Tandon School of Engineering just launched an online version of its master's program in integrated digital media.
"We wanted to expand the reach and make it more accessible to people who are interested in developing their career, maybe are working full-time or have a family," said Scott Fitzgerald, director of online programs at the Tandon school and co-director of the integrated digital media program. "We really want to expand this to as many people as we possibly can."
As online courses and degrees proliferate, especially in the master's space, many administrators have their eye on expanding access and affordability while also bringing in a new revenue stream for their institution. But faculty and staff members continue to grapple with questions of how to market those courses and degrees and design an online pedagogy. NYU's approaches to those questions, though not yet proven successful, are in some ways distinctive.
Teaching Design Online
Staff members describe the integrated digital media program as being at the intersection of design and engineering. In courses such as Creative Coding, students get a crash course in programming and investigate potential applications for self-expression. Other courses in the general program center on web design, media law, user experience, virtual reality, digital cinema, live performance and digital fabrication.
All the courses use project-based assessments. For the online master's, every course will involve an asynchronous portion, such as a prerecorded lecture, and a synchronous portion, such as a video-conference discussion.
Most of the projects will be created in the digital space, but to transfer some of the on-campus electives that have traditionally involved physical projects, Fitzgerald says employees are crafting some creative solutions.
The university earlier this year piloted an online version of its Interactive Objects course, which is centered on interaction design in physical space. To help faculty members evaluate the physical objects students produced for the class, students were tasked with documenting the process of creating their assignment through photos and videos. Students could also interact with their objects during video conferencing to show usability.
"We've always asked even our on-campus students to document their work and document their process and make every little bit of what they're doing available for them to show," Fitzgerald said. In some on-campus engineering courses, this was originally to get around student complaints that faulty projects were "working fine last night."
This question of how to evaluate projects created in a physical space over an online platform has been something art and design programs around the country have grappled with before. At the Savannah College of Art and Design, which offers online bachelor's and graduate degrees in a variety of artistic disciplines, online students submit their projects in a few different ways, one of those being by mail.
"We have several classes that require everything from a 3-D model of a design to a garment to images printed in a range of substrate materials that include metals and specialty," a spokesperson for SCAD said via email. "Professors have expressed that feeling the object or looking at it firsthand allows them to properly inspect the level of craftsmanship and quality (for example, regarding the stitching in a garment) necessary to understand and evaluate the assignment. Other professors have their students upload videos to demonstrate how the piece reacts to human interaction." In some cases, SCAD faculty will do synchronous video reviews, as NYU does.
At the University of Montana, which offers online undergraduate degrees in art and media art, projects that exist in physical space are often submitted through photos, including detail shots and distance shots, said Kevin Bell, director of Montana's School of Visual and Media Art.
"There's no question that it's tricky," Bell said. "Some things work better, and some things you have to make adjustments for."
Bell teaches an online course in painting at Montana, where he evaluates physical work students have created via photos. "It's very easy to miss some of the subtlety or the materiality or the objectness of it," he said. But group critiques of student work are in contrast better suited to online, he said, as students then have a written record of the criticism they received. And by offering the course online, the university can reach students it otherwise couldn't.
For NYU's pilot course on objects, Fitzgerald said that while in a ground-based course students often serve as each other's "test users," finding people to give feedback on an object's usability can be more difficult online.
"We really encouraged students to identify other populations they could work with," such as neighbors, family or friends, Fitzgerald said. "They wound up sharing their work with a wider audience than just the folks that they were in the class with."
Getting Students in the Door
As far as creating traffic for the online master's, the NYU administration chose to develop a MicroMasters series of courses with the company edX in part to help market the degree, Fitzgerald said. The MicroMasters is a collection of three online courses and one capstone project in digital media. The credential was developed by the university and edX and is taught by NYU instructors. The credential takes about eight to 10 hours per week per course for eight to 14 weeks per course, according to the edX site, and is available for $900 to $1,000.
The full online master's in digital media at NYU Tandon costs a student the same as the full residential master's, $56,070 in total, but Fitzgerald suggests that the MicroMasters can be used to make the full program more affordable. A student who receives a B or higher in the MicroMasters can be awarded credit for those courses toward the full degree. Getting credit for the full MicroMasters means a student places out of a third of the degree program, which at $1,000 is cheaper than tuition for those courses.
"The other obvious incentive to a number of people is that you don't have to live in New York City," Fitzgerald said, "which is at times heinously expensive."
The MicroMasters, in addition to potentially aiding in affordability, is a marketing tool for the larger program, he said.
"We're an engineering school, but we're also involved in a wide variety of other contexts," said Fitzgerald. "It's expanding our audience. It's getting the brand of NYU Tandon out further."
Students who complete the MicroMasters will not be given preferential admission to the full degree program, Fitzgerald says, but they can use the work they've already created in their application.
Fiona Hollands, associate director of the Center for Benefit-Cost Studies of Education at Teachers College, Columbia University, who studies trends in microcredentials, said that more and more institutions are choosing to develop them to build revenue. Typically, students who sign up are looking for immediate skills upgrades to improve performance in their current jobs, she said.
"A lot of organizations are experimenting with these less costly, more bite-sized experiences for students," she said, noting Coursera's MasterTrack certificates, for example, and credentials being developed in-house by other institutions.
"I don't know why any university wouldn't be trying to experiment with new models under the current circumstances," she said. "They're not all going to work. By definition experiments often don't work, but some people have had success."
Because microcredentials can be expensive to produce and are frequently offered at a relatively low cost, those most successful at bringing in revenue often have a very high volume of students.
"For a lot of institutions, this is acting partly as an on-ramp into the master's degree, but I don't think that's a huge amount of traffic," she said.
Though NYU worked with edX to develop the MicroMasters, the full online master's was produced in-house.
"There's a real need and desire for an ethical and human-centered practice in engineering," Fitzgerald said. "We really appreciate that this a potential pathway for affordability for a number of students."