You have /5 articles left.
Sign up for a free account or log in.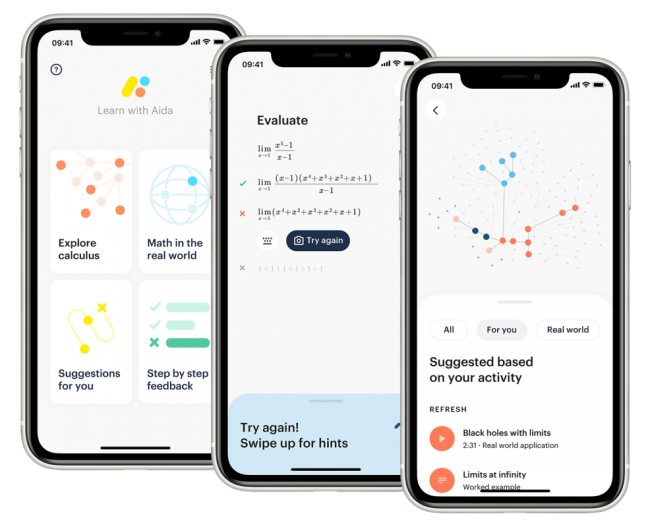 Efforts to reform the way college calculus is taught began in the late 1980s, but more than 30 years later, many students are still struggling with the subject.
At least one semester of calculus is required for almost all students pursuing degrees in science, technology, engineering or mathematics, but nearly one-third of students fail or drop the course.
"Calculus is an unseen barrier to STEM careers. It's a leak in the pipeline," said Milena Marinova, senior vice president of artificial intelligence products and solutions at Pearson.
For the past 10 months, Marinova and her team have been working on a solution -- a mobile app called Aida that Pearson hopes will help students master college calculus. (The name is a portmanteau of "AI" and "Ada," for Ada Lovelace, the pioneering computer scientist.)
Launched in the Apple app store this week, Aida offers real-time feedback and personalized recommendations to students studying at the calculus 1 level. The app features original videos on the application of calculus in the real world, step-by-step demonstrations and practice questions to check students' level of understanding. The more students engage with these materials, the more specific the app's recommendations for future study become.
By far the most interesting aspect of the app, however, is its ability to provide specific feedback on students' work. Students can take a photo of their handwritten homework or type formulas directly on the app's keyboard. Aida will then analyze their calculations line by line, telling the student if they got each step right and prompting them to review relevant instructional resources if they got it wrong.
The app is the first in a series of offerings under the new Aida brand that will be sold directly to students. It is available for free until the end of the year. Next year, Pearson plans to introduce a subscription. The company is considering pricing the product at around $2.99 a month.
David Bressoud, DeWitt Wallace Professor of Mathematics at Macalester College in Minnesota and director of the Conference Board of the Mathematical Sciences, is a Pearson author who informally advised Pearson developers during the creation of the app.
Many students taking calculus in college have already taken calculus in high school, but this does not guarantee they will pass the college-level course. In fact, Bressoud argues that studying calculus in high school can be detrimental, as students don't spend enough time building foundational knowledge.
"A lot of students shortchange their preparation in algebra and precalculus topics and then struggle when they get to calculus," Bressoud said.
These students understand the concepts of calculus but don't have the assumed knowledge of algebra, trigonometry and exponential functions, he said.
Bressoud is now retired from teaching but has actively encouraged students to use online tools such as Khan Academy and Wolfram Alpha in the past. Wolfram Alpha, a free search engine that can solve complex math problems, has proven contentious among educators who see it as helping students to cheat. The software not only provides instant answers but also lays out the steps to a solution, said Bressoud.
PhotoMath is another free online tool for solving complex mathematical equations. The app is extremely popular with high school and college students, said Jeanette Wiseman, senior associate at MindWires Consulting. Like Aida, PhotoMath can work from photographs of handwritten equations. The two apps look so similar that Wiseman asked whether Pearson had used PhotoMath's underlying technology to create Aida. Pearson representatives said they had developed their own technology in-house.
"There's a lot of competition for Pearson out there," said Wiseman. She questioned why the publisher would choose to invest in an area that already has so many free options for students. The marketing for the product is "slick," but attempting to sell products to students directly rarely works out well. Students don't have the same brand loyalty as professors. "'Oh yay, this is a Pearson product!' is just not something a student would say."
Publishers are looking for ways to sell directly to students in part because open educational resources are reducing dependence on publisher products in the classroom, said Wiseman.
"It's a great idea to try and reach students, it's just never been successful," she said. She noted that launching an app is also risky, as it can "quickly crash and burn with just a few bad reviews in the App Store."
Pearson is confident the company is offering something unique to the market. No other product is able to assess students' work in the way that Aida does, said Marinova. PhotoMath shows students step-by-step solutions to problems, but Aida looks at how students attempted to solve problems themselves. Unlike PhotoMath, Aida doesn't immediately supply students with answers. Students are prompted to review relevant teaching materials and try again. They must repeat this process three times before being provided with a solution.
Jason Fournier, vice president of product management for AI products and solutions at Pearson, said the company "didn't want to make it too easy" for students to get answers to their homework.
"We thought about not providing answers at all, but we didn't want students to get frustrated. If that happened, we know they'd just go to other products and get the answers."
Most homework and exam problems that students are assigned can easily be solved using free online tools, said Bressoud. Rather than blaming students for turning to technology, he believes instructors should rethink what they ask students and why.
"The easy availability of these tools is forcing a reconsideration of what we ask of our students," said Bressoud. "Evaluating integrals and derivatives is meaningless work that is easily done by today's technology. Taking a dynamic solution, figuring out how to model it using the tools of calculus and exploring what that model tells us is more useful, more interesting and more challenging than the way we traditionally have evaluated student knowledge."
"I believe that technology is forcing us in this direction," said Bressoud. "It is harder to teach this kind of knowledge, but ultimately it is of far more use to our students."