You have /5 articles left.
Sign up for a free account or log in.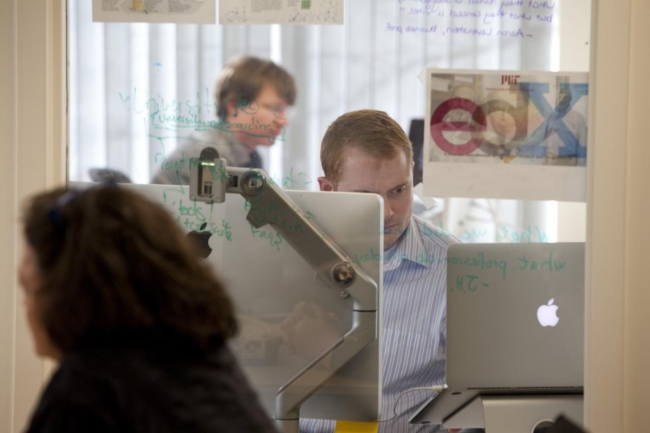 A new report from two researchers at Teachers College of Columbia University offers some hints about who exactly is completing microcredential courses and what the benefits of doing so might be.
Microcredentials -- badges or certificates that one can achieve by completing a set of courses from companies like edX and Coursera -- have been gaining ground in recent years. Universities have typically partnered with the companies to build the certificates -- called MicroMasters at edX and Specializations at Coursera -- and will sometimes accept them in place of an admissions requirement like the GRE or as partial credit toward a master's degree at the institution.
Fiona Hollands and Aasiya Kazi, associate director and a researcher, respectively, at the Center for Cost-Benefit Studies of Education at Teachers College, conducted the study as a follow-up to their report published last year on the participants who were signing up for microcredential courses. This new report, focused on those who completed the online programs, offers both similar results and some new revelations.
The first study released by Hollands and Kazi, on enrollees in the courses, concluded that participants were likely to be white or Asian, well educated, employed and 30 to 44 years old. Completers, the new study suggested, are very similar in those ways, with the average age being 36.
In response to the release of the first survey last year, Nina Huntemann, senior director of academics and research at edX, told "Inside Digital Learning" that the report showed the company was providing "modular, flexible credentials that provide career advancement."
"What is encouraging from this report is that students are finding educational opportunities that are relevant to their current careers or desired career trajectory," Huntemann said in an email.
Coursera emphasizes that other credentials one can earn on the platform, such as the Google IT Support Professional certificate, attract a diverse audience of participants. In that program, over half of participants don't have a four-year college degree, and more than a third earn less than $30,000 annually.
The new report did suggest that in some areas those who start the programs and those who complete them might be demographically different. Completers were more likely than starters to be male, to be white or Asian, to report being experts or advanced in the subject matter at hand, and to have a higher income. The median income for completers who participated in the survey was $50,000, compared to $35,000 for their starting counterparts. The study suggested that this may be due to higher earners being more likely to complete the end-of-program survey.
Eighty-five percent of completers already held a bachelor's degree, and nearly half already had a graduate degree.
Sean Gallagher, executive director of Northeastern University's Center for the Future of Higher Education and Talent Strategy, said that the demographic information demonstrates that microcredentials and MOOCs are accomplishing something different than what was originally framed as their potential. When the programs first emerged, the conversation focused on democratizing education, creating opportunity for students and replacing traditional degrees.
"There's a lot of work still to do if we want microcredentials and MOOCs to emerge as an alternative to an undergraduate degree and also to serve a more historically disadvantaged population that has not had access to the institutions that are providing these offerings," Gallagher said.
Though only 26 percent of the respondents to the starting survey said they expected to learn something new, over 90 percent of respondents to the completion survey reported this as a benefit of the program they took. The second-most-reported benefit of taking the program was "improved performance in current job" (38 percent) followed by "improved my English" (22 percent). About one-third of respondents said they lived in the United States.
Six percent said that the program helped them get a pay raise, and 10 percent said completion improved an application to a new job.
Gallagher said that although there has been much focus on microcredentials enabling people to get new jobs or raises, the data did not quite support the idea that completers were helped in those ways.
"These new programs don't appear to be yet tickets to job mobility," he said. "There's a lot of promise in microcredential programs helping people advance at their current employer or attaining jobs, but this data shows that there's still a long way to go before that happens."
Employers aren't really aware of microcredentials, Gallagher said, and are still reliant on degrees to evaluate candidates. Only 13 percent of completers had an employer cover the costs of the program, while nearly two-thirds paid the fees themselves. About 10 percent of completers were asked by their employers to take the courses.
"The apparently low program completion rates likely reflect that most learners do not perceive the benefits to outweigh the costs," the report said in conclusion. "If more employers show willingness to cover the costs and to reward completers financially or with promotions, this perception should change."
There were some differences in the responses from completers of the MicroMasters program compared to their peers in the Coursera Specializations program. MicroMasters participants were more likely to report an improved application to a first job or to a formal degree program as a benefit of completion. Specializations completers were more likely to report that the program helped them start their own businesses.
The data were collected from a survey of participants in five Specializations and five MicroMasters. The Specializations programs were in business and finance, and the MicroMasters were in computer science, information science, social science and business. The data represent 262 end-of-program survey responses.
Gallagher said that the study is unique and that more research is still needed on the topic.
"There isn't a great deal of analysis by academics or other groups on this important thematic area, and there's the need for a lot more research on the consumer or learner experience as we have here, on how institutions are approaching this, certainly to the extent people are interested in how these companies and their business models are evolving," he said. "It remains something to watch."